Post Update:
Thanks to Lisa and Betsy for pointing out that my lovely sheep sweater is a remake of one Princess Di wore. It makes me love it that much more!
__________________________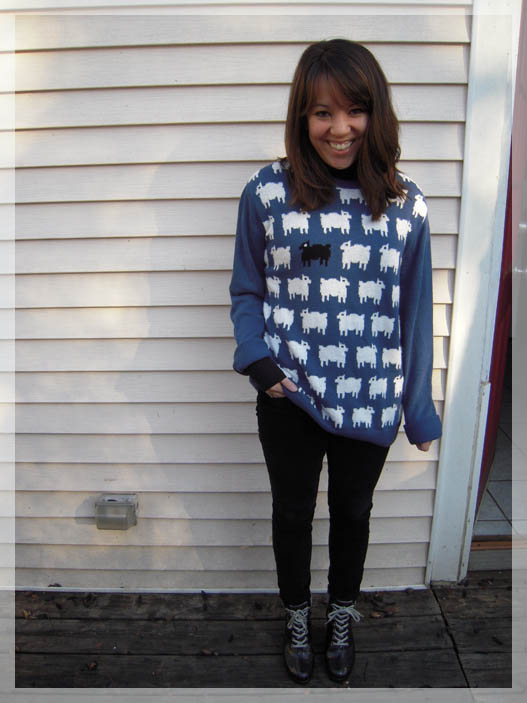 One of my favorite purchases from my trip to Scotland. It's not really my style (i.e. cutesy, not black, patterned, and not appropriate for work), but I fell in love with it when I saw it at a little shop in Edinburgh. Every time I wear it I think of Scotland and the cold, blustery day Lar and I went shopping. I can't remember the name of the shop where I bought the sweater, but I remember the guy working behind the counter was super sweet. . . and dressed exactly like Captain Jack Sparrow – I kid you not!
I feel it's unfair to name a post "Scottish Sheep," without including a photo of the incredibly cute Blackface Highland: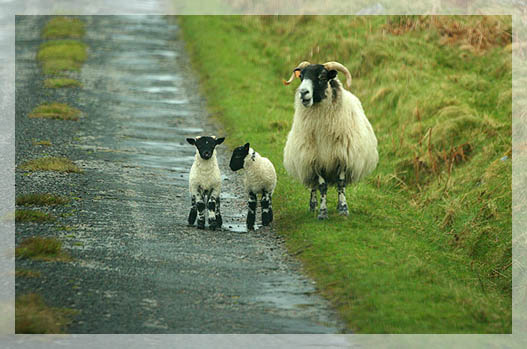 Gah! Look at their wittle faces! And there's millions of them in the highlands – easily outnumbering the human population in Scotland.  See why I love Scotland so much? And why Lar moved there against my wishes? And why I can't blame her for it?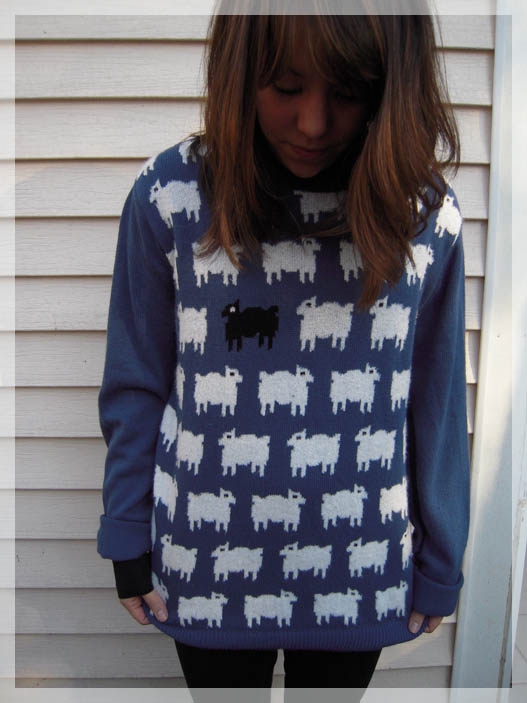 Outfit details: sweater from a shop in Edinburgh, H&M black turtleneck, Blank cords, and H&M boots.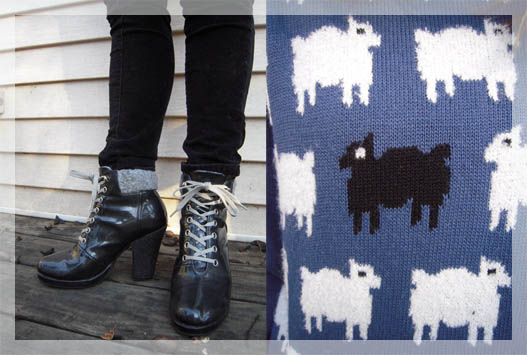 I've got to be honest that the two times I've worn this sweater out in public in the states I've gotten some stares. Apparently a 28 year old wearing an over-sized sweater with a sheep pattern isn't typical. It felt so normal when I bought it in Scotland (they're more into patterns there). Maybe I'll try wearing it with this black mini to make it more grown up, less cutesy. Then again, maybe I should just embrace the cute factor. I mean, I did use baby talk in this post – eesh!
________
Dearest Lar,
What was the name of that shop? I can't believe I can't remember it. All I can remember is that it had a name that made it sound teeny-boper-like. Have you been back since we went last month? Is Captain Jack Sparrow still working there?
I hate that you're sick! Make sure you're eating enough. Even if you have to skip the cleanse for a few days until you're feeling better. Hell, go crazy and eat a cookie! Maybe it'll make you feel better – as long as it's gluten free 🙂
xoxo,
Cath