I apologize for things being a bit quiet around here these last couple of days. Cath and I have been making some changes that are taking some getting used to. We are trying to exercise more and go vegetarian/vegan.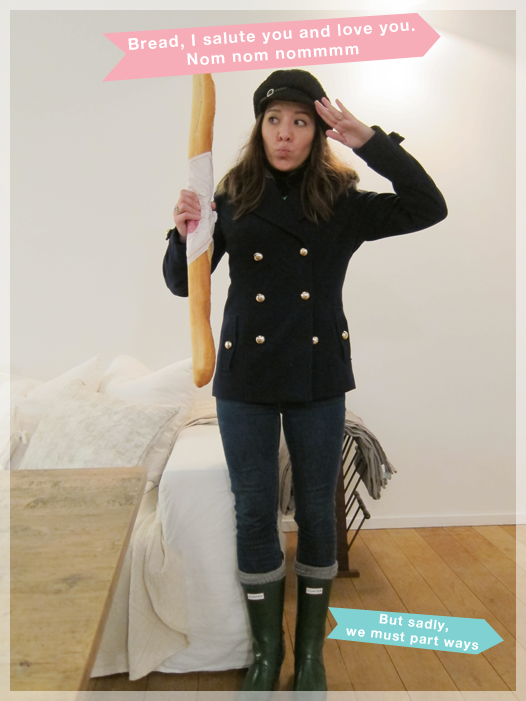 Vegan?! This from a girl who dreamed in high school of becoming a pastry chef and marrying Jacques Torres (just to eat his chocolate and sugar sculptures — sorry, Jacques!). You know Cath and I love food — all food! Even the kind with cute faces — we just kind of liked to forget where our delicious maple syruped bacon comes from because it tastes soooo gooood.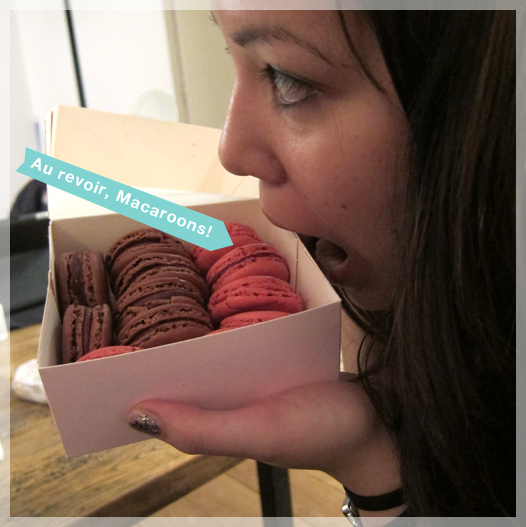 In fact I'm stepping it up a notch and going vegan (mainly raw- gak!) and gluten-free and sugar-free for the next little while. I know that sounds fairly crazy. I mean once you cut out gluten, sugar, alcohol, caffeine, meat, cheese, milk, butter. heat! what and how do you eat? And more pointedly, what the hell do you live for?
(Arugula and quinoa, you sooo don't taste like mac and cheese):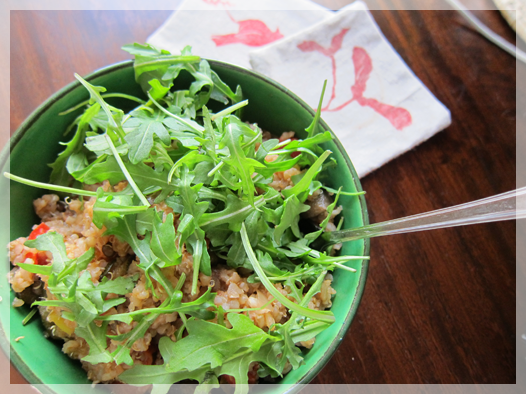 I'm not a big fan of diets (especially this one!), but I'm not doing this to loose weight and I think that's why I might stick to it. The much more convincing reason to eat veggies, veggies, and then more veggies is to ease some chronic health problems and pain. I've always had a rummy tummy and on top of that I have some tremendous endometriosis pain. Will lettuce and tofu "cure" me? Maybe not. But pills don't work, so I'm willing to -gulp- cut out croissants and cookies for a while to see how I feel.
(breakfast of champions who dream of buttery crumpets: juiced cucumber, celery, kale, romaine, and apple):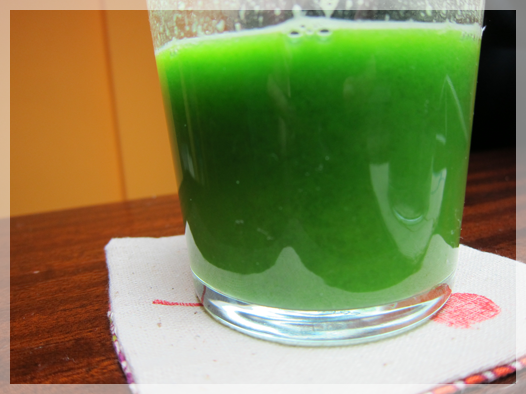 It really helps I'm not doing this alone. My mustachioed man and twinsie are following similar plans. I got the omph and encouragement to try this wacky (but very healthy — full of nutrients even though it doesn't sound like it) diet by reading Kris Carr's Crazy, Sexy Diet. She is my new guru. Haven't heard of her? Check out her fabuloso blog.
(there are 14 cucumbers hiding under this stash – I kid not. we only have four left in our fridge):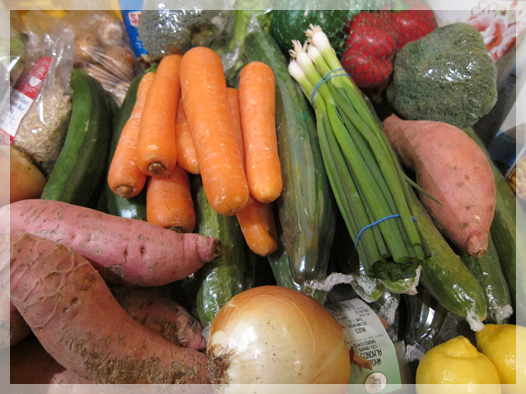 We don't usual talk about health foods and diets here on AsianCajuns, but all this stuffs (veggies, being kinder to the planet, curing my ails) have been on the forefront of my mind for a long while. Are any of you guys vegan or have tried cutting out foods for allergies or inflammation? Do you think Cath and I are nutso for giving up such delicious things even for a short while? (Erm, I kinda do!).
Kisses and Kale (and broccoli and spinach and cucumbers and carrots and),
Lar
Oh! And I found this video of me, showing you how I feel about 98% of the time:

—-
Dear Kitcath,
So glad you are doing this with me! You would be so proud, I haven't had a cookie/biscuit in three days. Three days! I definitely have the non-cookie grumpies though!
Love you!
Lar