For those of you who have been following our blog for the past few years, you already know that we love going to the Decatur Book Festival every Labor Day Weekend. Here's proof of some former Book Festival fun that we've included on AsianCajuns: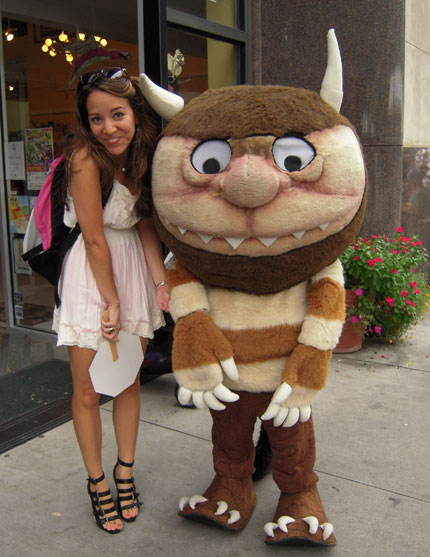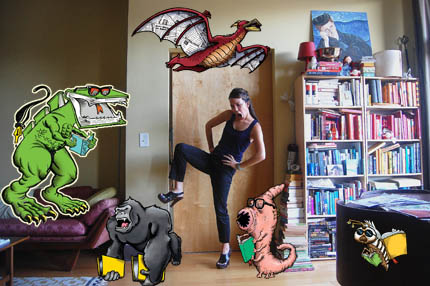 This year Lar and I know for sure that we'll be going to Mary Kay Andrew's panel on Sunday evening and Cheryl Lu Lien Tan's reading on Saturday. Plus we'll be stuffing our faces with funnel cake and making sure to head over to the clothesline artshow at some point during the weekend.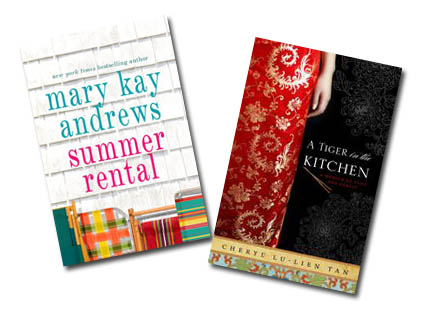 Remember when we blogged about Mary Kay Andrews' latest book here? Can't wait to see her on Sunday. And Cheryl? She's a former fashion writer for the Wall Street Journal and a huge foodie (check out her awesome foodie blog). Cheryl's book, A Tiger in the Kitchen, is all about her journey back to Singapore and her relatives' kitchens to master their recipes: it's Eat, Pray, Love meets Julie and Julia . with Asian food! You want to read it now too, don't ya? We'll how 'bout a little taste?
Cheryl got in touch with us via the world-wide-blogisphere, and we got to pick her brain about all things foodie, book(ie) and even fashion(ie):
1) Did you love food growing up in Singapore or did your appreciation grow once you left the country and started cooking for yourself?
You can't be Singaporean and not love food — we always say that we don't eat to live, we live to eat. The country is so small — you can drive from one end to the other in about 90 minutes — that there's not a lot to do besides eating, shopping — and talking about where you've eaten and where you're going to eat next. So I'd grown up very entrenched in this intense food culture — it was all about eating, however, not about cooking. I avoided cooking when I was a child — I saw it as something that my grandmothers had had to learn in order to be good wives and I decided to emulate the men in my family instead. They were the ones who went out in the world and had careers — they didn't spend their lives at home making braised duck and dumplings for their families. Years later, in the United States, I realized the folly of my ways, however. While I could make delicious lasagnas and pies in my New York home I had no idea how to make the food of my grandmothers, my aunties, my mother, that I had grown up loving and eating. That longing for these dishes — and their recipes — sparked my journey home to learn how to cook.
2) What do you think has hurt the tradition of passing down recipes the most? What's the best way to fix that and encourage younger generations?
Distance — so many of us live far from our families now and it's rare that we are able to get the family together for a meal. And even when that happens, it's often rushed — people go into family weekends or holiday dinners glued to their Blackberrys and tethered to work still. Not many take the time to watch, listen and help out in the kitchen so you see how these dishes are being made. If the keepers of your family recipes are still around, however, I urge you to make the time — spend a weekend just being in the kitchen with your mother or your aunt to see how they roll out the dough for pies, learn what's the secret ingredient to that casserole you always took for granted but won't be able to recreate if you never watch them actually do it. When I was learning how to cook in Singapore, my 10-year-old cousin actually set aside his iPhone games and helped out in the kitchen once he saw it as a fun activity — I shot a great video of him making popiah (Singaporean summer rolls) with my grandmother and it's great that he'll always have that years from now.
3) What advice would you give to someone that is intimidated by cooking – especially when trying to copy the delicious recipes they grew up with?
 I was intimidated for years by the fearlessness of the women of my family in the kitchen — having eaten their phenomenal soups, dumplings and stews, I was convinced I would never be able to replicate them so why bother trying? If you don't, however, once the keeper of that recipe passes, it's gone forever. So just roll up your sleeves, get in the kitchen and do it. The best home cooks do it by instinct, not by recipes, so it's hard for them to explain how a dish is put together unless you're in the kitchen with them watching and helping. I spent time in my aunties' kitchens with a pen and notebook but also a camera, shooting a picture of each step of the dish so I'd have a record of it — I've actually used these as reference when I've tried to recreate these dishes, if I wasn't sure how brown a meat was supposed to be or how soft my aunties' liked their shallots at certain stages of cooking.
4) What is your ultimate comfort food?
My mother's fried noodles and turmeric-coated fried chicken wings. Whenever I had friends over as a child in Singapore, this is what she would set out as a snack. The taste of these dishes always bring me back to my girlhood.
5) We love that your favorite clothing store, Pluck, also sells food – how fitting! For those of us that can't fly to Singapore for shopping, where would you recommend a visitor go shopping in NYC?
Even if you can't fly to Singapore,
Pluck
sells online and ships overseas — I especially love the store's selection of vintage dresses, culled from wardrobes of women in Southeast Asia, Japan and Korea, and have worn many on my book tour! In New York, I love Bergdorf Goodman and constantly wish I could live there somehow. (My favorite shoe department in the city.) Apart from that, my go-to store is
Yamak
, a tiny place in the West Village that is not much larger than a closet. The owner has a great eye and carries both established and up-and-coming contemporary labels, such as Nanette Lepore and Ingwa; Melero. I always get compliments on outfits the owner picks out and recommends. I would also encourage you to find out what sample sales are happening while you're here — I've found some of my best fashion pieces at sample sales in New York.
6) How often do you visit Singapore? Do you now cook with your family when you visit?
I used to go once a year but spent much more time there in the year that I was researching the book. Sadly, I've not been back as much since then but yes, we do try to cook together when I visit. The last time I was there, an auntie pulled me into the kitchen to show me how to make fried prawn rolls:
http://atigerinthekitchen.com/2011/02/hei-zho-prawn-rolls-a-singapore-family-recipe/
The women in my family keep remembering recipes that they haven't taught me so the lessons are continuing.
7) Most writers have their own blog, but you take yours to the next level by updated frequently and using great photos. Do you enjoy blogging? How is different than your journalism?
Thanks for your kind words — I do enjoy blogging. Right before I left the Wall Street Journal's fashion team, I was managing the fashion blog for the paper, which we were expanding at the time. So I guess I got bitten by the blogging bug then — as a "text" person, I love the creative challenge of trying to shoot pictures that look as good as the words, too. And food is such a visual thing — as Thomas Keller recently told me
in an interview
, "You eat with your eyes — you use your eyes first." So I hope my pictures do the food I'm writing about some justice! Blogging is a little different from journalism — there's much more voice in my blog pieces. When I first launched my blog, it was really about exploring the world of food through writing about it for the first time. I had written about fashion for 10 years so writing about food was a little foreign to me — I always say I went from covering an industry that's about avoiding eating to one that's all about eating. Writing this blog helped me find my voice in food writing.
8) You'll be in the South for a few days for the Decatur Book Festival, what is your favorite southern American dish?
Fried chicken is one of my favorite foods — I love it in any cuisine. (If you've never tried Malay- or Indian-style fried chicken, it's a must.) So I have to say I'm really looking forward to a Southern fried chicken binge in Atlanta. The last time I was in Atlanta I had lovely fried chicken at The Colonnade and Mary Mac's — looking forward to trying more.
Thanks for taking time out to answer these questions, Cheryl, and we can't wait to meet you in person this Saturday! We would highly recommend Watershed for its fried chicken. For a less fancy version, we're all about Popeyes  – best fast food around.