Thank you to everyone who commented on the last post. I'm so glad dress #4 is a hit!
Believe it or not, this post is not wedding-centric even though Lar is getting married in two days AND she and Matt just got legally married today at the courthouse (I'll post some photos soon of them signing their marriage license).
Instead of wedding talk, this post is about what Lar and I were up to last Saturday. Can you spot us in the photo below?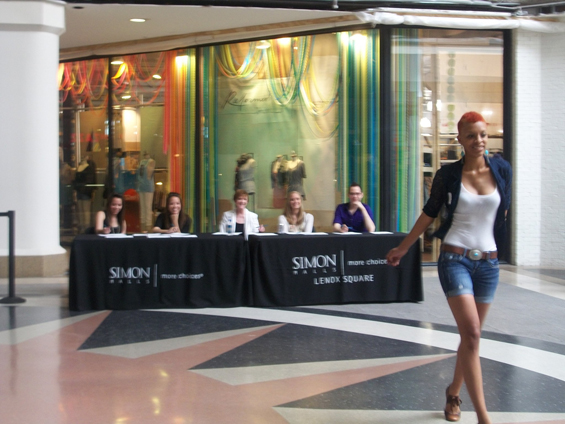 Yep! That's us on the left at the judges table. Impressive, no?
The folks over at Lenox Mall invited us to be judges for their Model for a Day contest. It was a pretty sweet gig considering all we had to do was sit at the judges table, maintain a look of importance and judge the contestants on a scale of 0-15. Actually we suck at looking serious and just ended up grinning eagerly at all the contestants. Anna Wintours we are not.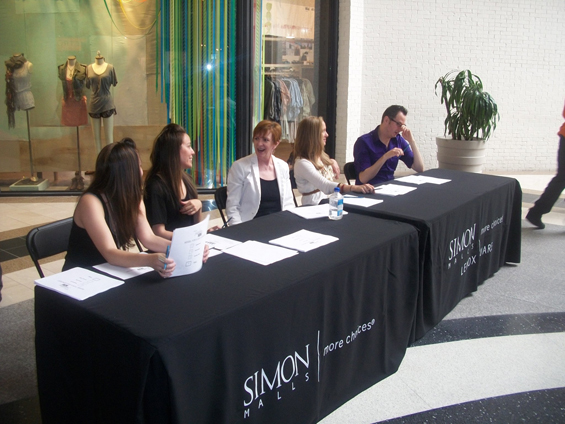 The other judges were really nice. In the photo below that's Vinny (on the left) from Bare Escentuals, me, Lindsey from Banana Republic, Lar and not pictured is Anne from the Lenox Mall.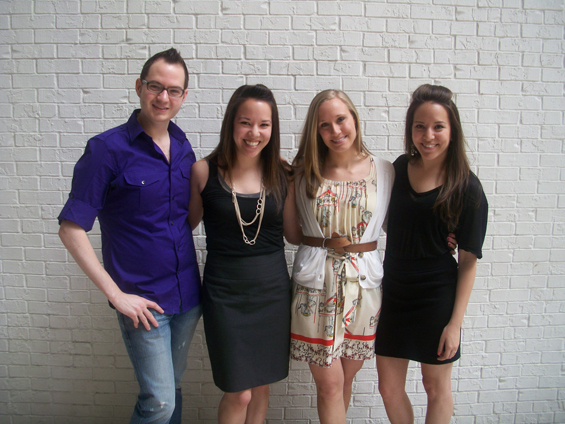 The reason for judging? The winning models get to walk in the upcoming Banana fashion show on April 2 that will be part of Lenox Square Mall's Simon Fashion Now – a weekend of fashion on April 1st and 2nd. If you're in the Atlanta area, click here for more info.
All in all it was fun pretending to be a judge and it was so nice to have a break from wedding planning.
A big thank you to Jordan and Mary Elizabeth with BRAVE PR for thinking of us!
(All images courtesy of BRAVE PR)
*  *  *  *  *

Things are getting a little hectic here for the wedding – especially since our mom is home sick with a fever – but I'll try to get at least one more post up before the wedding. Thank you all for being so supportive and sweet!