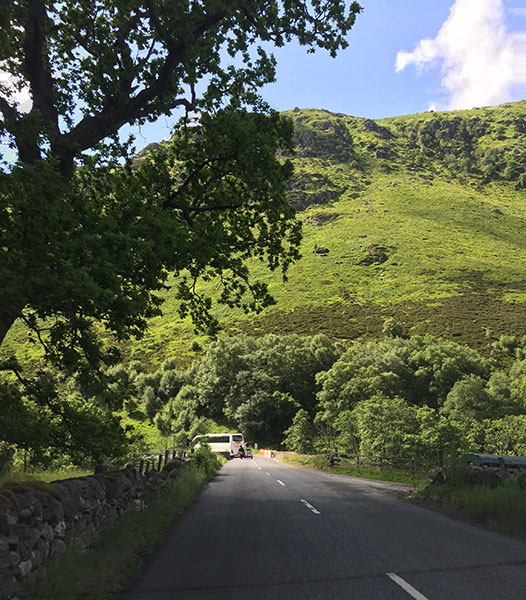 While the rest of the Northern Hemisphere swelters under unbearably humid climes, those of us in Scotland dream of heat-soaked skin and a cloudless sky. To those of you sweating it out some place horrendously sticky, you just have to believe me when I say this road trip was magical because of how hot and sunny it was! The Highlands are beautiful every time of the year, even in the pouring rain or a dark, eery mist, but when the sun comes out, it's full on Brigadoon and the land of Oz rolled into one.
And it wasn't just gloriously sunny. It was hot! Like hotter than 69 degrees, hot! For those of you who aren't totally tired of hearing me drone on about how cool Scottish summers are, let me just remind you that my first July here it rained nearly every day and didn't get above a depressingly chilly 56 degrees. When you forget what heat feels like, you know your vitamin D levels are in trouble.
So to spend four days in the Highlands with not only the sun shining at full tilt, but to also get a sun burn! Why that's down right unheard of in these parts! The sky was blue, blue, blue and the clouds fluffy. The sheep plentiful and the grass a brilliant green. And even during the height of tourist season, you can hike for miles and not run into another soul (save those sheep and a 'coo' or too).
We spent a few days traipsing around Loch Ness, hitting up Fort Augustus, Inverness and Aberfeldy on the way. Apart from some hiking (in the sun and heat! Have I mentioned that already?), we also gorged ourselves on fresh, sweet Scottish strawberries, sun bathed in a castle's garden and had a neep of whisky to celebrate my birthday on The Hottest Day of the Year (in Scotland)!!! Oh it was heavenly. If  the Scottish Highlands aren't on your bucket list already, erase your number one and put it there.
P.S. This post might be sponsored by my the feeble quantities of vitamin D that are left in my body after living in Scotland for four years. The Highlands are gobsmackingly beautiful, but my cells have definitely been dazzled by my recent forays into the sun (and heat!). Looking back on these photos, I'm noticing a lot of clouds when in my head every single day was cloudless and really sunny. I think most of the world would describe this kind of weather as 'mostly cloudy'. Is there such thing as sun-coloured glasses? I definitely had those on.