Cath and I have always felt that minimalism and living with less, shouldn't be thought of as a specific "look." Living with fewer things does not mean your closet will look perfectly monochrome or your kitchen will have absolutely nothing on the counters.
Minimalism looks different for everyone. At least, I think it can.
And so here is where I make that argument that you can dress like this:
And have a house that looks like this:
And still be someone who is trying to be more a conscientious consumer.
It makes sense that the Minimalist trend coincided with the aesthetic trend of neutral palettes in both fashion and interiors. But if you look at the amount of color and pattern showing up in Instagram, on Pinterest, magazines and current fashion shows, I think it's safe to say that that "look" is waning, if ever so slightly.
And I love it! I love a very neutral, clean look too, but I'm equally excited by the exuberance of saturated color and swirls of patterns clashing together.
Though this look is more layered and often more "cluttered," I don't think that means it's because you buy more or have to buy more to achieve that look. In some ways, this more bohemian style works really well with using what you already own. Seriously, pull everything out of your closet and put it together — either on your own body or on your couch. Voila! Boho-ization!
(The street style pics in this post are Phil Oh's via Vogue)
(I particularly fancy what these Gucci ladies have going on this and last season):
In fact, that's what I'm trying to do. Instead of wearing more color and pattern by running to the shops, I'm scrounging through my closet and figuring out how to combine my existing clothes that didn't appeal to me when I was doing the black and white thing. I have made some trips to Goodwill to mix it up a bit more, but I'm not interested in adding to me closet's girth. So I've been weeding out things at the same time.
I haven't gone full Gucci 2016 just yet, but you can see the style change happening in the pic below. On the left is an outfit photo from early spring and below right is from just a few weeks ago: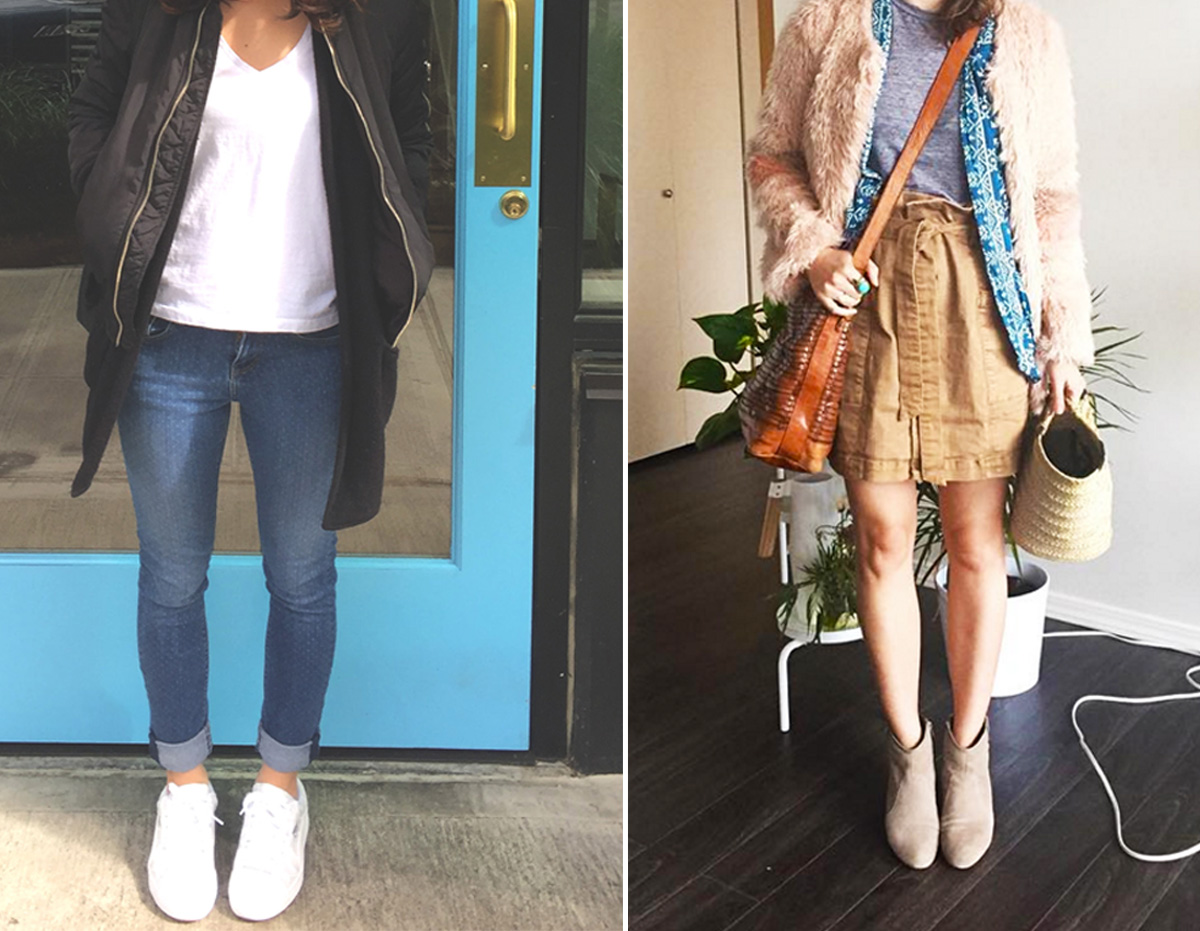 These pics do a pretty good job of summing up how I was dressing and how I feel like dressing now. And who doesn't love a little layer challenge come fall.
Are you guys feeling it? That change in the air?
If you are a monochromatic gal/guy for life, or have been missing your inner bohemian, I still think you can live with less. I'll try to prove it the next little while and keep you guys updated on how my style progresses and whether I've slipped into buying more stuff just so my life looks like Justina Blakeney's.