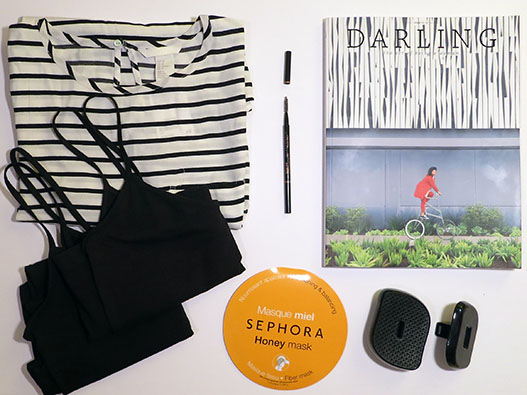 I haven't done any Marie Kondo-ing like Lar, but I plan to pare down my personal belongings soon. In the meantime, I'm still making a conscious effort not to buy things just because I want them. It helps that I have a limited budget, so I can't go on a shopping spree.
Even though I was tempted to buy a whole new outfit when I went to the mall this weekend, I was pretty disciplined. I only purchased these seven items:
1. Black and white Woven Top from H&M. I cannot not buy a black and white striped top. Some day in the not too distant future, my whole closet will consist of  nothing but black and white striped tops.
2. Two camisole tops from H&M. They were two for $10 and I've been needing a couple of camisoles to go under a few summer tops.
3. Anastasia Brow Wiz in medium brown. I ran out of my Tarte eyebrow pencil this weekend, which is the main reason I went to Sephora. The store was completely out, so I decided to try out the Anatasia of Beverly Hills version.
4. Sephora honey mask. I've been wanting to try one of these masks for a while. I have super sensitive skin, so I figured the honey mask was a safe bet. Have you tried any of these Sephora masks? I'd love to hear your thoughts!
5. Compact Tangle Teezer in black. I've had my eye on the Tangle Teezer for a while and saw this travel version in the checkout aisle at Sephora. I love it! It comes with a cover that pops on over it so I can throw it in my purse without the bristles getting bent.
6. Darling Magazine. I love getting Darling Magazine newsletters in my inbox, but I've never purchased an issue until now. I found it at Anthropologie. At $20 it's not cheap, but it's a great read and and an issue I'll be keeping on my coffee table for a while.
I'll admit that the magazine and mask were splurges, but I didn't go crazy. Right? Maybe some day I'll be enlightened enough not to feel the urge to buy anything, but not today!