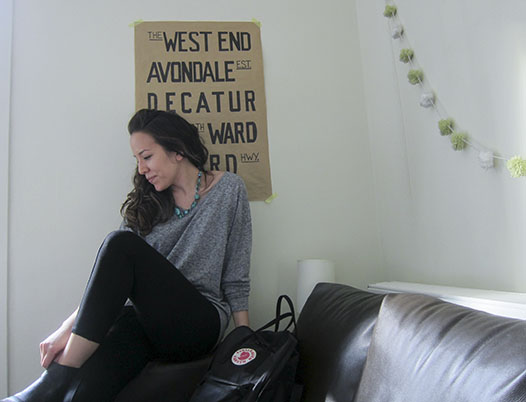 Necklace Novica | top H&M | leggings M&S | boots Cos | bag Fjallraven
So you know how last week Cath was complaining about how hot it was in Atlanta? Well, I was super jelly. I mean, even though I vaguely remember those swelteringly humid days that made it hard for your lungs to work, I can't help thinking summer heat is amazing! And I know I'm just saying that because I live some place that doesn't really do summer.
I'm still wearing long sleeves and trousers and a coat most days. The only difference between my spring wardrobe and my full-on winter wardrobe is I allow for a generous amount of ankle sliver (see pic above) and I don't wear a scarf or gloves with my coat.
If you are a sweater-weather fan, Scotland is the place for you. Our winters aren't too cold (but boy are they long and dark) and you can wear layers year round. Yes, year round! Summer is jacket-weather except for those few blissful days (and I mean days, not weeks) where the heat breaks just over 70 degrees . and even then you'll probably need a jacket at some point because it does still cool down at night.
I'm sure that all must sound heavenly to you guys fighting it out in the heat right now. And I do feel incredibly lucky to live in a beautiful city where even cockroaches don't dare to tread. I know I will miss this stoney, shadowy silhouette of Edinburgh when I'm living in the freshly scrubbed Pacific Northwest. I will romanticise Scottish rain (because it's totally different to Seattle rain) and I'll miss the history and the stoic dreichness of this beautiful place. But, in the meantime, I miss the heat and the sun and the lack of a true summer.
Billy Connelly was so right when he said, "There are two seasons in Scotland: June and Winter."  And when he says "June" he means "kind of Spring, but not even."
Good luck with whichever weather you are facing now: sweater or sweat-er. And tell me how you're coping!