Dearest Lar,
I can't believe it's been less than a week since you left, but it already feels like I haven't seen you in ages. So I'm going to distract myself with some blogging!
Yes, an Anthropologie outlet does exist! It's called Final Cut and it opened this summer in Augusta, GA right next to an URBN (Anthro parent company) call center in a nondescript strip mall.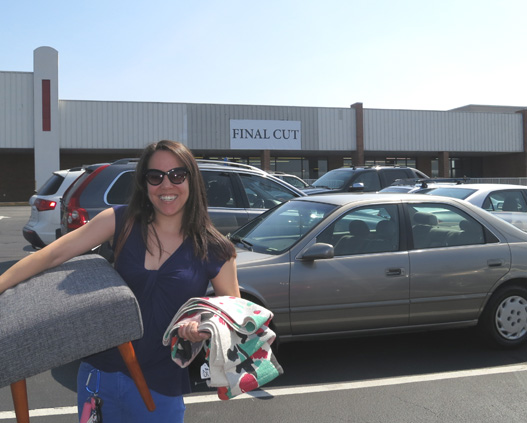 What are the odds that the only Anthro (plus Urban Outfitters and Free People) outlet in the country is only 2.5 hours from my house!?!?! I really think the Georgia tourism department should do a whole marketing campaign around Final Cut, IMHO. I mean, Augusta, Georgia! Why not Philly where URBN is headquartered?!
But I digress. A few weekends ago, my friend, Thom, and I spent a Saturday making the trek out to Augusta from Atlanta to check out Final Cut to do some serious shopping for blog research purposes. They don't allow photos inside the store, so if you want an insider look, check out Effortless Anthropologie's post here.
Here are my thoughts on the place:
1. It's huge! One half is mostly furniture and housewares and the other half is chockablock with clothes.
2. A lot of the furniture and rugs looked like they were from Urban Outfitters and there weren't as many decor items (vases, knick knacks, art etc.) as I was hoping.
3. If you're looking for a crazy bed, unusual night stand, delicate sofa (i.e. not kid or pet appropriate) or midcentury love seat, this is the place for you.
4. If you're a soon-to-be bride and need a dress ABSOLUTELY make the trip to final cut. There are tons and tons of BHLDN dresses in great condition for around $100. There are also a handful of bridal shoes (although mostly in large sizes) and some bridal accessories.
5. There is a seemingly endless selection of clothing, but it's not organized by size, gender, or store (Anthro, Urban, FP). I think most of the clothing was from Urban Outfitters, but I'm not an expert.
6. There's a huge selection of bags, but they were definitely all from Urban so I didn't spend too much time looking.
7. The prices are kind of all over the place. Some of the large rugs still seemed overpriced at $300+, but maybe that's just because I'm cheap. Like I mentioned in #4, the wedding dresses are very well priced. The armchairs and sofas were anywhere between $200 and $900. And the clothing was $5-20-ish. Not bad, but also takes a lot of sifting through the racks to find something that's your size.
8. The final cut staff is really nice and helpful and update the Final Cut Facebook page regularly.
So, if you're in the Atlanta/Augusta area, I think it's worth a trip if you have the time. If you're in the southeast and looking for a BHLDN wedding dress, definitely make the trip. But if you're on the other side of the country, it's not worth a plane ticket.
Here's my Final Cut haul: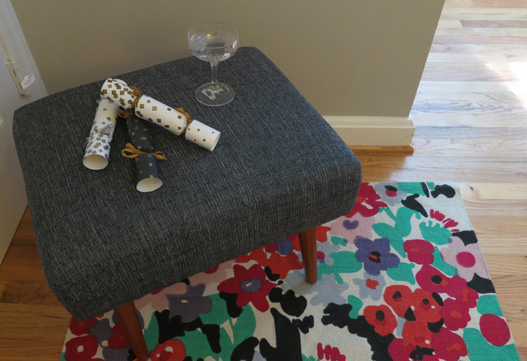 A 3×5 rug for my laundry room – $25
1 coupe glass – $5 (I would have bought more if they had more)
A set of 10 crackers for my mum – $5 (we'll find out if they have good prizes and jokes in them come Christmas)
A midcentury-style ottoman – $30. Update: I was just searching U.O. site and saw that this same ottoman is selling for $129 – on sale! Didn't realize I got such a steal!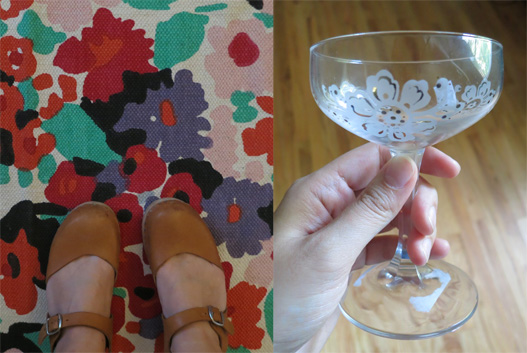 I'm really pleased with my purchases, but probably won't be making another trip out to Final Cut anytime soon. Thom just ended up getting two Urban Outfitters hats.
Since Final Cut is so close to downtown Augusta, we decided to have lunch at Nacho Mama's – a classic burrito joint in a historic building = perfect lunch location.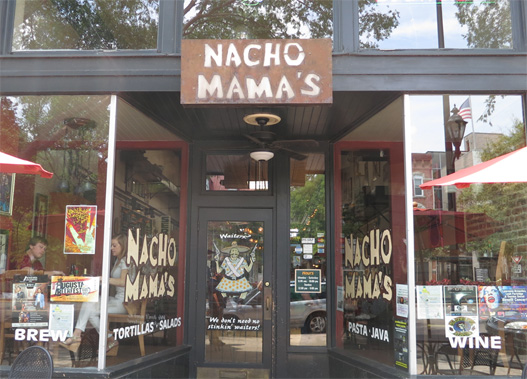 Downtown Augusta is mostly restaurants, but we spent some time walking along the main street and near the river. I know this is cheesy, but I had to have a picture of this street sign – James Brown FTW!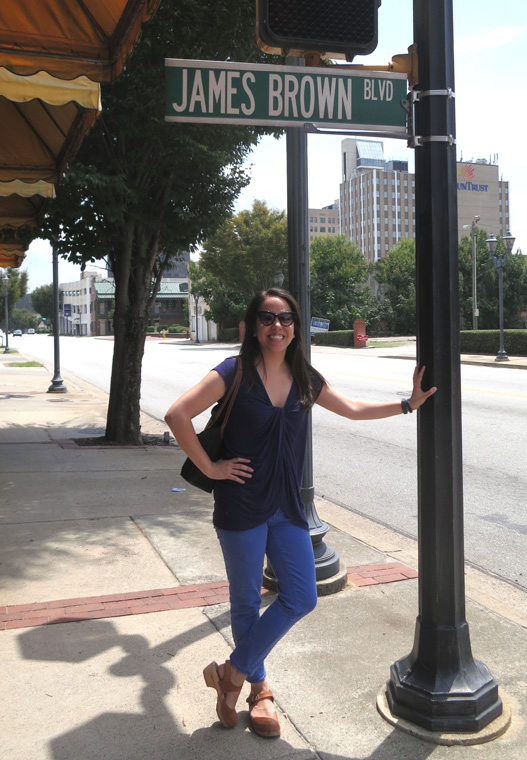 Edinburgh might have beautiful cobblestone streets and amazing medieval architecture, but do you have a James Brown Boulevard?! I think not! And obviously there's no Final Cut in the UK. Just a few more reasons why you have to move back to the states.
Miss you so much! Wish we could have explored Final Cut together!
xoxo, Cath