Dear Cath,
Hauling (a la YouTube terminology) seems like a very anti-ethical shopping activity: buying lots of stuff and then showing it to you, so that you want to buy lots of stuff. So maybe this is more of an anti-haul: only three items and all consciously chosen because they are made in the US and not bought on a whim. (Maybe most hauling is well-thought purchases and am just being judge-y. Tell me if so. Also, maybe being a hypocrite because still buying things I like rather than absolutely need isn't height of ethical consumerism).
Without further ado (i.e. ramblings):
The item I'm most excited about is this Vera Wang mini dress from the Born Free line that supports the end of mother-to-child HIV transmission by December 2015. I feel so uneducated about HIV transmission — I didn't realise 1 pill a day is all that was needed to provide a child with a life without HIV. It seems woeful that if that's the case, mother to child transmission isn't eradicated already.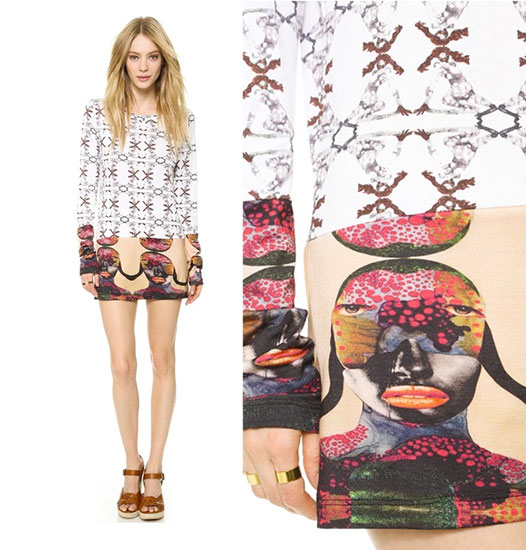 (Note: poor reviews owing to fact that dress is more like tunic rather than dress. Plan to wear with black skirt in order to avoid undesirable bum exposure).
The next two purchases aren't nearly as philanthropic but still made in the U.S.
I needed a going-out top (have worn pleather dress to ever night-out for past two years), but I really dislike anything too clingy or that requires body tape or specific bra selection. I think the lower backs of men and women lovely/handsome  and more seductive than cleavage (she says because she has none) and this shirt makes me and Ingres happy: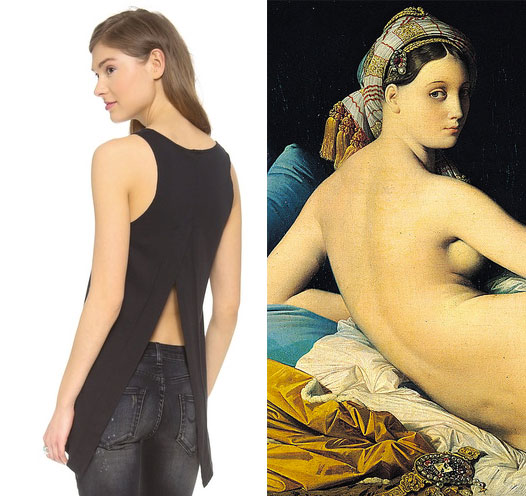 (Unlike Ingres' lady, I will not be showing side-boob just bare lumbar. Will not attempt turban).
Lastly, a long gold-plated necklace by Kristen Elspeth: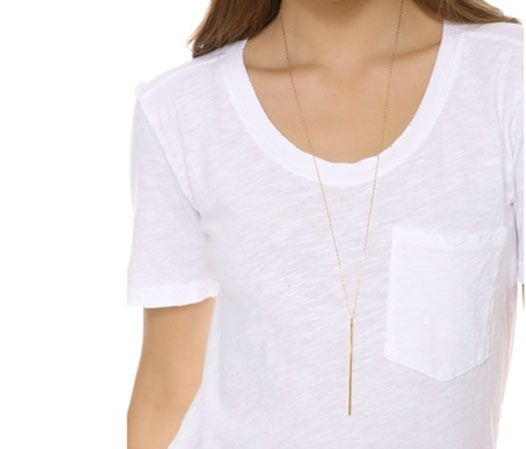 It's hard to tell but the long metal bar is actually a gold porcupine quill. Much of Elspeth's designs are influenced by Native American art: hence the quill which represents trust, innocence, invincibility, intelligence, and are symbols of protection from dark spirits. I'll take it!
So that was a bit haul-like after all, wasn't it? I really am still trying to be less of an avaricious consumer — more of a nibbler. To prepare for abundance of items purchased, I packed off a few things to Salvation Army yesterday. Must commence nibbling.
What about you? Are you house hauling? Can't wait to hear all your decorating/nesting plans. I promise it won't make me feel the need to buy more things for my flat — we have no where to put anything: all 500 sq ft accounted for.
Love you like Ingres loves vertebrae,
Lar
p.s. Readers, Shopbop is one of our blog affiliates, but this is in no way a sponsored posts, just a way for Cath to keep up with what I bought. We usually share with each other over email, but I thought I'd try it by post this time.