It's been two years since Matt and I left our friends and family stateside and hoofed it to Scotland. Man, time flies when you're having-fun-but-also-experiencing-an-exhausting-time-of-LEARNING-THINGS.
And learning stuff is painful, isn't it? It usually involves changing and change is a cranky, inelegant process. I don't know about you, but I get grumpy and petulant and just want to zone out in front of Netflix with a big plate of cookies bowl of oatmeal.
But the annoying thing is, the pain and the crankiness and bumbling around usually leads to good things. Most of these things I'm sheepish to own up to because the grumpy part of me wants to stay mad at how annoying the process of learning was. "Oh so you want me to stop eating all that's delicious in life like sugar and wheat and meat and cheese because of a chronic disease?! Talk about adding insult to injury, body! Thanks a lot." Now a year and half later (after much, much sniveling) and I feel healthier and actually excited (cue sheepish look) about living a healthier lifestyle. I feel a bit embarrassed because I used to be the sweet-tooth queen and now I'd choose a bowl of oatmeal over a stack of cupcakes.
You want to hear another batch of crazy (oatmeal over cupcakes?! uh-huh)? When I was living in Atlanta my favorite thing to do was guilty Target shopping. You know where you tell yourself, oh I'm just going to pop in just to look and then leave $100 poorer with a designer-collaboration outfit, two new lip glosses, Method floor cleaner, and a festive utensil jar.
Well, I don't do that any more. And it's not just because there's no Target equivalent in the UK (I could force Primark to be Target's doppleganger if I squint real hard and look sideways). And it's not because I don't get hit by the compulsive shopping bug every once and a while. What's changed is 1) I don't have the space to put an extra utensil jar and 2) I've learned more about how unethical a lot of shops are.
If you are a long-time reader (hello, you!) you've heard me talk about #2, so I'll stick to #1 for a minute: lack of space to put impulsive buys.
Exhibit A: Our shared wardrobe.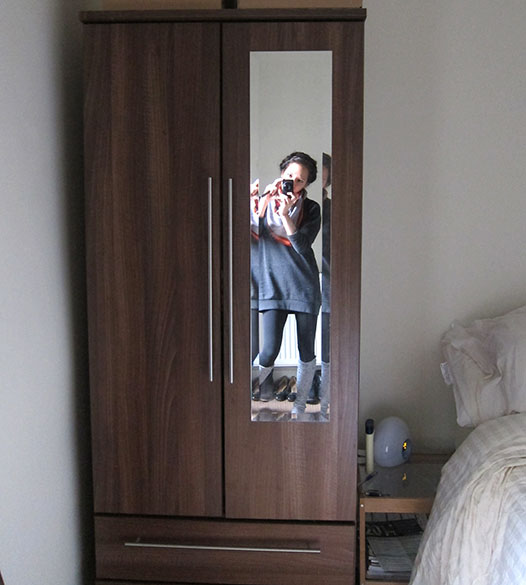 Matt and I fit all of our clothes in this and a shared dresser. Erm, obviously Matt hogs most of the space (cough, cough).
Exhibit B: Make-up storage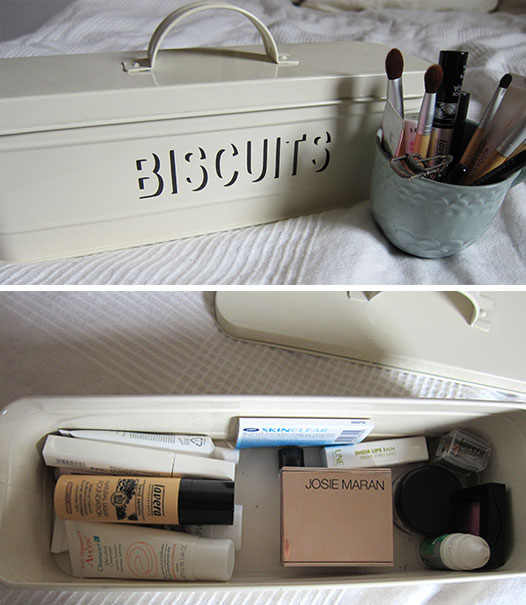 This biscuit tin and tea cup hold all of my make-up and most of my skin products. I've tried to reduce the amount of products I think I need and have been slowly replacing my chemically make-up with more natural alternatives. Next up? Home-made deodorant. I know that's a bit cringe-worthy, but anything that might be healthier for my body, I'll give it a go. Aren't you glad I live in a cold climate?
Exhibit C: Our Kitchen (corner in our) Family Room.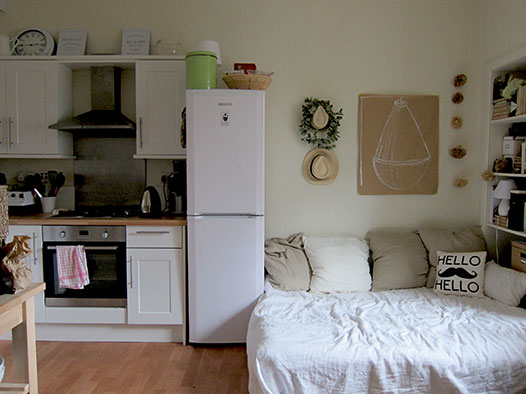 You can't add more stuff to a kitchen that's basically your couch's side table.
I never meant to become a minimalist. And I'm not really. I think a real minimalist would poo-poo my unnecessary decorating or some bits and bobs I keep on the shelves because it makes me feel like I'm Emily Henderson. But generally, Matt and I kinda sorta are minimalists. If we buy something, a new shirt for instance, we'll give another piece of clothing away to the local charity shop. There just isn't room in that dinky wardrobe for more stuff.
And our kitchen corner? We have just the right number of pots and pans that we need and no more. Everything we have gets used and used a lot. The thing is (cue sheepishness again), I like it. I really like it.
There are days when I bemoan the fact that I wear the same clothes over and over again and don't look like my former fashionista self. But I like knowing every single item of clothing I have. It feels liberating compared to my former self who would walk into her closet (walk-in closets?! what are those?!) and get overwhelmed by choice. Maybe I was never a true fashionista to begin with because I know a lot of stylish ladies love expressing themselves through their clothes. I would get confused instead of creative. A quasi-uniform always sort of appealed to me.
It's shocking to find out that as a former shopping-happy, Louboutin-yearning, cake-devourer I could become a quasi-minimalist, gluten-free vegan who almost happily chooses chamomile tea over a Pumpkin Spice Latte, all in the space of two cranky years.
p.s. Did you guys notice how I dropped in those outfit pics at the top of the post like I was going to talk to you about fall layering? Thanks for sticking with me this long if you've made it down here. Instead of layering tips, I gave you cranky change and minimalism. Don't hate me. Cath will make it up to you with a Give-away post tomorrow!
p.p.s. If you want some true minimalist inspiration and how-to, read about Emily's 30 Day Minimalist Challenge on Spatial Drift and Esther and Jacob's 100 Days of Less Challenge.
——–
Dear Cath,
Sheesh, I was long-winded in this post. Did you make it through all that? What do you make of this whole minimalist thing? I think you would slip into this groove much more elegantly than me. When we were teenagers and early 20ers I felt like I was the one that always bought lots of crap and you were always on the look-out for nicely made, quality items. Maybe we are both quasi-minimalists at heart? Sacre bleu!
Miss you like mad and wish it were Christmas already so I could see your face minus a pixelated Skype window.
Love you like I used to love cookies and now love oatmeal,
Lar