After writing about my Gentle Fawn summer dress last week, I realized that I had a bunch of other summer dress photos that never made it onto the blog.  I always pegged myself as a skirt and top kind of girl, but clearly I've been relying on summer dresses to stay cool in this muggy, mucky season.
My friend found this classic, navy blue, lace dress at the J.Crew clearance sale (only $15!) in Asheville a few weeks ago and it's become one of my work favorites.There's something so Audrey Hepburn about it and it's easy to create a completely different look with accessories. Plus it has pockets!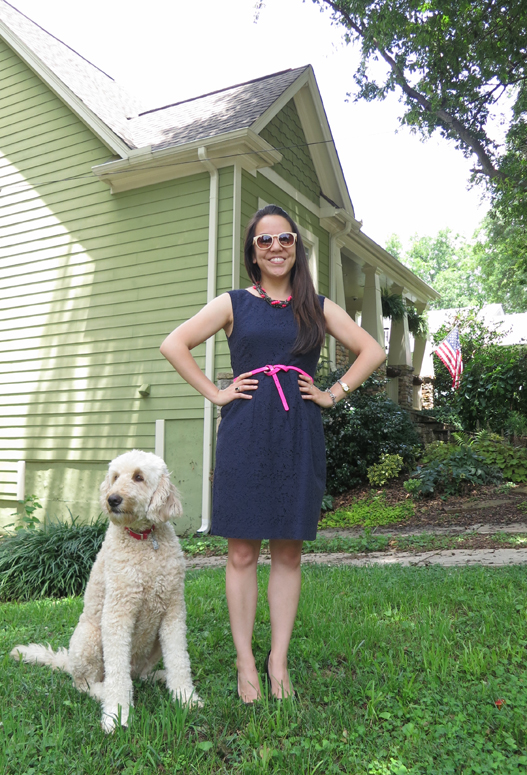 Madewell necklace (old) • J.Crew dress • American Eagle belt • Sole Society sunglasses • BCBG black pumps (covered by my tall grass and weeds – whoops)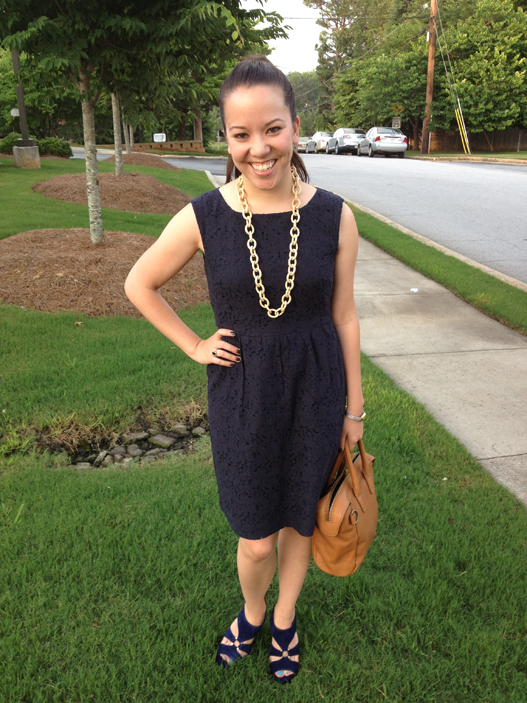 Sole Society necklace and shoes • Libeskind bag
The outfit below is what I wore to the office on my birthday. I'd love to find a belt that matches the red flowers on the dress. Give me a shout out if you know of one. The colors are pretty true in the photo. And for those of you Atlantans reading this post, yes, that is the CDC in the background. Troy and I were just about to have dinner at The General Muir, one of my favorite local restaurants.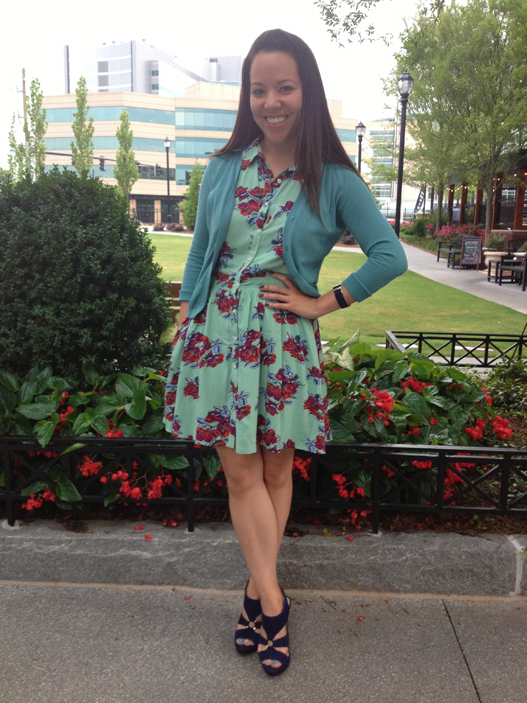 Talbots cardi • MINKPINK dress • C Wonder bracelet • Sole Society heels
I've had this gray/blue dress for ages. I love the way the jersey drapes and wish I had more clothes like this one. It's not a trendy dress, but that's one of the reasons why I love it. I'll probably keep it until it falls apart.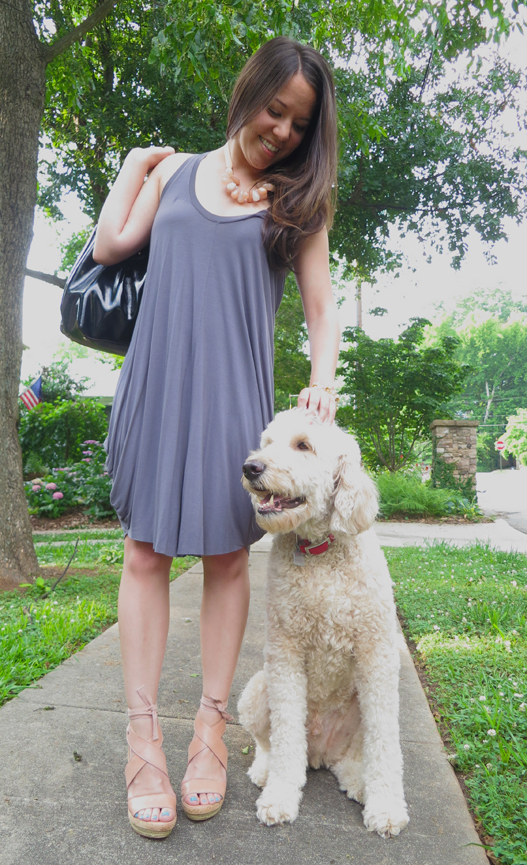 FCUK dress • Kate Spade purse • J.Crew necklace (very old) • Unleashed espadrilles
Today I'm back to my skirt and top routine at work, but I'm sure I'll be wearing one or more of these summer dresses this week. Have you noticed that I've been wearing a lot of Sole Society items lately? I'll be publishing a sponsored post this Wednesday that I'm super excited about. I dragged Troy around this weekend to take a bunch of photos of me wearing a lot of my Sole Society goodies and can't wait to share them with you on Wednesday. Until then, I'll be swamped with regular work and school work – when will this summer semester end?!?!
Hope you all are having a good start to the week. Come back on Wednesday for my next post!
___________________
Dearest Lar,
I can't believe you've been wearing short – SHORTS! – in Scotland this past week. What is happening? If this type of weather continues you're soon going to have to start a summer dress collection of your own. The weather in Atlanta has been more muggy than hot because it's been raining off and on for the past two weeks. And you know what that means? Bugs! Lots and lots of bugs. Oh how I hate mother nature. I still have bug bites covering my legs, every time I open the front door a million gnats fly in, and our poor dogs seem to always have fleas no matter how many meds we feed them. This is what Wheatie looks like most of the time: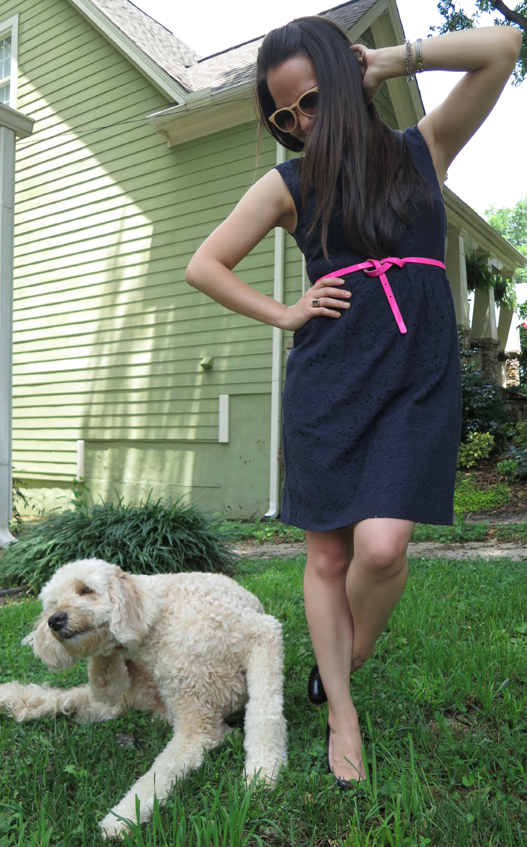 Poor guy. I'm so tempted to have our backyard bug bombed, but I feel like that has to be so bad for the environment. I bet the dogs you see on the meadows in Edinburgh aren't so itchy all the time!
Do you realize it's only a few more weeks until we see it other?! That thought is getting me through the end of this semester. Only two more assignments and one final to go!
xoxo, Cath