Happy Tuesday, everyone! Lar and I figured most of you wouldn't be back at work until today – apologies to our British readers (including Lar) who had to work on Monday.
This week we decided to try to something new: a little Google Hangout just with the two us. Lar and I showed each other our top five things we're currently loving. You can watch the full video below, but for those of you who are reading this at work – or don't want to watch 16 minutes of our rambling – we've also linked all of our favorite things below.
For those of you who do watch the video, we would love feedback. Even though we've done a Google Hangout before, it's still relatively new to us. Eventually we'd love to add readers too, but now we figured it's complicated enough trying to find a time that works for our time zones!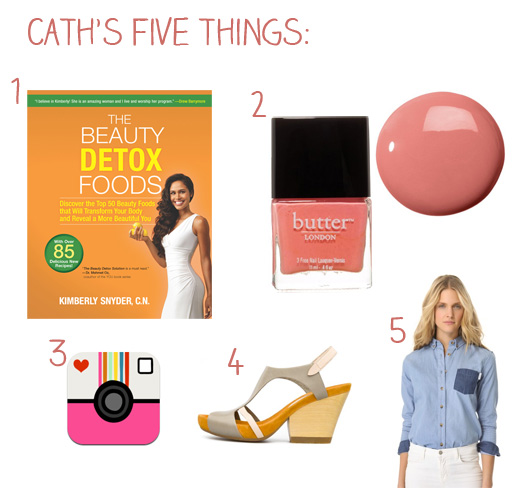 Cath's pics:
1.) Kimberly Snyder's The Beauty Detox Food
2.) Butter London Trout Pout
3.) A Beautiful Mess iPhone app
4.) Campers shoes (mine are in black, but they're not available on line)
5.) Penfield Bascom Boyfriend shirt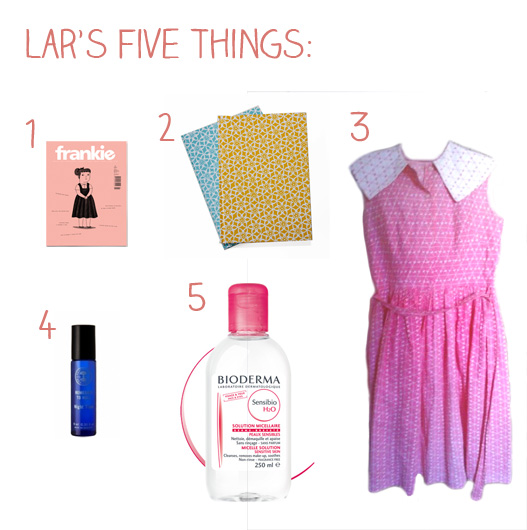 Lar's pics:
1.) Frankie magazine
2.) Owl & Lion journal
3.) A cute dress from a local Edinburgh thrift shop
4.) Neal's Yard Remedies to Roll
5.) Bioderma Sensibio H20