Troy and I flew out to Denver for a few nights last week for his cousin's wedding. It was nice to take a mini vacation and get away from work and school for a little bit.
It's all about the outdoors in Denver, but being a self-proclaimed city girl I love grabbing a map and exploring downtowns. We spent a long day in Boulder and the other three days bouncing around Denver.Usually before I visit a city I read up on it and make notes on all the places I want to go. I'm a planner. Troy is the complete opposite – he'll talk to anyone and everyone. So, this trip, we got a lot of great tips from the locals. Combined, our different travel techniques usually make for an awesome vacation.
Below are some of our vacation highlights (note that we don't have any photos from our last day in Denver because it snowed all day – not a highlight).

I love all of the independent shops in Atlanta, so that's exactly what I look for when I travel to other cities. The candy and soda shop we visited was on Pearl Street in Boulder. Troy and I agreed that the next time we go out to Colorado, we want to spend a few nights in Boulder. It has a college town vibe, but it's bigger than Athens, GA and a bit more polished. The other two shops in the photos were in the Highland neighborhood of Denver: Starlet and The Perfect Petal.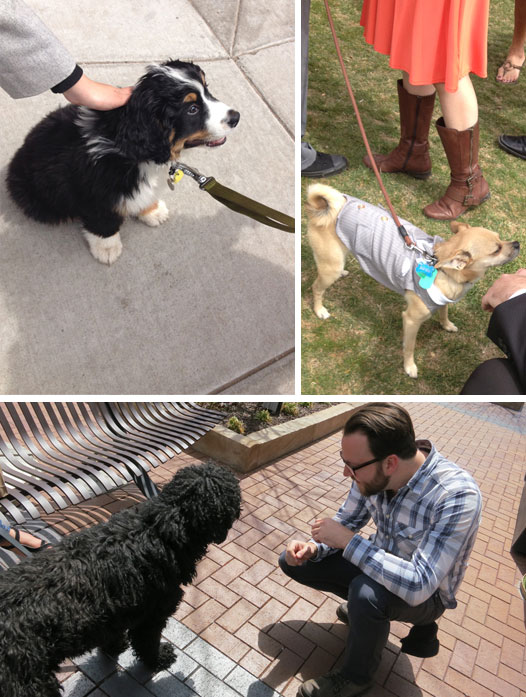 For this trip we left Toby with my parents and Wheatie with our friends, Alison and Greg (thank you guys!). We always miss our dogs so much that whenever we're on a trip, we will run up to any dog we see on the street and pet it – not the smartest thing to do. Luckily Denver and Boulder are filled with dog lovers and dog owners. The owner of the pup in the first photo was giving out treats to strangers to help socialize her dog – he loved the treats we gave him us!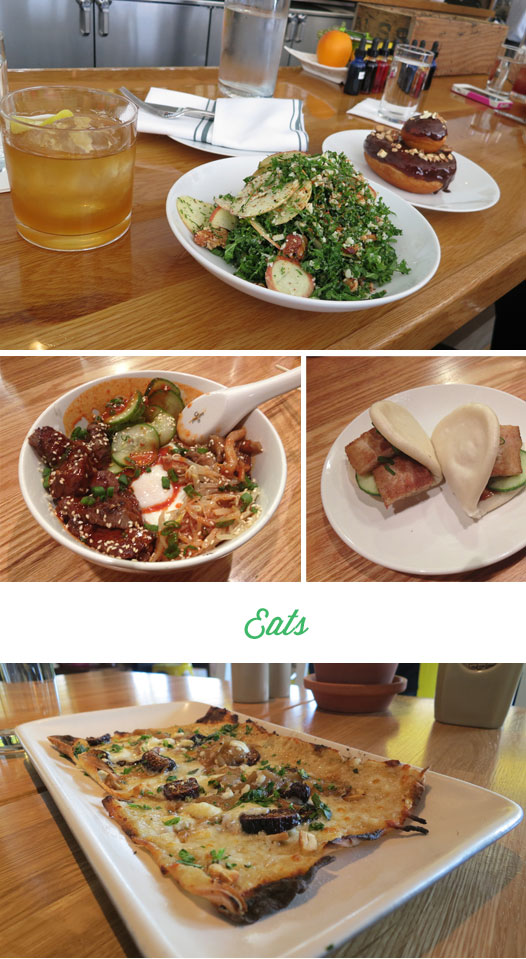 About 85% of all our trips – no matter where we go – are focused on food. Whether it's eating delicious food, talking about food, planning out where we're going to get our next meal, our main focus is food. Food, food, food, food, food. We love food, we love alcohol and we love food and alcohol together. How are we not both 400 pounds? Well, we try to cut back on eating when we're not traveling – more on that in a few weeks (read: I'm going on a juice cleanse soon). From top to bottom, the food photos are from Oak at Fourteenth (our absolute favorite restaurant in Boulder), Uncle (Denver's version of Momofuku) and True Food Kitchen (delicious, low-inflammatory food).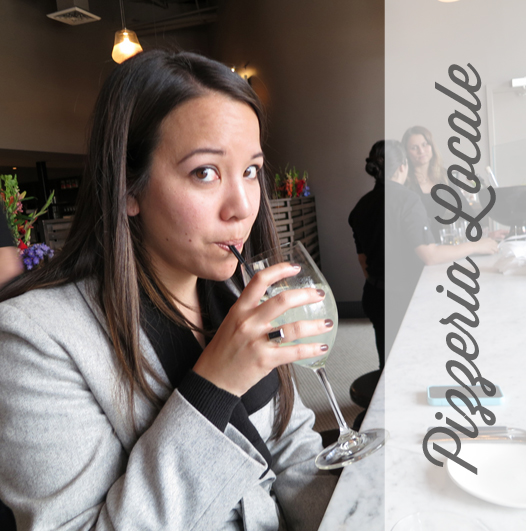 Other restaurants that we visited: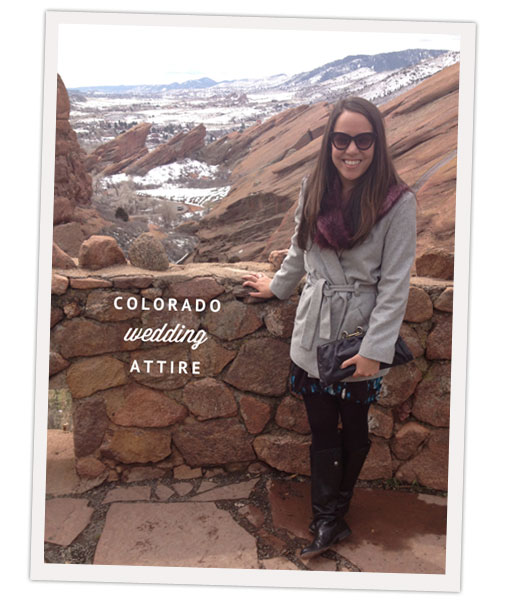 Marc by Marc Jacobs sunglass • H&M faux fur stole • Etsy jacket (unfortunately the Etsy shop no longer exists) • Derek Lam for Kohls dress • Frye boots
The wedding was at Red Rocks, an amazing outdoor concert venue. All of the Denver natives at the wedding were fine in one layer of clothing, but I had to bundle up. I switched into heels for the indoor reception and totally forgot to take a full outfit photo of my Derek Lam dress – fashion blogger fail!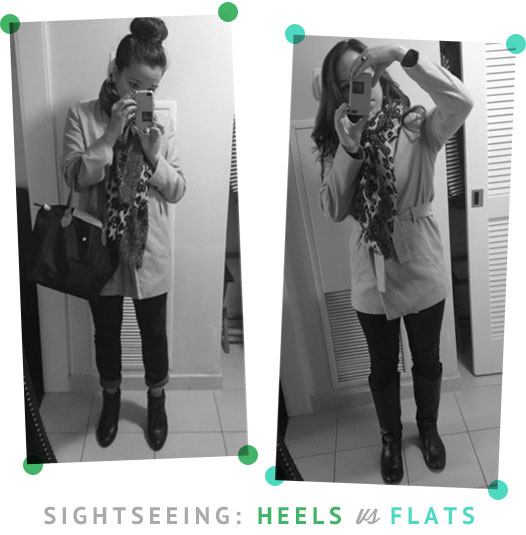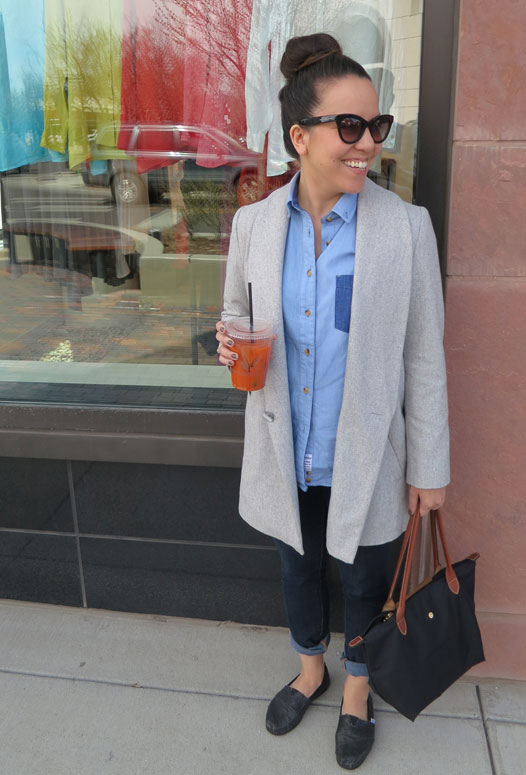 Penfield shirt • Gap jean • Longchamp bag • TOMs flats
I packed pretty light for the trip: 2 pairs of jeans, 3 v-necks, 1 button-up, 1 dress, 1 pair of boots (I wore on the plane), 1 pair of TOMs, 1 pair of heels, 1 fur stole, and 1 light-weight coat.
We've lucked out that for the past two years we've had a good excuse to travel to Denver. I hope it won't be long before we visit again!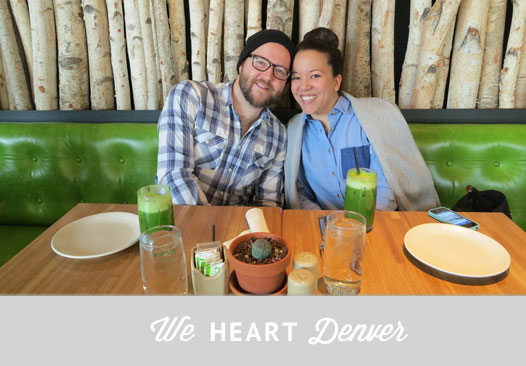 ________________________________
Dearest Lar,
I'm a little envious that you and Matt were in France the same time we were in Colorado, but that jealousy is lessened by the fact that Denver is such a great city. I think if you had been my travel partner, I would have done less eating and more shopping. There were tons of items at Starlet that you would have loved. When it started snowing on the last day of our trip, I would start to complain and then remember that you've been dealing with the same type weather for six months. At least the next trip we're all go on will be sunny, beautiful Italy!
Love you! xoxo, Cath