This is a rare, rare sight: Edinburgh basking in the sun. In fact, we've had three consecutive sunny days — and that hasn't happened since August! It's still barely more than 45 degrees, but Matt and I spent three hours Sunday morning sitting outside and clawing wiggling our fingers at the vitamin D coming from the sky.
For those of you lucky enough to be in sunny climes, let me give you a few stats about Edinburgh to put our euphoria in perspective:
• Seattle is 50% sunnier than Edinburgh (and we're much further north, so the sun we do get is quite a bit weaker)
• Oslo is sunnier than Edinburgh 10 months out of the year
• Throughout the year, on average, Edinburgh has less than four hours of sunlight per day
• Atlanta has twice as many hours of sun per day on average than Auld Reekie (see above)
• On the shortest day of the year in Edinburgh, the sun is only 10.7° above the horizon — that's dusk for most of the world
Edinburgh is a beautiful city, but my-oh-my can she be gloomy and moody.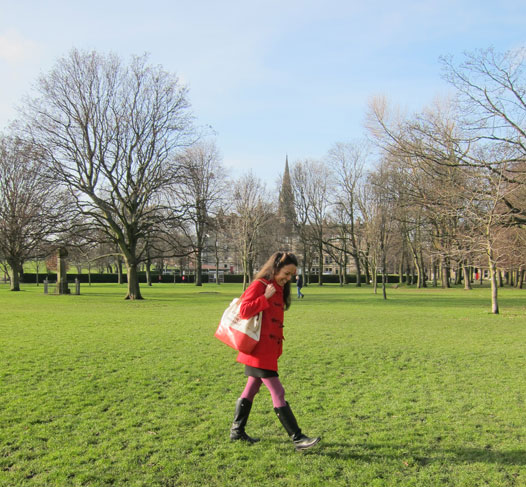 ——–
Dear Cath,
You might have seen President Obama in person, but I saw THE SUN in person! Can you tell my brain has been mangled by the lack of vitamin D? All I can do is dream about sunny climates and yearn to be there. Thank goodness spring is coming or I would have to start walking around with my SAD lamp permanently strapped to my body.
Is it the weekend yet? I want to skype with you!
xoxoxox,
Lar