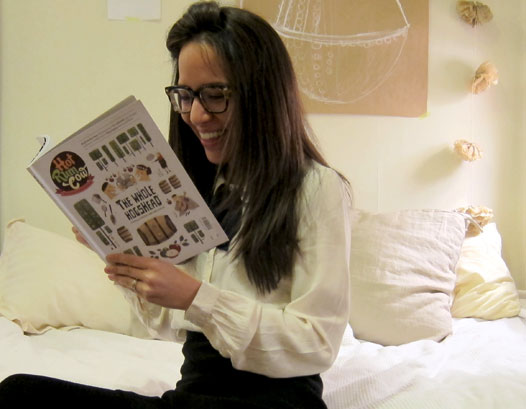 Cath and I used to gobble up magazines in our teens and early twenties (good fiber and whatnot), but about 3 years ago I noticed a definite decline in my reading of Vogue, InStyle, Elle, et. al. Instead of adding to my stacks-that-became-night-stands of magazines, more likely I'd be glued to a computer screen reading blogs. I thought, why pay for this stuff when there are all these great bloggerinos out there who share their wisdom and know-how for free?
Well, I've had a magazine rebirth* — a magazine renaissance, if you will! But this time around I'm not as interested in the hefty, glossy Condé Nast-ers. Instead I'm hoarding their less famous, independent cousins. And it's not just fashion I want (or get), but magazines about food and travel and booze. I don't plan to amass stacks of these guys, I just want to curate a neat little library of inky-perfumed goodness that I can delve into whenever I want to learn something new and tantalize my eyeballs.
I still love me my blog reading, but it's nice to have something that slows you down a bit. On the internets when I read, I tend to be fairly fickle and distracted; clicking around different tabs constantly and scrolling down pages at a mad rate. Sitting down with a magazine and a cup of tea slows my brain down in a way intertube reading can't.
How about you guys? Do you still read mags or has that gone by the wayside for you too? If you are reading mags, which ones still manage to pull you away from your computer? Or are you all faincy-pants and do all your reading on a mobile device? What does the future hold for us content-gobblers?
* I blame a massive part of my magazine rebirth on two things. 1) I've just started working as a designer for an agency that produces lovely magazines: see Hot Rum Cow (also in the pics above). 2) There is a great shop in Edinburgh called Analogue Books that carries a satisfying selection of these tomes — in Atlanta I never knew where to shop for really good independent magazines. If you guys have places in your cities that carry the indies, leave that in the comments as well!
——-
Dear Cath,
Remember our Seventeen magazine days? Or wait! Further back: American Girl, Girl's Life — hah! Do you remember those? I forgot that we were magazine addicts before we turned 10. I still remember some of my favorite articles: that girl who illustrated that book about a clumsy ballerina (American Girl mag) and a blurp about Kirsten Dunst (at 11) doing Interview With a Vampire, and I remember thinking "kissing Brad Pitt? Eh." 10-year old me was not impressed easily.
Do you have time to read anything other than case studies and work memos? If not, I'm going to make sure I hang on to all these guys so you can read them when you next come to visit!
MISS YOU GAHHHH!!!!
xoxoxox,
Lar