I have so many great memories from visiting Lar last month that I hope you all don't mind me posting a bit more about my visit. For those of you who are sick of Scotland photos, don't worry! I'll be posting some outfit pics soon. And I'm sure Lar will be posting some amazing Greece photos when she gets back next week.
Here's Lar waiting for the bus after we went to see Tatyana, a modern dance created for and performed by the Deborah Colker Dance Company. It was part of the Edinburgh International Festival and such a treat to see!
Express faux-leather jacket • thrifted skirt • Frye boots
Tatyana is a dance interpretation of Pushkin's novel Eugene Onegin. Sounds very high-brow, doesn't it? Well, it was. I've never read one sentence written by Pushkin in my life. Plus, it took me a whole act to realize that there was more than one dancer representing the character Tatyana and more than one dancer representing Onegin on stage. Here's a helpful tip to any performance-goer: read the program before the performance begins. Durh!
The good news is that even philistines like me would thoroughly enjoy Tatyana. Being a former dancer, my legs always twitch when I see a great dance performance – and my legs twitched at least five times during Tatyana. Weird. I know. Lar and I went with two other friends that weren't dancers and they loved it just as much as we did.
Edinburgh has so many great theater/performance venues. Tatyana was showing at the Edinburgh Playhouse: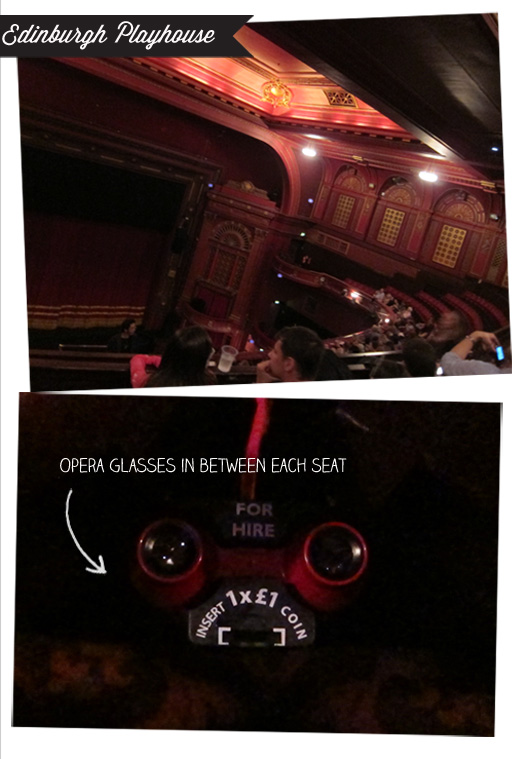 I loved the rental opera glasses in between each seat. I wish every opera house was required to have these – mostly because I can only ever afford the nose-bleed seats and always, always, always hate not being able to see the dancers close up.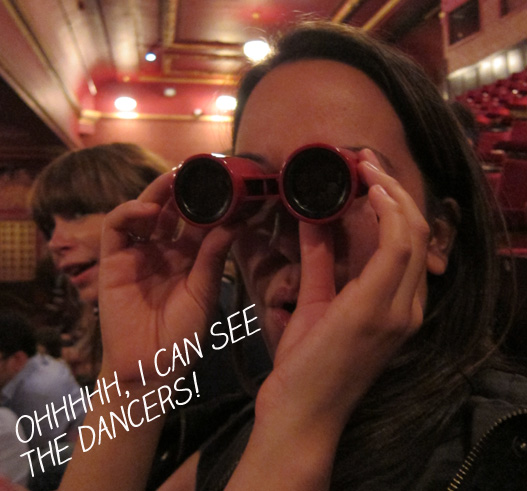 I felt so cultured leaving the Edinburgh Playhouse that night. Puskin, dance, Tchaikovsky and Stravinsky all rolled into one night! It made me think that I should stop spending money on clothes and save up to see great performances like this one.
_________________
Dearest Lar,
Do you have leg twitches too? I always figured that you did since you're my twin and all. There have been so many times when I've had my leg crossed while watching a dance performance and my top leg involuntarily kicks out a bit – like someone has tapped the front of my knee. Surely that happens to you too.
I'm not sure if you'll get a chance to read this post before you fly off to Greece. I still can't believe you'll be disconnected for ten days. That's ten days without Skyping you! What am I going to do? I'll just have to write everything down that I want to tell you so I can fill you in once you return – although you'll have much more to tell me than I will!
I cannot wait to hear all about your adventures in Greece. I know I don't have to remind you, but take lots of pictures!
xoxo, Cath