Sorry for the slow posting, dear readers! That'll change next week now that I'm done with the summer semester – woohoo! And in little more than a week Lar and I will be reunited and blogging together – double woohoo! Until then, here's some fun links for your Friday: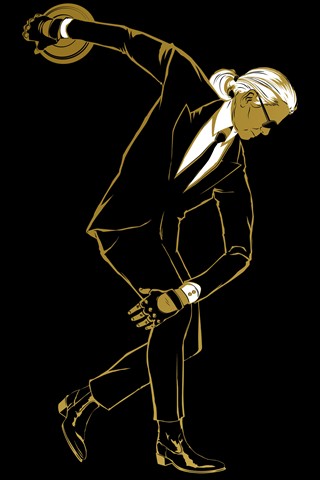 • Even Karl (above) loves the Olympics – here's proof.
• Love Scoutmob's new Shoppe program – it's like hyper local Etsy. Only eight left of these gorgeous gold double bib necklaces.
• Downton Abbey's Lady Mary, actress Michelle Dockery, looks stunning on the cover of Love.
• The perfect black pump for fall.
• Finally got around to watching this documentary. It's incredibly inspiring to see someone so passionate about what they do.
• I'm actually kind of looking forward to my long flight to Scotland because I'll finally get to catch up on some reading, and the reader in me loves this.
• Lar and I love this movie – it's one of our guilty pleasures. I pretty much know every line word for word and even after more than a decade, I still lust after Meg Ryan's apartment. It's okay, you can judge us 😉
• Can't wait to see a live dance performance next month in a life-sized two-story cardboard house!
• For you locals, come to one of the Poverty Is Real concerts at Eddie's Attic this weekend – I'll be there!