Ah, nothing like starting the work week on a Tuesday! I hope you all had Monday off and were able to get some downtime. I tried to take advantage of the long weekend by going on a picnic at Stone Mountain (30 Rock didn't make it up, Stone Mountain, GA really does exist!), perusing the artists stalls at the Decatur Arts Festival, and having family over for a cook out on Monday.
These photos are from two weeks ago, but still applicable since I'm wearing my work uniform that I talk about here. Lisa commented on my last work wear post about how much she likes J. Crew's No. 2 Pencil Skirts. So when I found myself at a J.Crew outlet last month, I made a beeline for the skirts. Orange is a big step for me since I usually stick with black and gray, but I'm really happy I went for such a cheery color.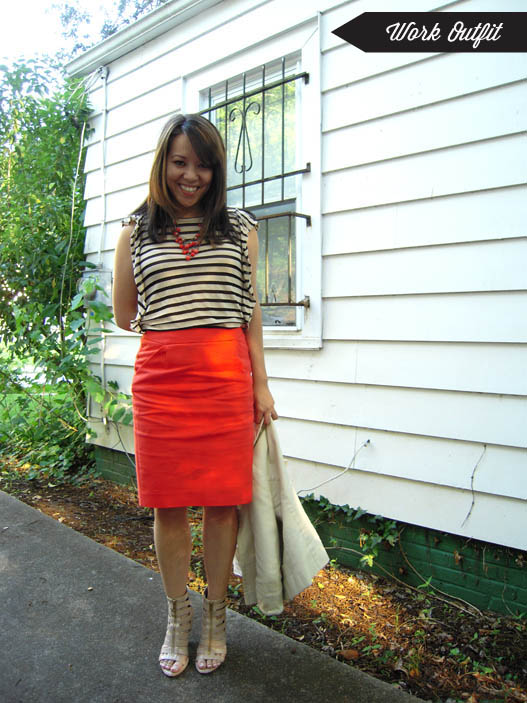 Shirt from Squash Blossom Boutique (last year) • necklace from a clothing swap • J.Crew skirt • Aldo heels • TopShop jacket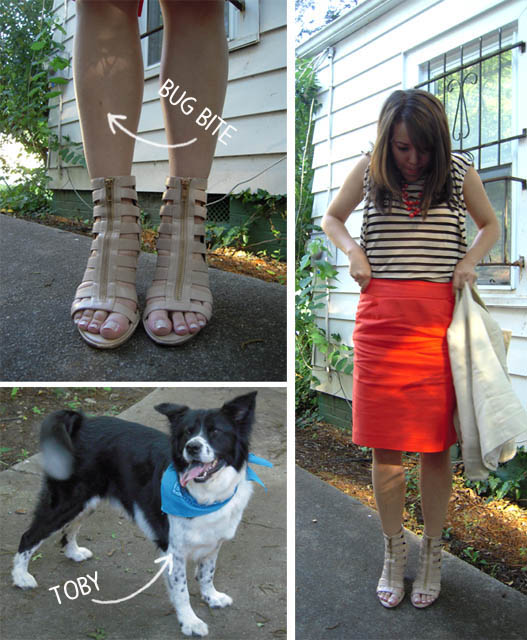 It's way too hot for a jacket in Georgia at this time of year (sorry to rub it in, Lar!), but the office is usually so cold that I have to bring some sort of jacket/cardigan/scarf-like item with me everyday. The TopShop jacket is over five years old and still one of my favorites.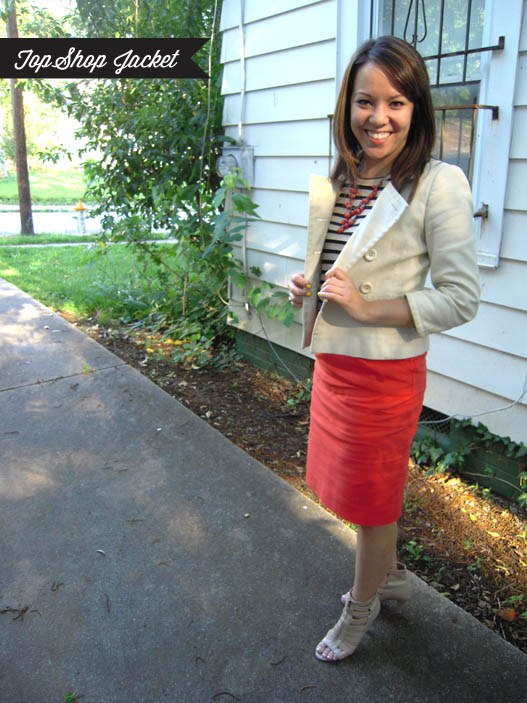 ___
Dear Lar,
I'm so happy to hear that it was "hot" in Edinburgh! I feel like Goldilocks because Edinburgh sounds too cold for me and Georgia summers are way too hot. Let's move somewhere together where the weather is just right! L.A.? I think we might be too east coast for that.
I missed not having you with me at the Decatur Arts Festival – just like everything else, it's not the same without you!
Last night I had this dream that you and Matt moved back to Atlanta, but didn't tell anyone. I didn't find out until I ran into you at the mall – I was equal parts confused, pissed off and overjoyed (and surprised to find ourselves at a mall). How's that for a thinly veiled I-miss-my-twin dream?!
I wish I could send you some ribs and potato salad in honor of Memorial Day picnics. Next time it gets warm again in Scotland, make some Coronation Chicken for a picnic – nom, nom, nom.
Love, Cath
*Post title inspired by these magnets that Troy and I discovered at the Tattered Cover in Denver.