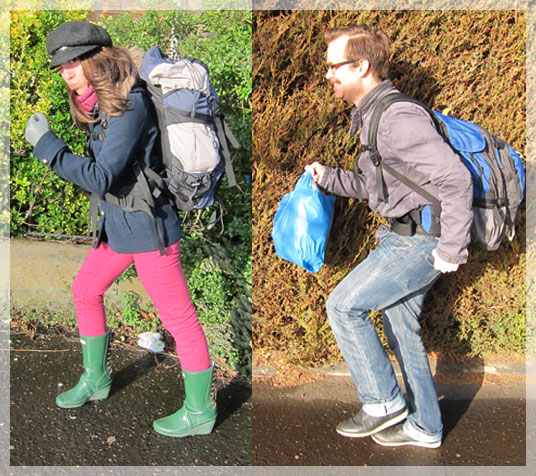 (Me with about 15 pounds of groceries on my back and Matt with about 35 pounds- ahhh true love!)
Not owning a car in Edinburgh is no biggie. The bus system here is great and the entire city is really very manageable by foot. There are even trains and buses that take you to nearly every little town in Scotland that your heart desires. But even with this cornucopia of public transport at my disposal, I still sometimes fantasize about my gas-guzzling Chevy that I left in the states.
Starting to eat an uber-healthy diet has changed our lifestyle in a number of ways: no more cookie time; no more quick stop to the local fish n chipee when our tummies growl; and no more hopping on a bus to Asda or toddling a few blocks down to Tesco. In order to be able to afford all this fruit and veg that we are eating, Matt and I now walk about 1.5 miles round trip to an inexpensive green grocer.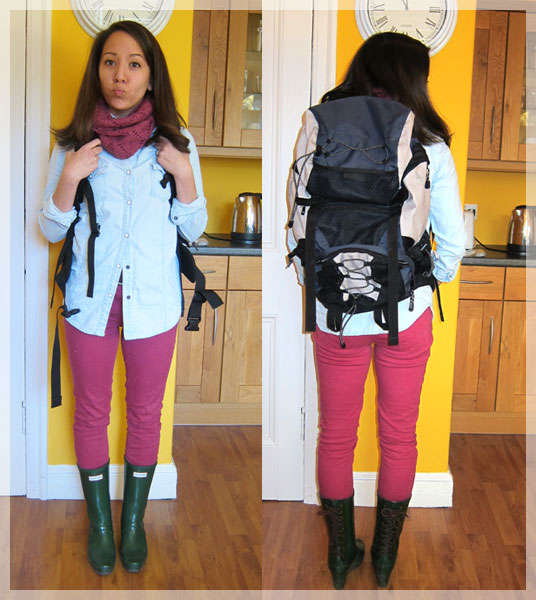 (On Lar: snood from Vivid Boutique in Decatur • thrifted shirt from Armstrongs in Edinburgh • Next pink skinnies • Hunter Boots wedge wellies) • hiking backpack is from a random outdoorsy store in Murica, Spain circa 2003 • Eugenia Kim hat • Primark coat and gloves)
I like to feel all noble and Lance Armstrongy because we are walking to buy healthy food, but really I just get whiny and grumpy-pants. I pine for the days of yore in Atlanta when I could drive .75 miles to my grocery store, fill up my trunk (or do I mean boot?) with tons of food, and then drive home and congratulate myself for.erm. finally going grocery shopping, with a nice cookie or two. or five. Horrible I know! Bad for the planet, bad for my health, bad for my cookie jar (always depleted).
I would like to think that if I did have a car in Scotland (and could drive manual, on the wrong side of the road!) that I would never use it except for romantic weekend excursions to castles and lochs. But I know that if I could, I would drive nearly everywhere — especially when it involves totting 20 cucumbers, 5 sweet potatoes, 2 bags of kale, innumerous cans of chick peas, jars of almond butter, peppers, squash, romaine, onions, avocados, etc.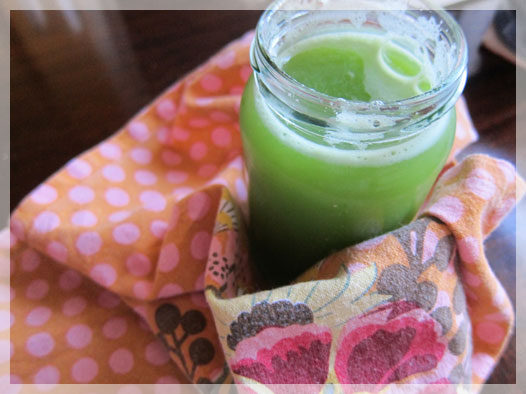 (Daily green juice: cucumber, romaine, kale, apple and celery. not very good for cookie dipping if you were wondering)
The annoying part of all of this is that because I'm eating all these veggies and whole grains, I have a lot more energy and walking back up a hill with a hiking backpack full of veg isn't as much of a problem as you would think. Sure, I gripe and groan the whole way (sorry, Matteo!), but — blast it all!– this eating healthy thing is working.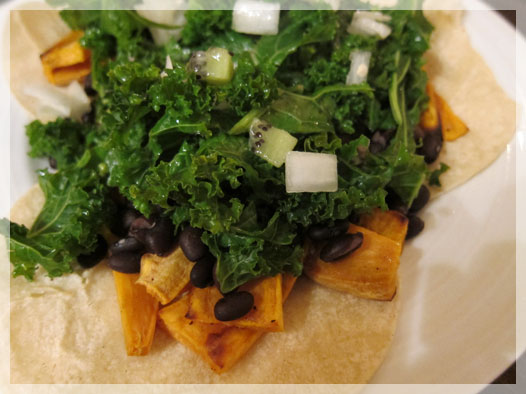 This above pic is actually a new favorite recipe of ours. We feel so decadent eating it: roasted sweet potato, black beans (cooked with onion and garlic and some veggie stock), lightly steamed kale, and kiwi (yes, kiwi!) salsa on corn tortillas – soooo good!
—-
Don't forget to enter Cath's give-away, lovely readers! To find out how to win a pair of these awesome Feiyue sneaks, see this blog post (the one below). These sneaks were favored by Shaolin monks and now loved by Parisian hipsters. I feel these would go well with my new active lifestyle, non?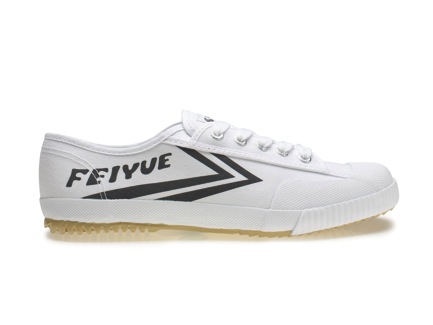 —-
Dear Cath,
Do you find yourself more grumpy on this diet? I'm trying to over-come some of it with some ommmss and journaling, but it's so much more satisfying to gripe. Why is that?
You should definitely try that sweet potato meal above though! It's one of the only recipes that isn't too salady and I don't complain a jot when I eat it.
Love,
Lar
p.s. This was a photo from yesterday morning out of our kitchen window. Pretty ooo lala – non?