We hope you all are having a wonderful holidays- we wish we could celebrate with you all (one big AsianCajun holiday party- one year this will have to happen ;)).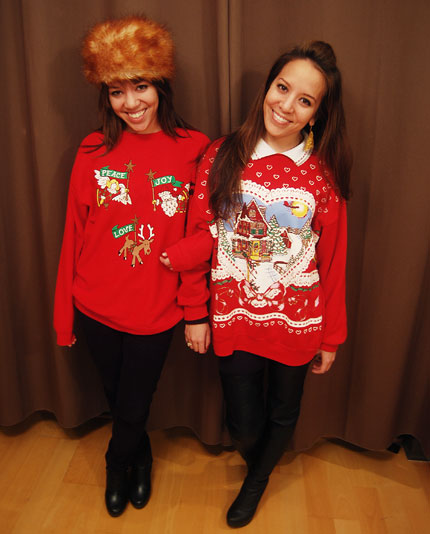 Cath and I donned our ugly Christmas sweaters just for you (and Becs' party over at Style with Benefits). Cath's talented bf Troy Cono, took these photos, thus sacrificing his eyes to the delight of our puffy-paint, doily-decorated Christmas funfest of sweatshirt wear! Both sweaters are from Clothing Warehouse in Atlanta. Cath and I paired the sweaters with black platforms (thigh-highs for me) and leggings. 
p.s. Do you see the built-in collar on my sweater (psst- I'm on the right)? Sold!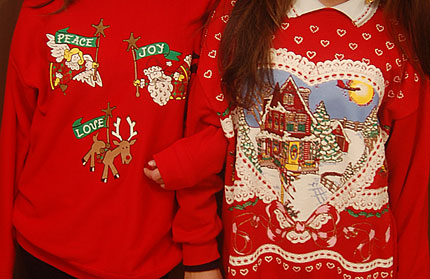 If you need some more AsianCajun reading during your Holiday break, head on over to June Shin's blog for our interview complete with baby pictures. While you're at it, check out June's gorgeous jewelry too- a little post-holiday shopping for yourself. Thanks for featuring us, June!
And a shout out to the beautiful B a la Moda as well. Have you guys seen her blog? This lovely lady from Madrid, Spain has the best suggestions for how to wear tricky trends- all on video (with English subtitles for those of us that didn't do as well in Spanish class as we wanted). Thanks for the award, B!!! We are honored!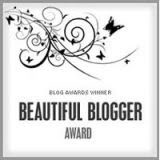 A few of you inquired about our cutie Boo Radley in the post below. He's actually our parents' new addition to the family (we would steal him away but our landlord doesn't allow pups in our apartment- le sigh). You can read about him in this post and see him with his hair shorn – he's looking a bit more handsome now. I've always said I like a man in a hat: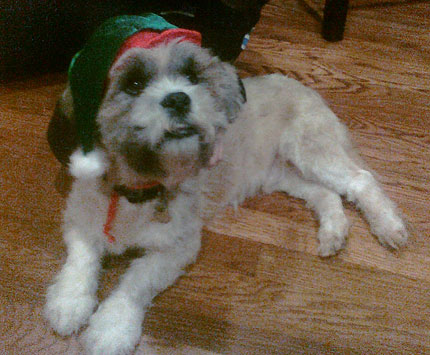 Another happy, happy holidays to you all!!!
xoxo,
Lar & Cath