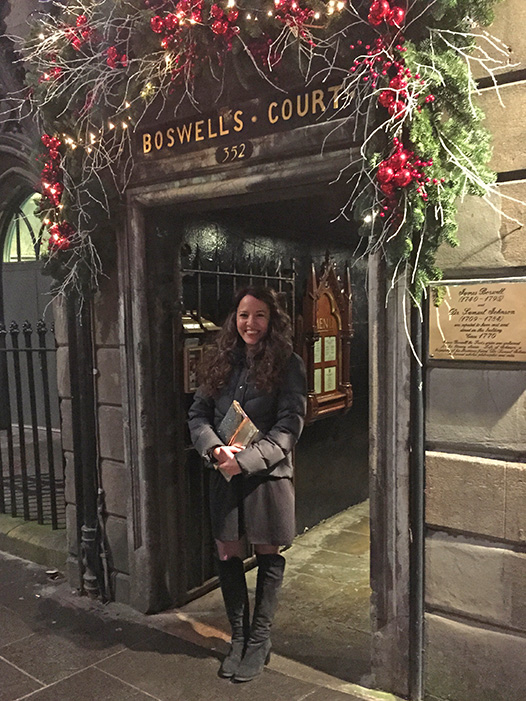 Dear Cath
I know you must be feeling nervous for your surgery on Tuesday. It feels unreal to me because I can't be there with you, and it feels unreal because I was right where you are now just last year. I know the anxiety you must be feeling but also the hope that this will end the endo pain.
I want you to know that you will feel so, so good once this surgery is over and your body has had time to heal. I still can't believe I've been pain free for a year — for the first time in nearly 15 years. And I can't wait for that to be you too. I feel eternally grateful for Dr. Sinervo and all the endometriosis specialist who dedicate their practices to easing pain for their patients.
In the meantime, skype me and what's app me whenever you need to. I'll be back to work on Monday, but I'll be thinking about you 24/7 — not because I'm worried but because I know this is momentous.
It has been so strange not to be with you on Christmas or New Year's for the first time in 31 years. It hasn't really felt like Christmas at all, but you know what Matt and I have learned this past week and a half? Hibernation! We are pros at getting through the darkness (she says cockily because she knows this is the last winter in Scotland!).
So here are the magic ingredients to festive hibernation:
1) Pretend healthy diets exist only in combination with all things not healthy. For instance, green smoothies in the morning will balance out the hot chocolate and truffles later in the evening. The greens aren't just for easing guilt (guilt doesn't exist in hibernation mode) but really do make the chocolate taste all that much better because your body hasn't sugar-crashed earlier in the day. Below is what I ate New Year's Eve: a chocolate cake with pistachio cream and grillotine cherries yummehhh: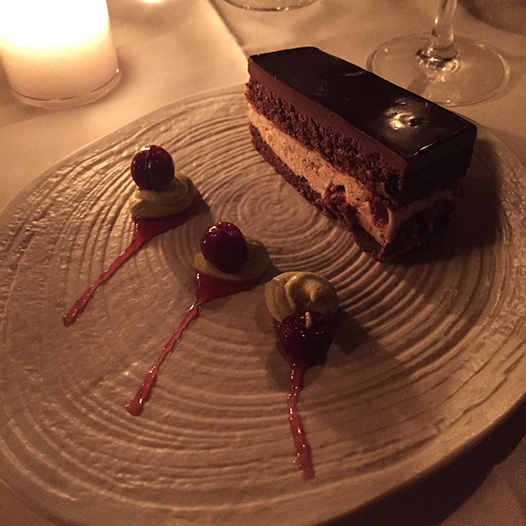 2) Light every room in the house with fairy lights and candles. I've just put my Christmas decorations away but I'm keeping the fairy lights up until at least the Equinox.
3) Ensconce yourself in pillows.
4) When you do leave the house, go to places that are overly-sumptuous and have a fire roaring in every room — and pretend it's your house. Prestonfield House and The Witchery seem to agree with #2 and #3 — oh and #1 — on this list.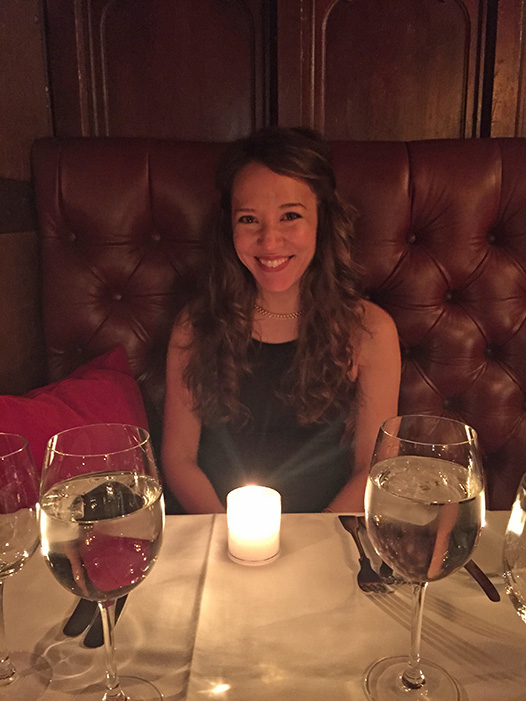 5) Wear glitter or anything shiny and sparkly. There's not much light in these northern latitudes but that doesn't mean you can't try to reflect every little bit there is at any given moment. Even in a darkened taxi my feetsies are glowing!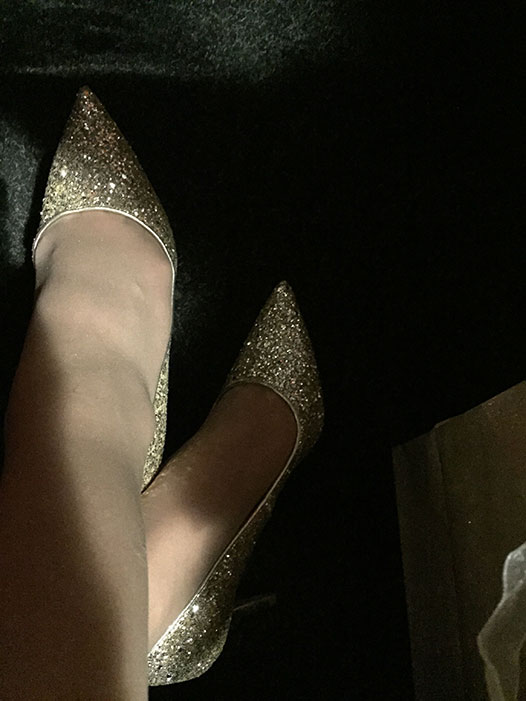 6) Drink whisky with abandon — also by candle light (Matt prefers to do this looking dapper in a waist coat — I prefer it while I'm wrapped in a blanket with a bit of soda water, looking less dapper and more disheveled).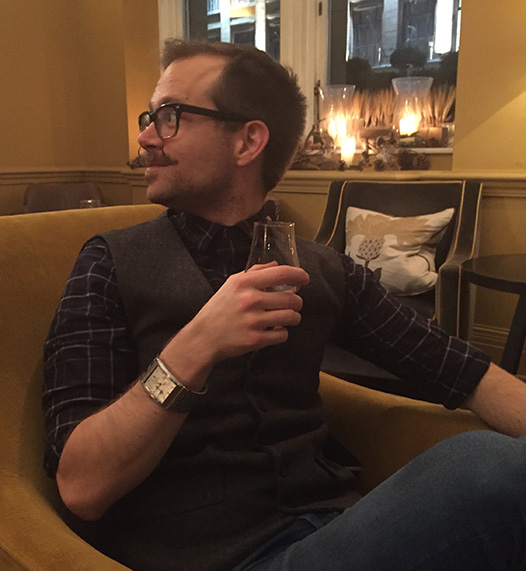 7) Share bottles of bubbly libations with friends.
8) Keep the idea of a summer in Thailand in your mind while the sun sets again at 3pm (that's what it's doing right this very moment, so "Thailand, Thailand, Thailand")
And all of that has seriously gotten us through the darkest shank of the year. The one downside to festive hibernating? All your photos come out grainy because candle light and fairy lights might make you feel cosy and glowy, but your camera doesn't agree.
Love you more than bubbly whisky imbibed by candle light!
Lar