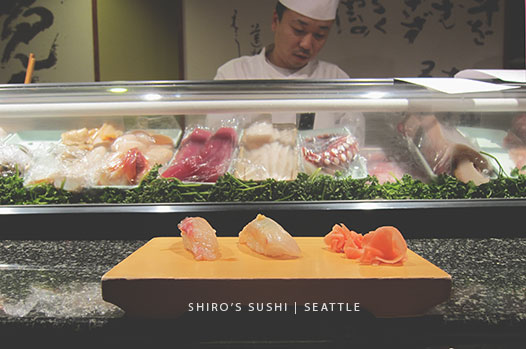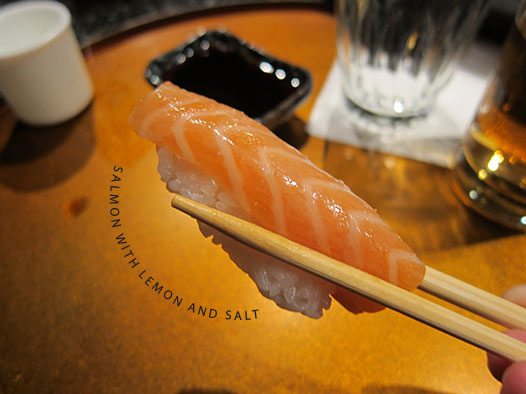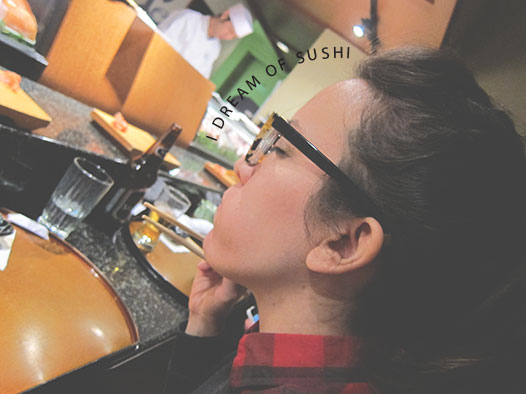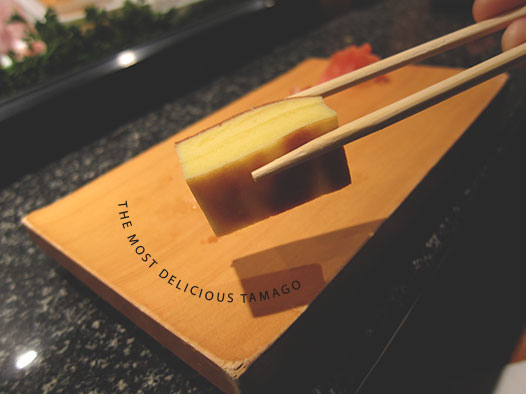 Not so very long ago (say, last week), I didn't get sushi. Chunks of raw fish or eel or squid or sea urchin? Good for aquariums and not for my belly, says I! Oooo how very wrong I was.
Gone are my days of California rolls and a pouty lip when friends suggest a meal of nigiri. Bring on the raw fish! Particularly if it's salmon and even more particularly if it's made by the genius sushi chefs at Shiro's Sushi in Seattle.
Before being introduced to Shiro's (thanks, Cath and Troy!), I always thought sushi-lovers were a bit hyperbolic in their love of the stuff. How can cold fish and clumps of rice be satisfying? Turns out I was just eating on the wrong coast. I think I'll always be an east coast girl through and through. unless I'm eating sushi. Oh heaven!
When we sat down at the sushi bar, Cath and Troy confidently said "Omakase!" I ducked my head down (keeping the planks of raw squid and fish out of eyesight) and looked for the words "roll" and "vegetable" on the menu. When I handed my checked-off menu to the chef, he looked at me (I swear there was a twinkle in his eye) and he said "you let me know if you want anything else as we go along." And thank goodness!
By the end of the night I was a full-fledged omakaser after watching Cath and Troy chopstick mouthful after mouthful of intriguing-looking delights. For those of you who don't know, omakase basically means you entrust your menu to the chef, so s/he'll make you whatever is fresh and most delicious. I love the idea of putting your gustatory trust in the hands of a virtuoso sushi chef. There's something wholy (and holy) satisfying in surrendering yourself to what is beautifully presented before you. That mean that sometimes you get sea urchin (still scares me a bit), but it also means you get a salmon nigiri that melts in your mouth like warmed butter and pure joy.
Another part of the beauty of omakase is that you don't just get a big ole plateful of sushi in your lap at once. The chef hand-rolls each nigiri, so you wait every few minutes in between these melt-in-your-mouth mini monuments of delight (now who's hyperbolic?!). And while you wait, you can chat to the chef and your fellow diners. Suddenly the meal is more than just food, it's about a relationship to what you are eating and who you are eating with.
Have you guys seen the documentary "Jiro Dreams of Sushi"? If you haven't, do! I think it's on Netflix at the moment. I watched it many months ago before my personal sushi enlightenment last week and it gave me an inkling of what I experienced at Shiro's.
Now tell me, have you guys always been sushi lovers or did it take you a while to come around to it? If you are a sushi lover where is the best place you've had sushi? I now feel like I should move to California or the PNW just so I can always drift away into omakase bliss whenever I need to.
——-
Dear Cath,
Thank you so much to you and Troy! I really never understood you guys when you would go on and on about good sushi in LA. I really don't think it makes sense until you have amazing sushi. So much of my sushi life has been from grocery stores and subpar sushi places. I still will be partial to vegetable rolls when I'm in those places, but I'll always be yearning for the real thing.
I think that tamagoyaki is one of the best things I've ever tasted in my life. And unlike most desserts where the sugar leaves you craving more and more, this was such a perfect balance just as it was. Not more. Not less. Perfection.
You guys basically are responsible if Matt and I end up moving out to the west coast.
Love you like tamagoyaki,
Lar
______
Update to our readers:
Lar wrote this post before her surgery last week so I figured I should include an update on her progress. On Friday she had to go back into the hospital because she was developing an abscess from the surgery and had a high fever. The good news is the doctors were able to drain the infected area before it got really bad, but it has made the recovery process more drawn out. Lar is still in the hospital, but should be released early this week. I'll keep you all posted and just want to thank you again for all of your wonderful words of support.
xoxo, Cath