Happy Friday, lovelies! Lar and I decided to mix things up a bit and instead of a Friday Link Love, we're doing a Friday Twin Take. Yeah, that's right, we like aliteration. And we like sharing our sameness and different.ness. First up! Vanities!
Lar and I are relatively low maintenance when it comes to makeup. Don't get me wrong, we love our trips to Sephora as much as the next girl, but we both keep our makeup routines under five minutes. Efficiency? Yes. Laziness? Most definitely.
Regardless of our brief daily makeup routine, Lar and I both appreciate having a place to apply our makeup. There's something so luxurious about having a dedicated spot to primp and Lar and I have both done it on the cheap. Take a look: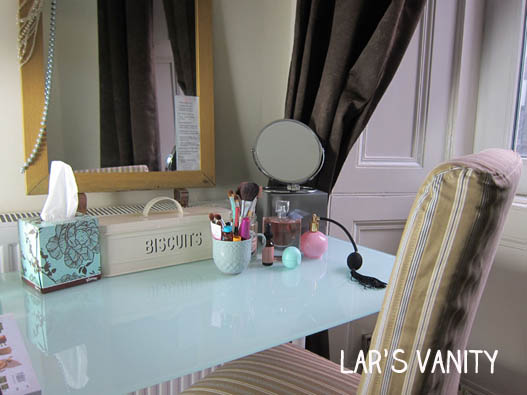 Lar's vanity is located right by her bedroom window. Of course natural light is the best light to apply makeup. Too bad Lar lives in a country where it's only sunny about 10 percent of the time (sorry Lar, had to make that dig).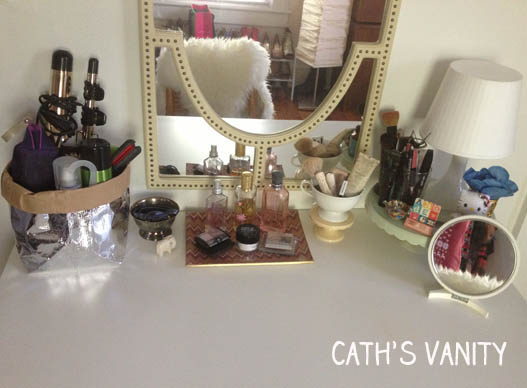 My vanity is a five year old Ikea desk. I used my phone to take photos so you can't see the scratches in the paint. Otherwise, it's perfect!
Let's take a closer look at each set up: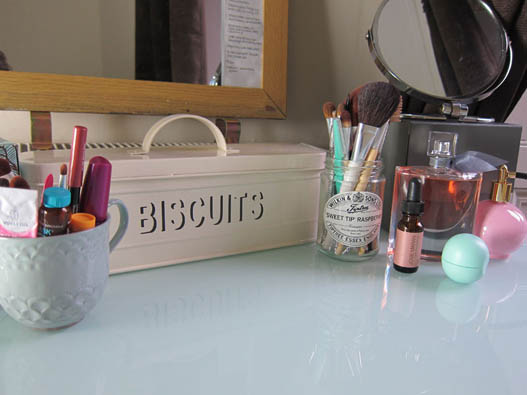 I love how girly Lar's vanity looks – although I guess there's no such thing as a manly vanity. Matt bought her that bottle of Lancome perfume for Christmas and the pink bottle is from her super fancy Harrod's hamper. Do you see all of her makeup brushes? Lar is the one who made me realize that makeup is so much easier to apply with brushes than with the weird foam tools that come with drug store makeup and q-tips.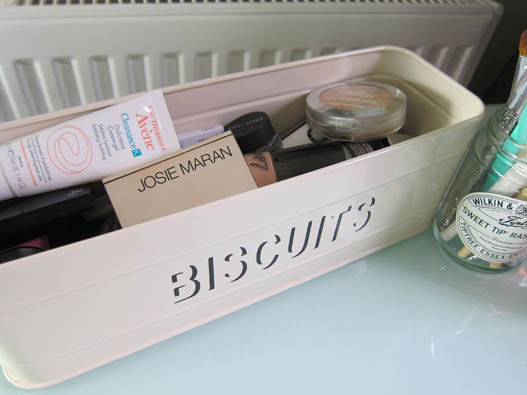 Lar stores the bulk of her makeup in a biscuits (that's "cookie's" in British speak) tin.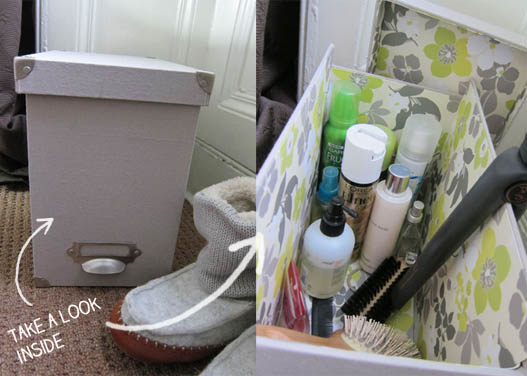 Instead of cluttering up her vanity with hair tools and products, she keeps them stored in a box nearby. Do you see how she has a GHD straightener? So jealous!
My vanity is a bit more cluttered: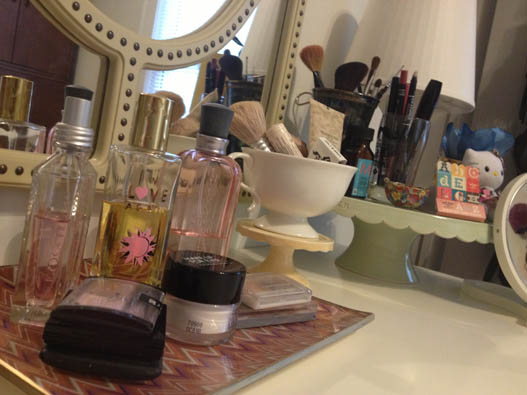 I purchased the chevron tray and little cupcake stand at two local shops in Decatur. The full size cake stand was made by a local potter. I like to think these items make my table top look a little more pulled together.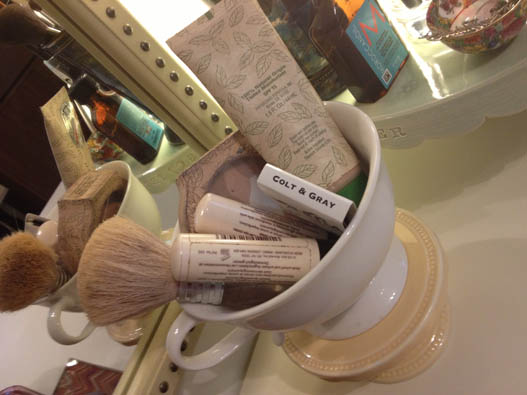 Lar and I both like organizing things cups (see my white tea cup and Lar's turquoise mug). I have two tubes of Rimmel concealor because they're now only available in the UK. Lar brings them home for me and I hoard them.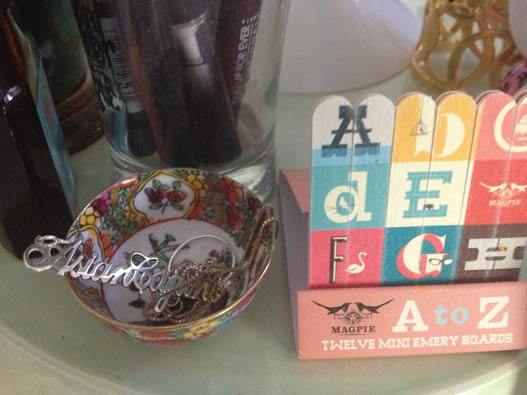 I keep my AsianCajuns name necklace within easy reach because I wear it almost every day. The little bowl is a gift from a friend who went to China and the A to Z emery boards are from Lar.
I think Lar and I get our love of vanities from our mom. She's not big into makeup either, but for as long as I can remember she's always had a vanity. It's a a weird combination I suppose – like having a big closet but not really being interested in clothes. Go figure. Are we alone here? For our female readers out there, do you have a vanity? Any organizing tips? Do you keep your makeup in a cookie tin?
So many questions to think about while heading into the weekend!
P.S.: Friday Link Love isn't gone forever. It'll be back every other Friday.
__________________
Dearest Lar,
It's MLK Jr. weekend and you know what that means?! Volunteering on Saturday! This will be the second year in a row where we won't be volunteering together, sniffle ,sniffle. I hate losing traditions like that, but we can start new traditions, like Twin Take Fridays, woohoo!
Skype date Sunday?
xoxo, Cath