Happy Monday! Let's talk about the weekend.
This post should really be titled, "What the hell should I wear this weekend?" With my limited budget, I end up spending my money on work-appropriate items. If it wasn't for Lar leaving me a bunch of her fun, laid-back clothing when she moved, I'd end up wearing my pencil skirts* and button-up shirts on the weekend.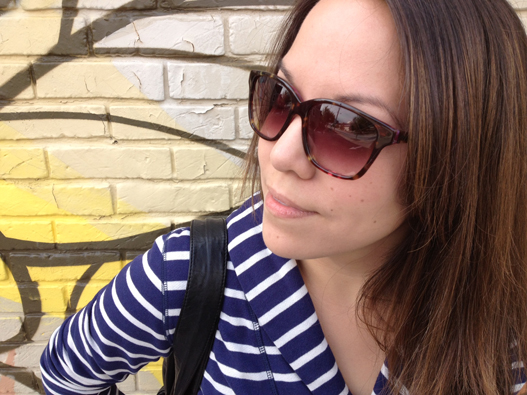 I wore this outfit to brunch on Sunday. The sunglasses, belt and purse are Lar's. The denim skirt is a hand-me-down from my aunt. I bought the top right before going to a Minnesota Twins game when I was freezing my butt off in Minneapolis last month (proof here). The boots are the only item that I sometimes wear to work.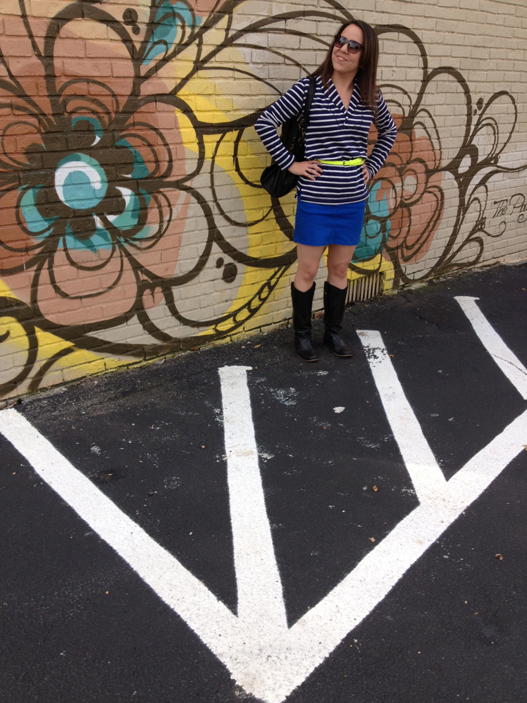 Target fleece • H&M skirt and belt • Urban Outfitters bag • Frye boots • Michael Stars sunglasses
If I had an unlimited budget, I'd buy a couple of pairs JBrand jeans and these sweaters in different colors and wear them as a weekend uniform. It might sound boring, but really I just want some comfortable, good-looking clothes that work just as well for sitting around watching TV as they do for a Sunday brunch.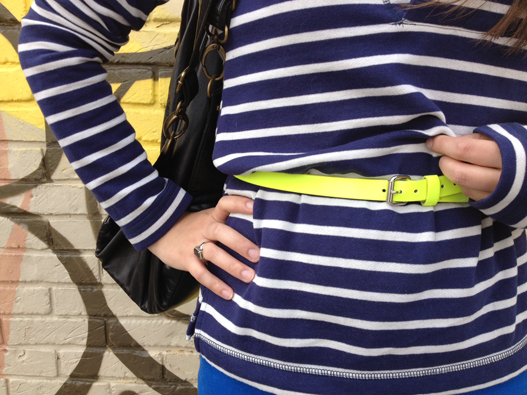 Since I don't have an unlimited budget, my fall clothing wish-list includes nothing but work-friendly items: navy blue heels (I have my eye on these), button-up silk shirts and a perfect black blazer. If I buy any or all of those items, I'll include them in some upcoming blog post.
*This might be a little bit of exaggeration. I do own a few pairs of jeans that I have on heavy rotation on the weekends.
___________
Dearest Lar,
I know you feel that you don't have many interesting clothes, but your eye is so much better than mine. You always look great in your outfits even with just a few key pieces in your closet. You've actually inspired me to do more thrift store shopping this season – I think that'll be the only way I get some items on my wish list.
I hate that we weren't able to Skype this weekend. Who knew yard work was so time consuming?!? I thought it was only going to take me a few hours – not 7. Mom and I ended up working well past sunset. Maybe we can video Skype during my lunch break this week.
Miss you so, so much,
Cath