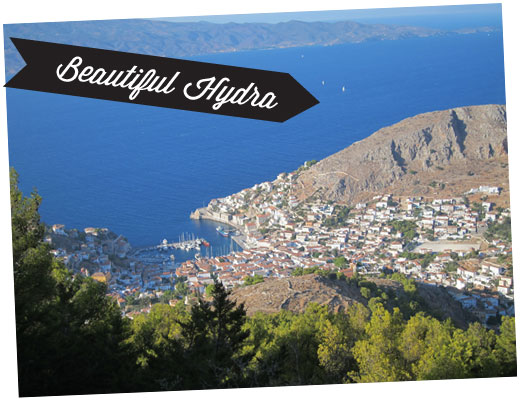 Last week I posted pretty magazine-y photos of my trip to Greece because I didn't want to muck them up with my usual verboseness. So all that pent-up wordiness and writing-on-photos exploded into this post (rubs hands with glee!):
Cath and I grew up going to Ocean City, Maryland and Amish country Pennsylvania for our family vacations. Exotic it was not. Hearing about other people's far-flung traveling escapades seemed an extremely distant pipe dream, something done by fancy folk. So I'm still a bit in awe that this move to Scotland has had the wonderful advantage of getting to fling myself further (Istanbul and Greece in two months) without my bank account shriveling up and dying. This totally makes the living too far from family worth it (almost).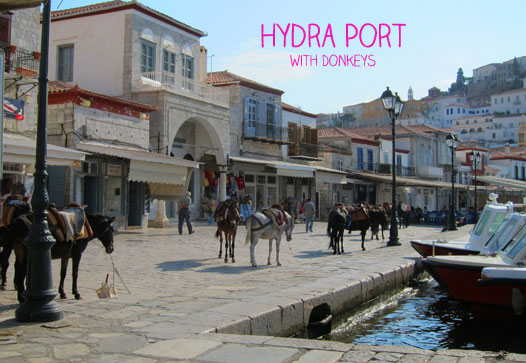 Anywhoodles, back to Hydra and donkeys! We chose this lovely isle to visit because we read it had no automobiles, just donkeys and hilly foot paths. We wanted to get away from noisy, night-clubby islands (cuz we oldies at heart), so donkeys and quiet pebble peaches sounded perfect.
Also, donkeys are so sweet looking — who doesn't want a donkey instead of a Civic. And, I'm convinced if they spoke, they'd all sound like Eddie Murphy ("And in the morning, I'm makin' waffles!"):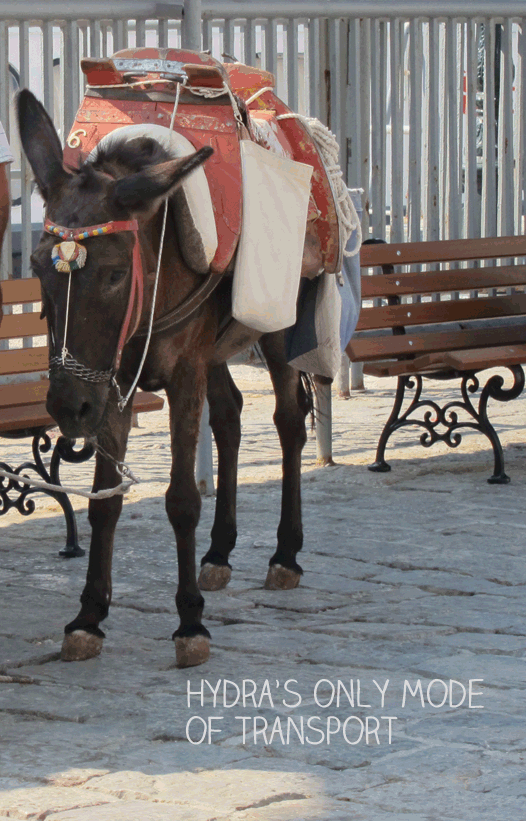 Hydra Port is a town of fancy schmancy yachts, but away from the hubbub of the inlet, the dwellings are far from pretentious. The house we rented (called House Elizabeth) is beautiful and rustic — and I mean authentic rustic, not shabby chic-ified. I love me some peeling paint and creeky shutters (especially when they aren't in cold places. like Edinburgh!). House Elizabeth is set high up on a hill looking down at the harbor: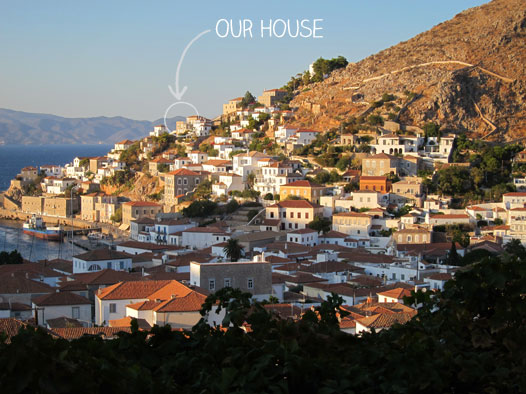 It even came with it's own stray kitty cat! Here she is waiting patiently for her dinner at the back door: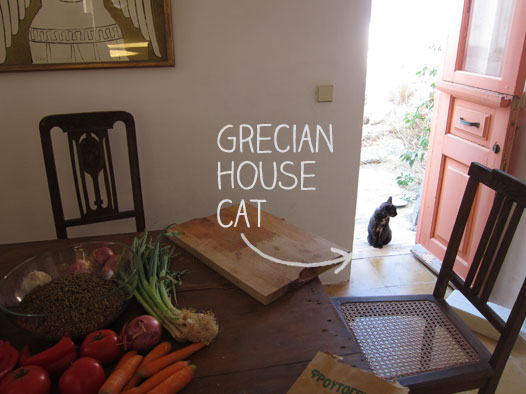 Here's where the rustic living comes into play. Living up on a hill in Hydra means you get zero water pressure, so our showers were bucket baths and the toilet tanks took about an hour to fill after each flush. I washed my hair only three times during my ten day trip (sorry, travel companions!) because it took so long to get my hair wet. I now know it takes approximately five litres of water to shampoo and rinse my hair — I'm sure I use gallons more when I actually take a shower.
Hydra doesn't actually have any fresh sources of water, and so all drinking water has to be shipped in. The water we used to wash ourselves, our clothes, and the dishes, was chock-a-block full of minerals and left a scummy residue on our clothes, plates, skin and hair (when certain people bothered to wash said hairs.ahem).
Low/no water pressure also makes hand-washing clothes tricky (an already difficult skill in my book):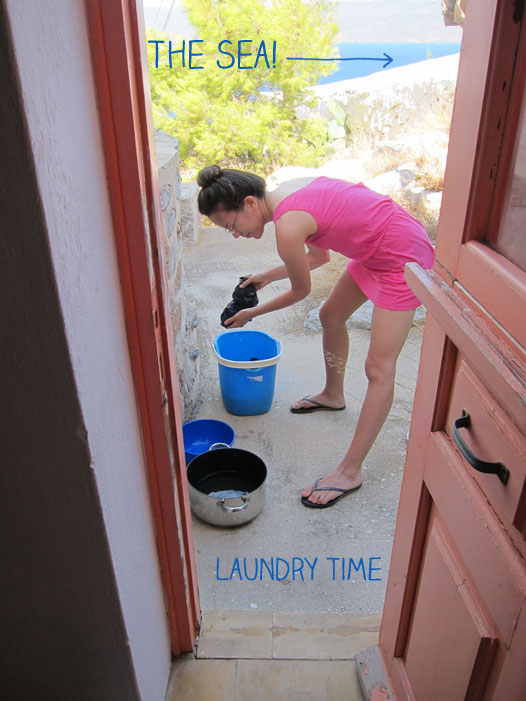 I was grumbling about how I felt a bit dirty and unsatisfied with my bucket-bathing on the fifth day into our trip, and my lovely and very intelligent sister-in-law said "so you are about as clean as most of the developing world." Said sis-in-law lives in Rwanda and works in development all around eastern Africa (see her amazing blog here) — so she knows what she's talking about.  I was like "holyschmoly, you are so right!" I forget how stuck-in-my-bubble I am. I whole-heartedly believe any vacation that gets me away from my sanitized bubble world is a priceless thing — even if I feel unwashed at the same time.
And I really shouldn't have grumbled at all. Hydra is paradise and our house was also good-quirky. For instance we had a large protuberance of rock in the middle of the living room — let the mini rock climbing begin!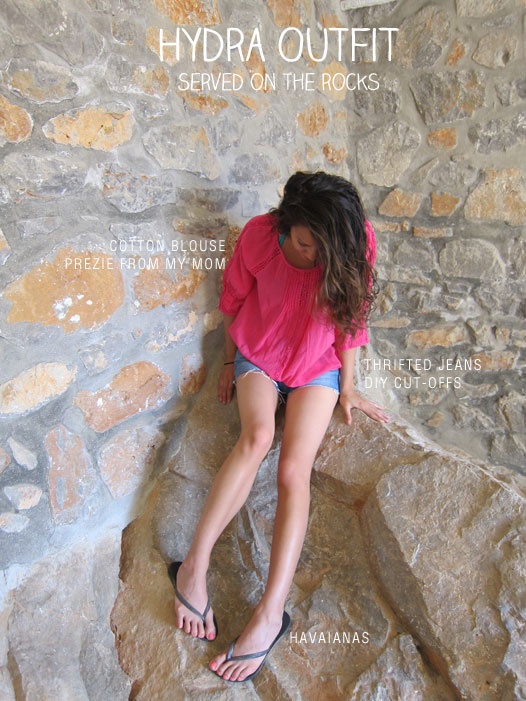 And this is what it looked like on the way up the hill to our house: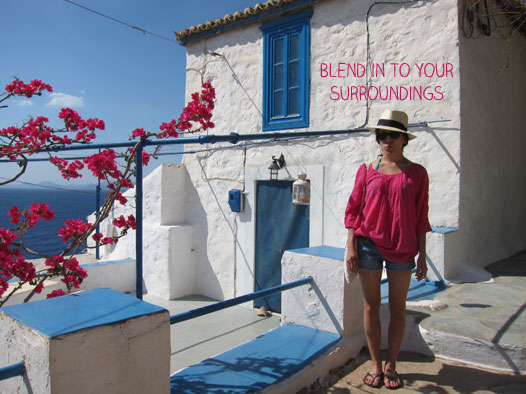 Most of the days my intrepid travel companions hiked around the mountainous countryside. I joined them once to go to the highest peak (a little more than 500 m) — you could see for miles and miles around: teeny islands floating in the Aegean: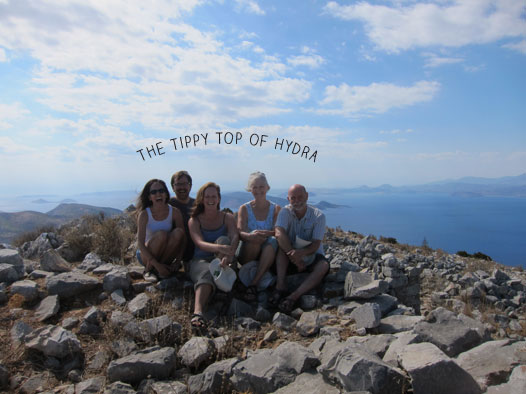 But the rest of my days were spent on a much more serious task: attempting to make up for my lack of vitamin D in Scotland in 8 days (tough life):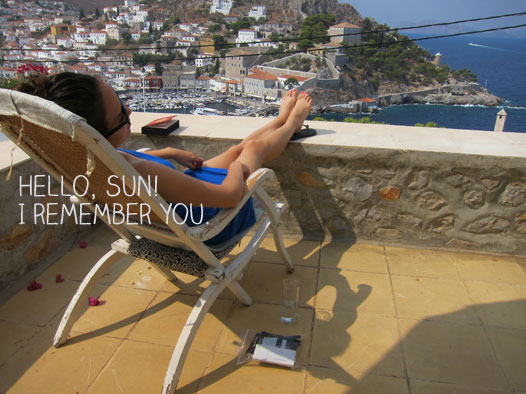 Every evening we would sit out on our patio to eat dinner and watch the twinkly lights come on in town. And when night fell we would name constellations and count the number of shooting stars we saw: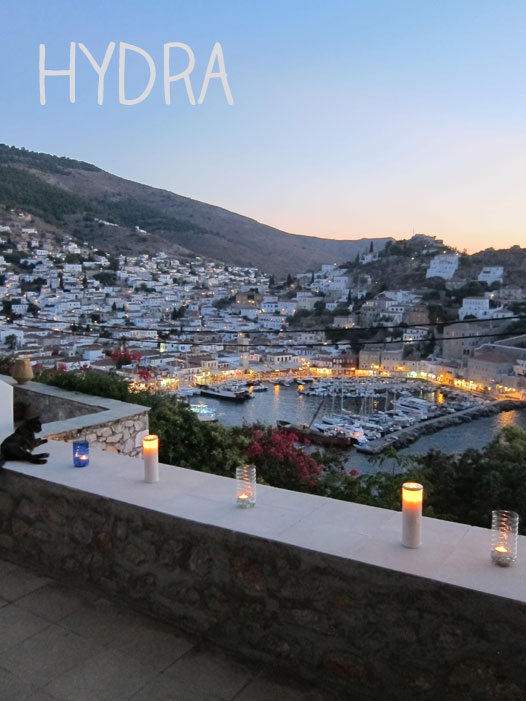 Even without showers, this has to have been one of the best vacations of my life (no offense boardwalk fries and Amish bacon!).
—-
Dear Cath,
Isn't it beautiful! I feel bad that I keep mentioning the poor water conditions on Hydra because everyone is like "ugh!" But the island is such a paradise, it was totally worth it. The water was so clear that looking in the harbor (even with all those oily boats) you could see right down to the rocks below. And I don't think I will ever stay in a place again with such breath-taking sunsets.
The last night we were in Hydra there was a storm coming in across the sea. Bolts of lightening frizzled from the clouds to the water and island mountains. I can totally see why this was the world of Zeus and Poseidon.
I missed you so much when we were there. Next time we are having waffles with the donkeys together!
xoxoxoxox,
Lar