We've all been here: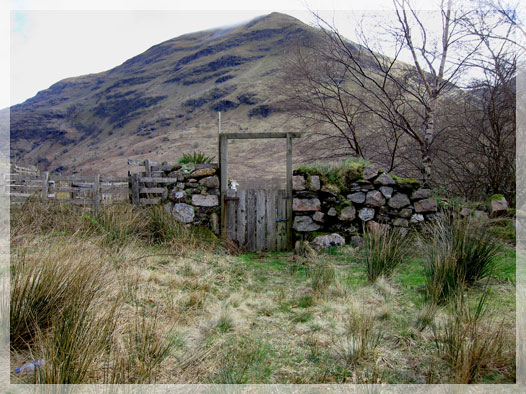 Maybe not this particular gate per say, but these hills by Ben Nevis in the Scottish Highlands have seen some famous menfolk. Harry and friends took the Hogwarts train through this terrain, Liam Neeson as Rob Roy bounded away from the English up that hill, and Mel (face painted blue and white) strode about in his skirt kilt here.
So while Cath has been inspiring you with her lovely outfits, I've been dressed like this: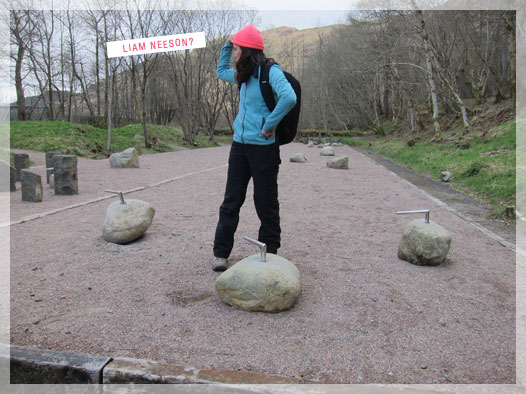 Nice, huh? Columbia, North Face, Pata-gucci: brands that I didn't know existed, or pretended they didn't exist (down with the black North Face fleece!), until two years ago (the "ugly pants" in this photo debuted on this blog here). Not my favorite clothing (except for my Zissou-inpsired neon pink cap), but so wonderful when one is doing some serious hiking. That's right. Serious hiking. Two more outdoorsy words that are new to my vocabulary.
You can hike in cuter clothes: lace-up booties, skinny jeans, properly layered and fitted flannels, some sort of felt fedora. But, ladies and gents, when you are scrambling up rain-soaked rocks, stomping through peaty bogs, and attempting to pee (out in the open- gak!) at high altitudes, you do not want to worry about wriggling out of good-butt jeans or slipping off a mountain in lace-up Frye boots.
Now you might ask yourself, so what is the point of not just the ugly attire, but the (serious-to-me) hiking in the first place?!
Firstly, you get to take a train (I love trains!). It is in fact the same route they use in all the Harry Potter movies: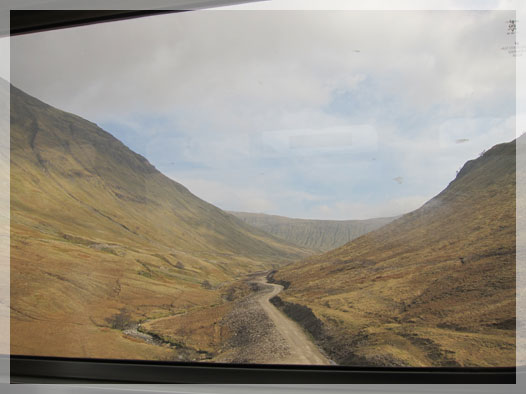 We did not pass Hogwarts, but we did stop at the most remote station in this part of Scotland. The "town" of Corrour is literally made up of the train station and that wee green house you see in the background. No roads, just a train stop. Two buildings surrounded by large rolling hills and mountains for miles and miles: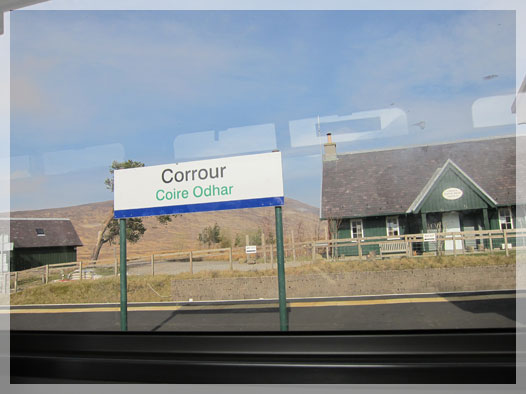 Secondly, you get to see beautiful things like this: Scotland on a sunny day! We were staying in Fort William which gets the highest level of rain fall… for Scotland! And it was sunny and glorious: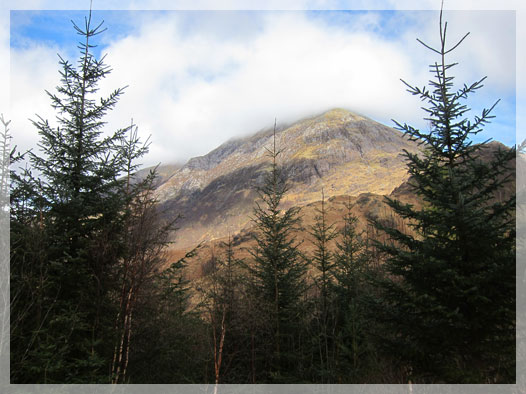 Thirdly, sheep. I love sheep!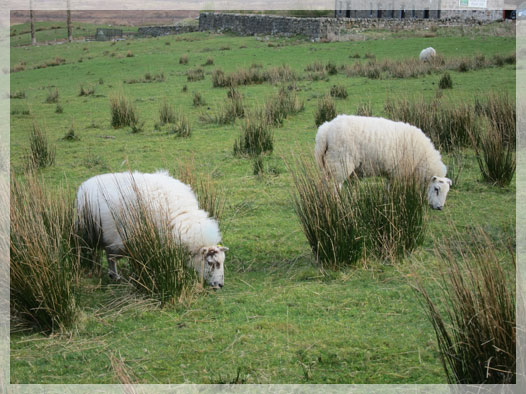 Fourthly, friends (and rainbows!). My lovely friend and sistah-in-law Pam is the one who encourages Matt and I to be outdoorsy. If you are of a similar adventuresome spirit as she (or would like to live such a life vicariously, like moi), read all about her life in Kigali, Rwanda on her blog Pam the Nomad.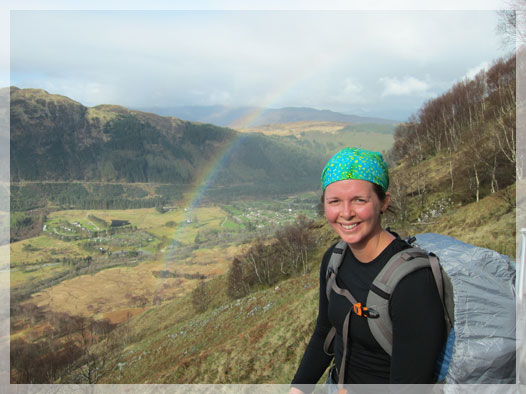 Fifthly, sun and hills and mountains and tree stumps: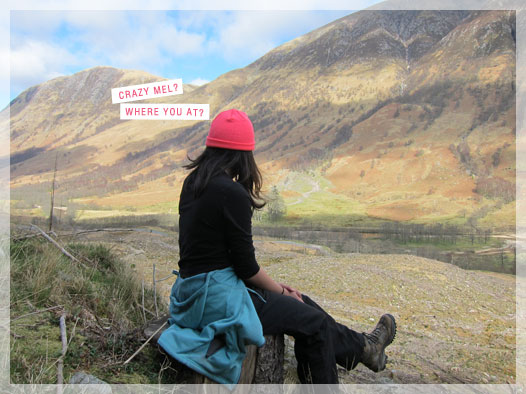 Sixthly, because wherever this guy goes, I go (isn't that the 80s jingle for My Buddy? Matt doesn't wear overalls):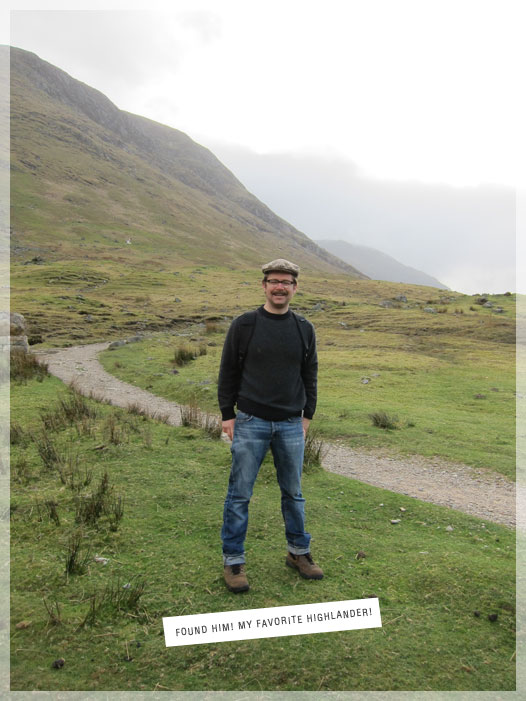 Seventhly (not a word?), because you get a rest from me gabbing about ethical clothing (everything I'm wearing in this post is at least two years old except for the hat which I bought in a weakened state to make myself feel better about the rest of my sartorial trappings).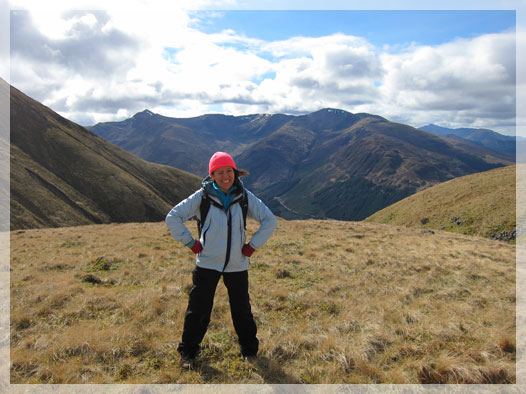 Between being momentarily outdoorsy, working from home in my work-out clothes (which I never work out in), and my ethical muddle, I'm finding it hard pressed to remember how to dress with a bit of je nais se quoi. It's a good thing I have Cath to keep me inspired and remind me that I can look cute at some future date (one perk to being a twin, "ahhh, that's how I use to look in pencil skirts and heels!").
Tell me, do you guys own fleece and water-resistant trousers?
—–
Dear Cath,
Do you remember Fort William ever looking so sunny? Isn't it amazing? I so wish you could have been there with us! I know we aren't real hikers, but you would have loved the sheep and I would have bought you a matching neon cap — we could have hummed the Life Aquatic sound track as we stumbled around fields.
I do seriously mean it though, when I say you keep me inspired. Now that the weather is trying to be warm in Scotland, I will try to emerge from my layers of sweat pants and woolly socks.
I miss you so much. Why is this not getting easier?
LOVE,
Lar