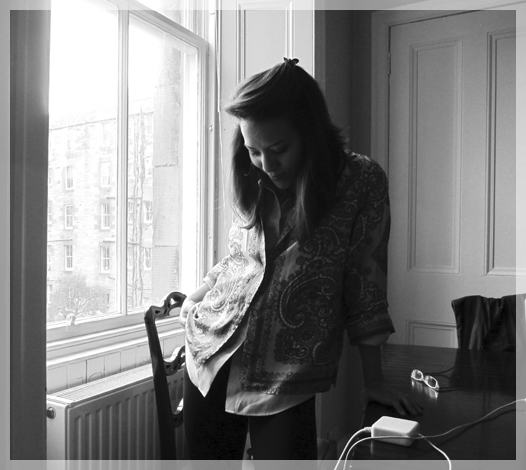 (Black and white photo = broody, thinky, rambly post ahead).
Roughly a year ago I started getting rid of a lot of my clothes. I had been feeling a little weighed down by the number of shoes, bangles, earrings, blouses I had and rarely wore. It wasn't excessive. I'd say it was the average amount of stuff that most of us have who are at least slightly interested in fashion/style (and can afford to be).
I gave a bunch of my stuff to Cath, went to a couple of clothing swaps, sent things to charity shops, etc. I knew I'd be moving and thought it would be a great time to start with a clean slate.
By the time I made it to Scotland in September, all of my clothes fit into one large duffel bag. I had this idea that this "clean slate" (aka extremely paired-down wardrobe) would give me the chance to really think about things (warning: long-winded rambling about to ensue.). Could I live with less stuff? How important are clothes and outfits and trends to me? Did I really want to be a fashion blogger?
Cath and I rarely talk about just clothes and fashion on AsianCajuns, but when I do, I feel kind of fraudulent. I like using clothes/attire as a way of expression, but I feel a bit stuck. I don't feel the urge to shop at the places I can afford (H&M, Zara, Primark, Target, etc.) because I'm still struggling over the ethics of fast fashion. And the fashion world that I can't afford, seems a little silly to me sometimes. I've always been inspired by the gorgeous craftsmanship and creativity that goes into high fashion, but my brain struggles with cost and importance of it. The artistry and creative expression will always be necessary, but the price, turnover and regurgitation of trends seem unnecessary and out of touch.
There are charity shops, Etsy designers, and independent boutiques to shop at when I do want to consume (nom nom nomm). But there's still the tricky balance of buying less and having less in general.
In conclusion: I'm in a muddle!
While I try to figure this out, I hope you'll continue to be inspired by Cath's wardrobe and our adventures around Atlanta/Decatur and Edinburgh! I'll try to keep most of my ramblings to myself and just share any light-bulb moments I have. In the meantime, thanks for your generous patience, readers!
xoxox,
Lar