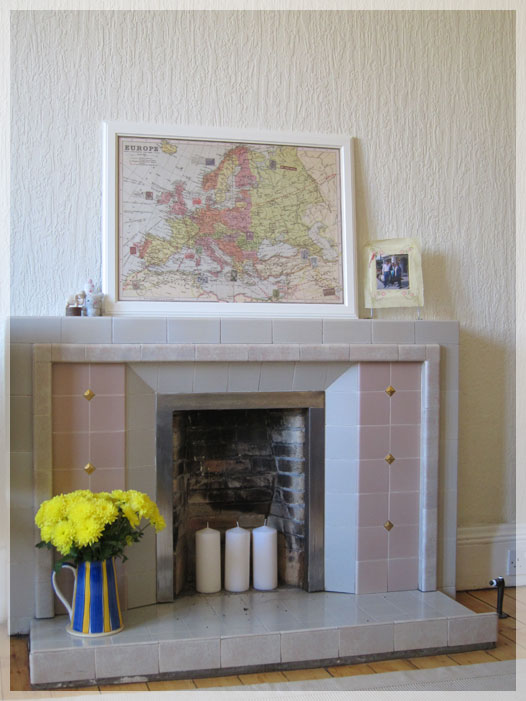 I hate white, blank walls. They give me the heebie jeebies and a bleak outlook on life. Luckily our landlord isn't a complete white wall enthusiast. He painted his hallway a deep coral (you can see that below), the kitchen is a sort of ocre-y orange and the bathroom is a buttercup yellow. Color, good. Now, they need something on them.
I have less than no money to decorate because moving to a new country costs an ungodly sum no matter how much you pinch you pennies (or pences). So I haven't done as much as I would like, and what I have done has mainly been done with. paper.
Exhibit A: decorative paper that looks a bit Liberty of London -esque, bought for £1 per roll: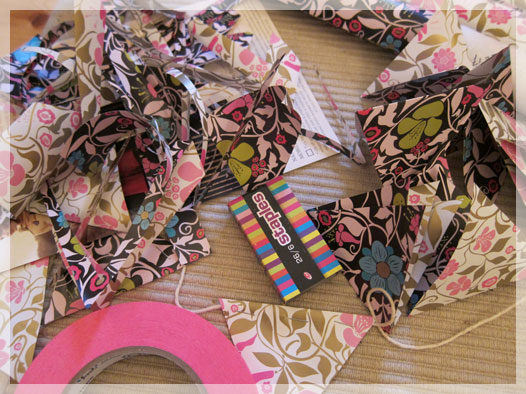 I cut them up and made bunting. Before I left the states, I was a little tired of the bunting, but I've grown to love it because look how it makes walls look so festive! That's our deep coral hallway below: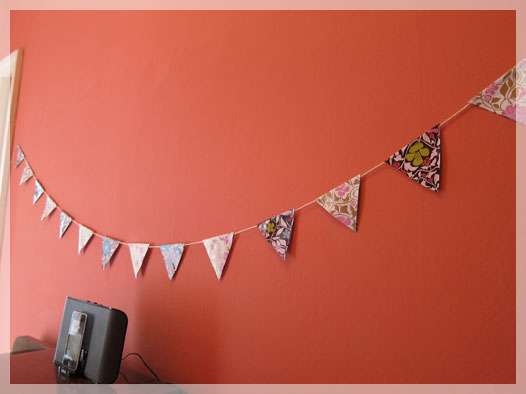 I also covered some boxes with the paper (they hide our toiletries). Mom, if you're reading this, that's a Christmas prezie up on the top shelf — don't look too closely!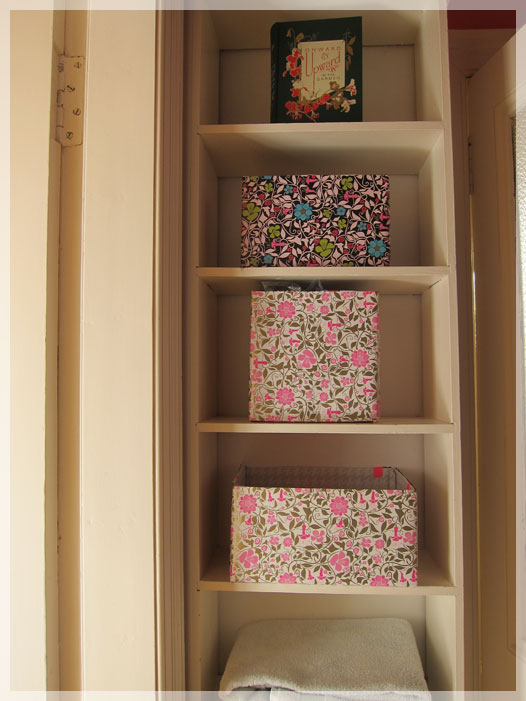 I brought bits and bobs from home, like this miniature book on Matisse. I just love that portrait, one of my favorite images. I made some newspaper hats to share shelf space with the Matisse book and the Kate Spade flip book that has pics of Cath and me at this Kate Spade party.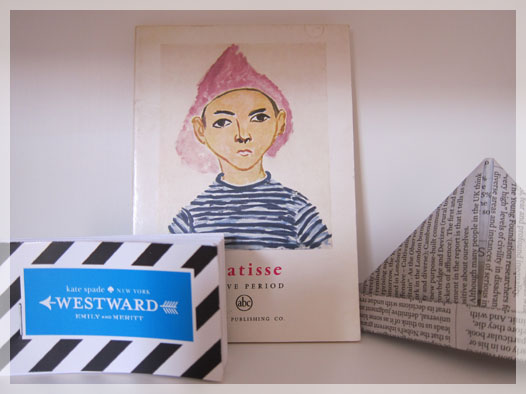 This is our white-walled bedroom below. I'm debating what to make for over the bed. Originally I was just going to tack up the union jack tea towel sitting in the corner but I'm nervous about making holes in the plaster. Further improvements coming soon.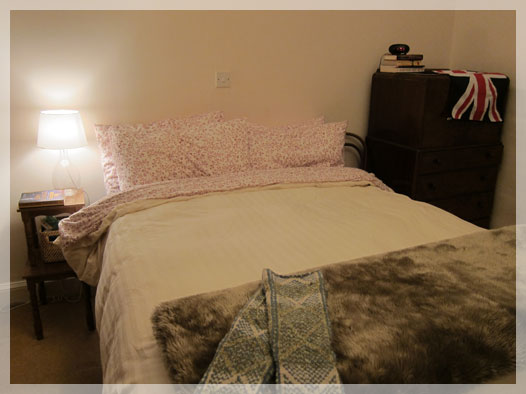 This is where my Hendrick's Gin tea cup went to live. It houses my favorite Burts Bees chappie, and my favorite jewelry pieces (AsianCajuns name necklace included). I bought the biscuit tin to house my make-up, and the mint julep cups are my college graduation present from my parents (had to bring a little Southern with me):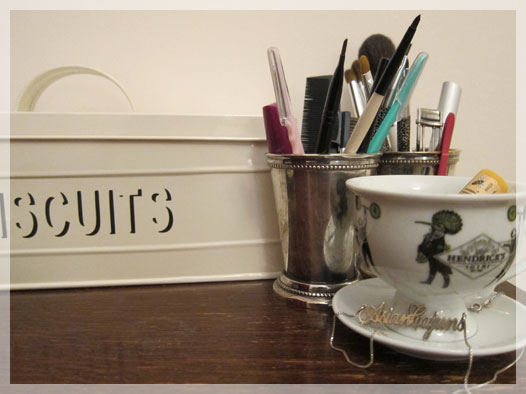 Over the fireplace is another bunting made with gold Waitrose paper. The gold matches the tiles in the fireplace (you can see it in the top photo). The map of Europe (bought on sale for £3 -yippeee!) is from one of my favorite boutiques in Edinburgh called Context Interiors.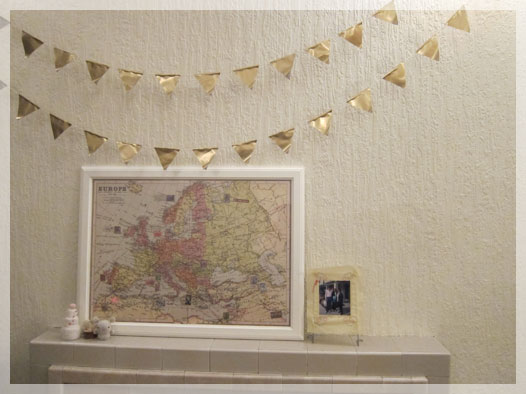 These guys are from home (stateside) as well. The wedding cake actually has a measuring tape curled at it's base – so handy! – Cath has the twin to the faux ivory elephant, and the Woodzie bunny is a wedding present from Cath and Troy via Etsy: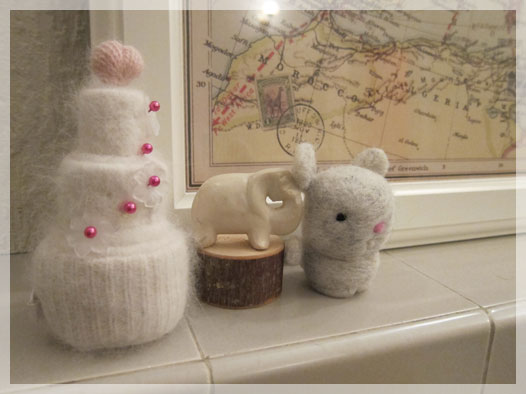 So I haven't done very much, and the designer in me is kind of embarrassed to show you these not-so-pinterest-worthy pics. But I'm going to keep at it and let you know what comes about: a transformation of sorts (on a teeny budget). In the meantime, I hope Cath shows you pics of her place (hint, hint, wink, wink, kitcath) because she has done amazing things with a not-so-fancy teeny 1950s rental. I'll even add a new category over to the right called "Decor."
—-
Dear Kitcath,
Hope my decor will have more going on once you and Troy are here for Christmas! I can't even afford some fancy fairy lights I want to get for your room (i.e. living room) just yet. I would also love to have slip covers, and some more fluffy pillows on the couch. I might have to get a cheapie sewing machine for these projects! I know: first running shoes and next a sewing machine (possibly). Who am I? What has Edinburgh made me? A "running" (i.e. gasping jogger) sewer person. Next thing you'll know, I'll take up rugby.
LOVE YOU!
Larbar