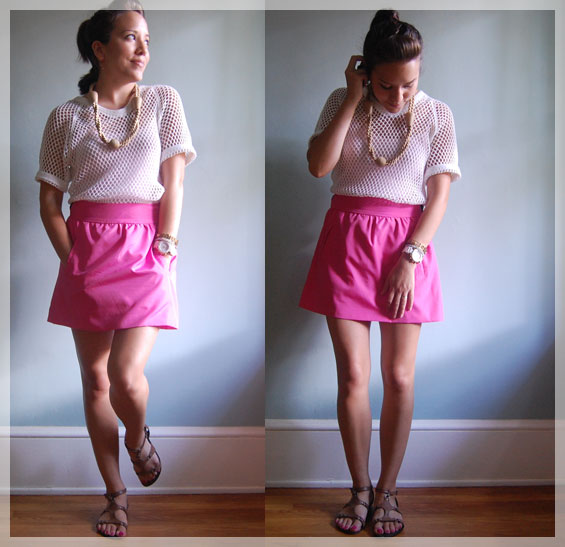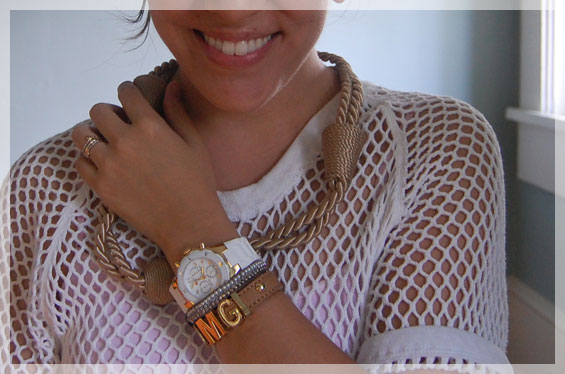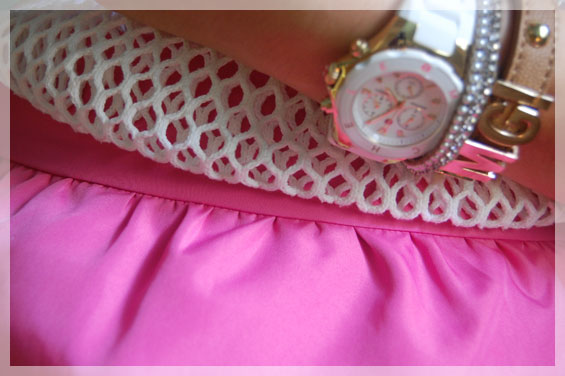 On Lar/moi: cami from Rockit Boutique • mesh shirt thrifted • Zara skirt • old gladiator sandals from a trip to Florence • gifted Michele watch • BCBG OMG bracelet • curtain swag from Hancock Fabrics
Hi guys! It's Friday! Yippee yeah! Lots of things to be excited about: Cath has been away all week – le sigh – but she's coming back tonight! Plus we're just about to jet to the airport to pick up my in-laws who are coming in from Sudan!
Before I go here's a quick list of how Scar-Oh and I are alike:
1) We both live in Georgia
2) We both like flouncy dresses and big hats (who doesn't)
3) We can both arch our right eye-brow pretty effectively.
4) We both wear window dressings on our persons. That ropey thing I have around my neck is actually something to sweep a heavy drape off to the side of a window. I bought it to wear with my (not-yet-purchased) all white summery ensembles – the kind that I usually am scared to wear because I know I'll inadvertently sit in a pile of dirt 15 minutes after I put it on. So for now off-white and pink ensembles will have to do. Maybe one day I'll graduate to wearing the whole curtain – white instead of green velvet.
Hope you have a wonderful weekend, lovelies!!!