Lar and I are bummed we can't make it to the Nexus Awards this year. Anything that supports local artists in Atlanta is our jam. That's why instead of an outfit post, I wanted to do a quick write-up about the award. Atlanta Contemporary Art Center annually honors an individual who has made a profound contribution to contemporary visual art. This year the award goes to Louis Corrigan, the founder of Flux Project. Hip, hip, hurrah!

What is Flux Project? It's an amazing program that presents year-round public art in Atlanta. That includes everything from outdoor dance performances to video installations to sculptures in public parks. My favorite project so far was Lima Lives! It featured a projection of a running zebra on the sides of buildings around town for a week in honor of a zebra that broke free from the Ringling Bros Circus in Atlanta last year. Lima even made it to Decatur at one point.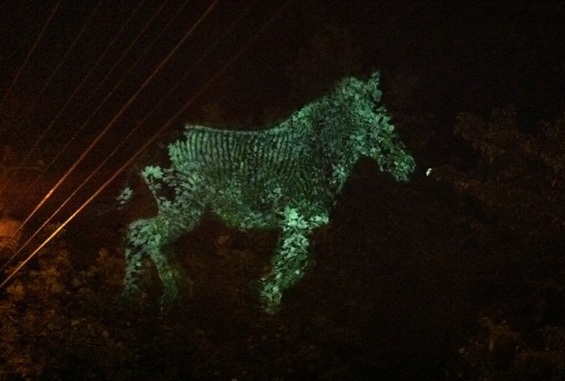 The next Flux Project, Rise Up, is a public art installation in Freedom Park featuring a sculpture made of borrowed ladders. I can't wait to go check it out. Maybe Lar and I can get some good outfit shots by it.
And while I'm on the subject of art, the Inman Park Festival and Atlanta Film Festival are this weekend, which means the Decatur Arts Festival isn't far off. One of the best things about living in Atlanta in the spring is all the festivals. There isn't one spring weekend where Atlantans can complain about having nothing to do. If you get a chance to attend the Nexus Awards or any one of the upcoming festivals, drop us a line. Maybe we'll run into you!
Warning: for those of you who are not anglophiles, hate the idea of royalty, find the hype around the royal wedding pointless, and are all around just a bitter person, do NOT read the post script.
PS: Lar and I just bought some brilliant headpieces (for $10!!!!) to wear to the Royal Wedding shindig at Piedmont Park bright and early tomorrow morning. We're so excited!!! The official wedding program is available now. Apparently Catherine and her soon-to-be-father-in-law, Prince Charles, spent quite a while picking out the music, which will include a piece by Vaughan Williams – one of my all time favorite composers. For more information, check out the official Royal Wedding website.