Two weeks ago my friend, Lena, and I threw a surprise engagement party for Lar and Matt. We tricked them into thinking they were coming to Lena's housewarming party. Little did they know. . . . .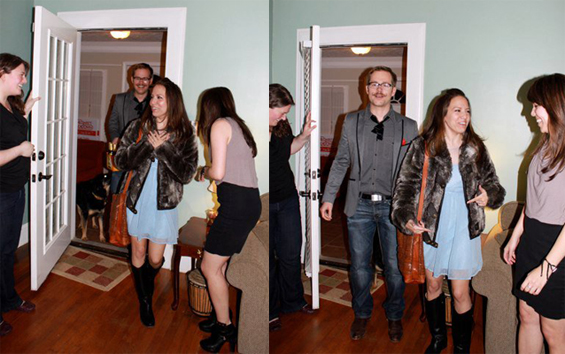 This was the first time I ever got to throw a surprise party for Lar and it was so much fun. She had no idea and couldn't believe that I kept the secret for so long. It's definitely not easy keeping a secret from your twin sister!
Before the party, I took two photos of Matt and Lar and had them blown up at Kinkos. Then I printed out some paper rings and mustaches so everyone could play Pin the Ring on Lar and Pin the 'stache on Matt.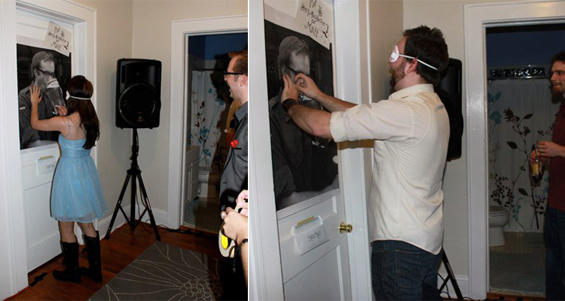 We also set up a photobooth using my Mac and some dollar store props. It wasn't until the end of the night that I realized Lar and Matt didn't make it over to the photo booth together. Whoops. Party planning fail.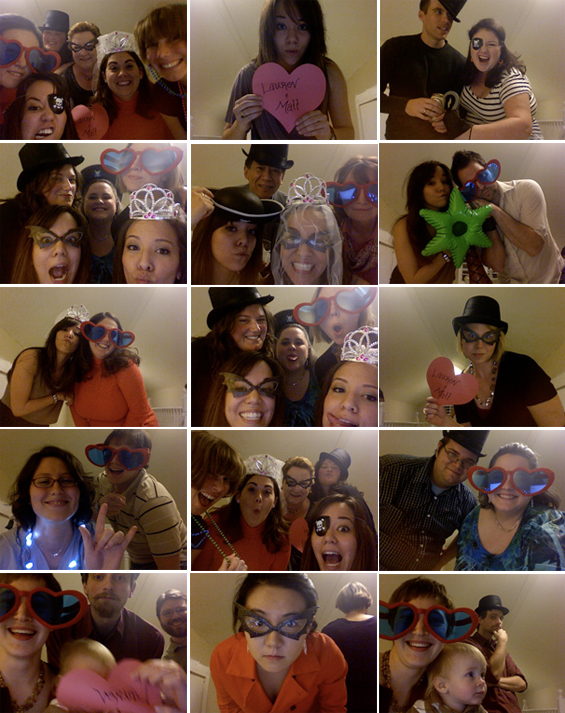 Not including the photobooth images, our friend Dexin took all the party photos. She's in the last photobooth row in the red coat above.
The best part about the party was all the delicious food that everyone brought. Lena's bf made Ritz crackers with Parmesan cheese wrapped in bacon. My friend Meredith made an amazing cake, another friend made Kahlua brownies  and my mom made the best homemade whoopie pies ever! All in all a great night.
And the official countdown is on. Only 13 more days until the wedding! I took some photos of the decorations we've been working on and will post those sometime later this week.
Hope all of you have a great start to the week!