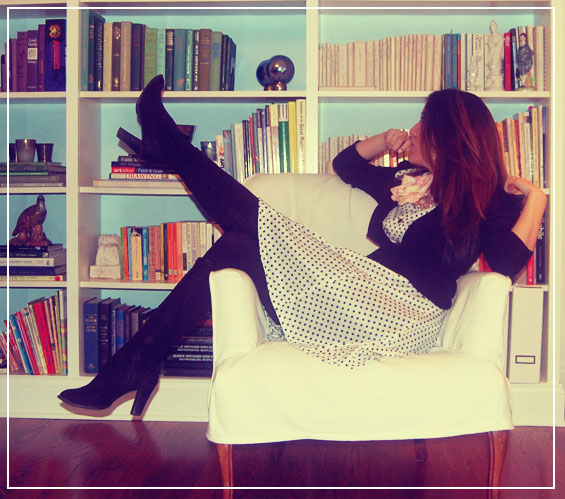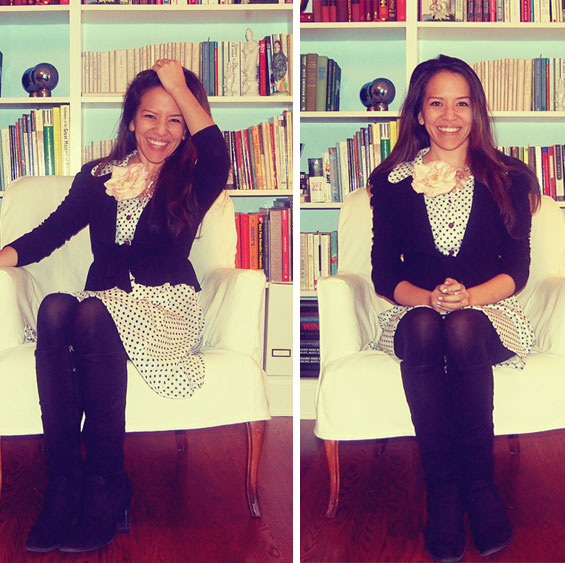 Dress, thrifted via Ramona West; Sweater, Rockit Boutique in Decatur; Necklace, J.Crew; Flower pin (on necklace), "borrowed" from a past ballet costume; Boots, Target.
So here it goes, guys – wedding news! Please, tell me when you get bored. I know I'm not the first person/bride (ack! I'm a bride? That sounds so wrong to me) to feel this way, but hearing what you guys have to say about it has been so helpful and supportive. Thank you, thank you!
– – – – – –
After much debate and a few tears (of frustration), we have decided to. elope! Well, more like "elope" (I do air quotes whenever I'm explaining this in person). And air-quotes-elope actually means "a reallllly teeny tiny wedding."
We knew it would be too hurtful to not invite our immediate family to our elopement, and we really do want them there! And then we also realized we didn't have much money. So "eloping" with the family in tow to Barbados or Ulaanbatar or Cyprus was out of the question. So, we are getting married at my parents' house. In fact, we are having the ceremony in the room where I take my outfit photos (see above). Really! And it's not a big room, but it just might fit Matt and I and our parents and siblings.
In my dream of dreams, I would have a big gorgeous party for everyone I know and love: lots of cake and delicious food, dancing, sparklers, people carried around on divans or elephants. fountains. you know, the works. We would make Carnival in Italy during the 18th century look like a modest soiree. But because I can't afford that ever, I will hope that everyone will forgive me for having such a teeny, intimate shindig.
We will have a ceremony, a professional photographer, and food shipped in for the fam the day-of. So in some ways we are like a legit wedding wedding, but I still prefer to think of it as an elopement because it will be so small and not include all of our loved ones.
Most of the decor will be DIY. You might be wondering, does a teeny wedding/elopement need decor? Well, no. But that is the most exciting part of the preparations to me! I'm hoping to style this thing like mad and get some really good pics to share with you all. I want to create an ambiance that makes it feel like we are in fact running off to some place exotic. Cross your fingers that it looks like a bohemian French farm house, rather than the ATL (I love me some Atlanta, but not for an "elopement" – please).
Okay- I'm off to bed before I babble your ears (eyes) off with all this talk. Again, thanks for all the supportive and uber-helpful comments about this daunting process.
Oh! And I will definitely post one of the two dresses soon (the second one will be a surprise until the day-of). I plan to wear the surprise dress during the ceremony, and the other for the rest of the day. Why? Because I can! Muah hahahaha!