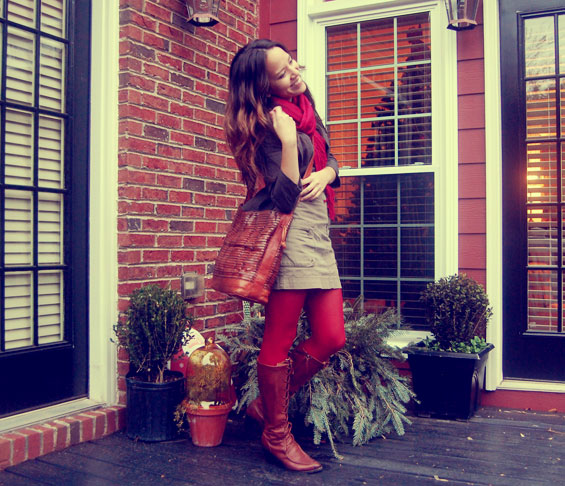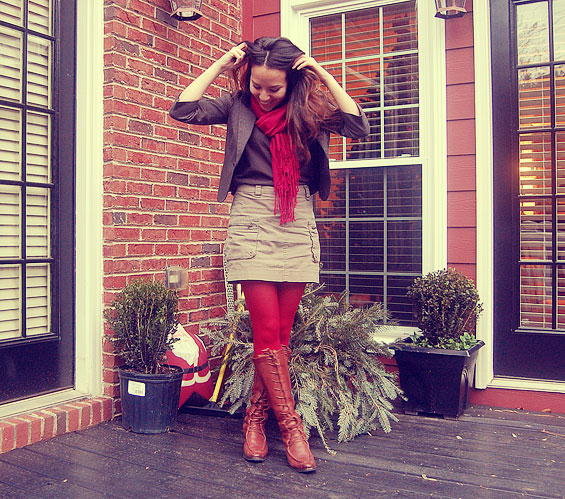 Blazer, H&M; Shirt, AE; Skirt, H&M (circa 2002); Scarf, gifted; Red tights, Carrefour (the European Walmart); Purse, thrifted at Finders Keepers, Boots, Frye.
It's a short week, Christmas is just around the corner, and DADT was repealed. this is a good Monday, people! I decided to celebrate with bright red tights (shown) and a few well-executed jigs (not shown- count your lucky stars).
Poor Kitcath (aka Cath) has been sick for about a week now. That's why the blog has been very Lar-heavy lately- and I apologize for that! Know that she looked really cute today even while slumped in her chair with the sniffles. Next time I will sneak some photos of her sinus congestion or no.
Oh! Another less globally applicable positive to the week? I finished my Christmas gift wrapping! Most years I try to get creative with newspaper (generally I hate the look of wrapping paper and feel bad for killing all those wrapping paper trees- so festive). This year I used old paper shopping bags and craft paper (the kind you wrap your breakable IKEA stuff in after you check out), glitter, gold tissue paper and burlap as ribbon. I'm really happy with the result. What I'm less happy about? The four plus hours it took me to do it. Next time, present recipients, I'm tossing it in a plastic shopping bag and calling it a day.
P.S. I did a guest post on The Owl's Closet today about what to get your book wormie friends (or me) for the holidays. Thanks for asking me, AB!