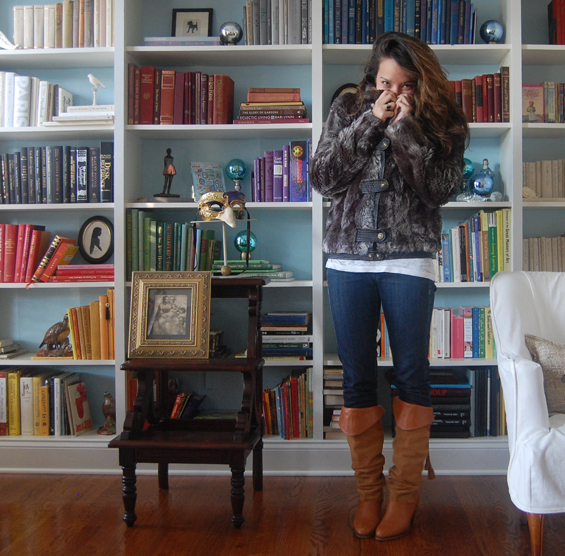 I've always felt a little hypocritical when I emphasize my animal-friendly purchases: faux fur, vegan-friendly (i.e. pleather) purses, etc. At least fifty percent of my footwear is leather and I eat plenty of meat and do not always buy the cage-free eggs. And the bacon that costs four times more because the piggies have been cuddled, loved and provided decent sties always gets pushed aside for the 2 for $5! cheapo crap.
I'm terribly conflicted. (Guilty glances abound) I like the way real fur feels when you pet it, I like the smell of leather and I looooove bacon. Does one faux fur item cancel out all the other carnivorous sins?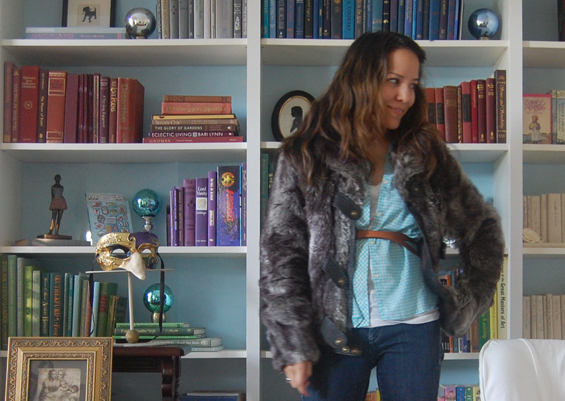 This fall faux fur jacket (fallfauxfur fallfauxfur fallfauxfur) is from one of our favorite local boutiques, Squash Blossom (Jinah works there!). The gingham shirt is thrifted from another terrific local shop called Poor Little Rich Girl (in College Park). The belt is J.Crew, jeans are from Rockit, boots are thrifted from Rag-o-Rama.
Okay, okay. I'm trying one more thing to assuage my guilt. Another photo of Boo Radley (with Troy and Cath) – the best real fur out there.