Dear Readers,
Cath and I just realized that around this time three years ago, we  started AsianCajuns: April 26, 2007 to be exact.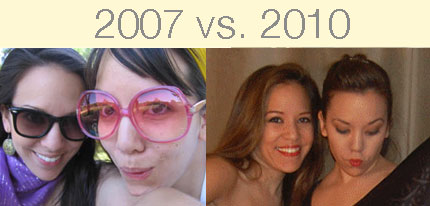 We started AsianCajuns because we wanted a creative outlet that would act as a foil to our 9-5s. We didn't expect anyone to read it. We had no intention of just writing about fashion (we talked about Edith Wharton and mint juleps). We were inspired by Susie Bubble and Agatha from Style Bytes (two of the three blogs we read at the time). This was before outfit aggregators took off and eveyone started documenting their outfits through fashion blogs.
Looking back on our posts from three years ago we realize we had a bit more variety. We do love fashion and style, but Cath and I agree that the old posts we are less interested in are the ones just about an outfit or a piece of clothing we've bought. So, from here on out we'll try to stick to our varigated roots a little better. That said, we do like seeing how our styles have evolved from our 23 year old selves to now (the shoes are definitely taller):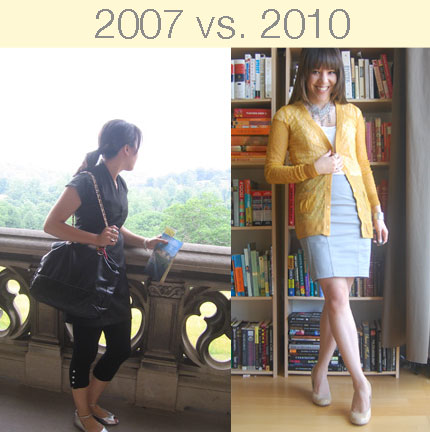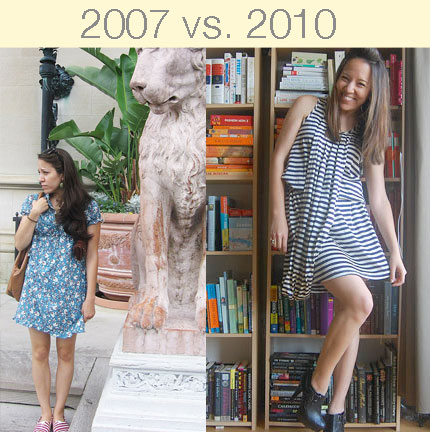 For those of you that can stand a little more navel-gazing and reflection we'd love to know how long you've been reading AsianCajuns and what keeps bringing you back. We would continue AsianCajuns even if our mom was still our only reader, but the wonderful fellow-bloggers we have "met" and local readers we run into have made this experience deeply satisfying. I think most long-term bloggers have felt the desire to throw in the towel at some point (especially when things begin to feel more like a chore and less like a creative outlet). What keeps us going is you guys- so, from the bottom of our hearts, thank you, thank you, thank you!
Cath and I are making plans as we move out of our toddler years. We hope to expand into video, highlight more of the glories of Atlanta/Decatur, and keep the posts varied and inspiring. A redesign is also under way. so stay tuned!
Thank you for three awesome and wonderfully fulfilling years on the internets, readers!
Much Love,
Cath & Lar
The AsianCajuns