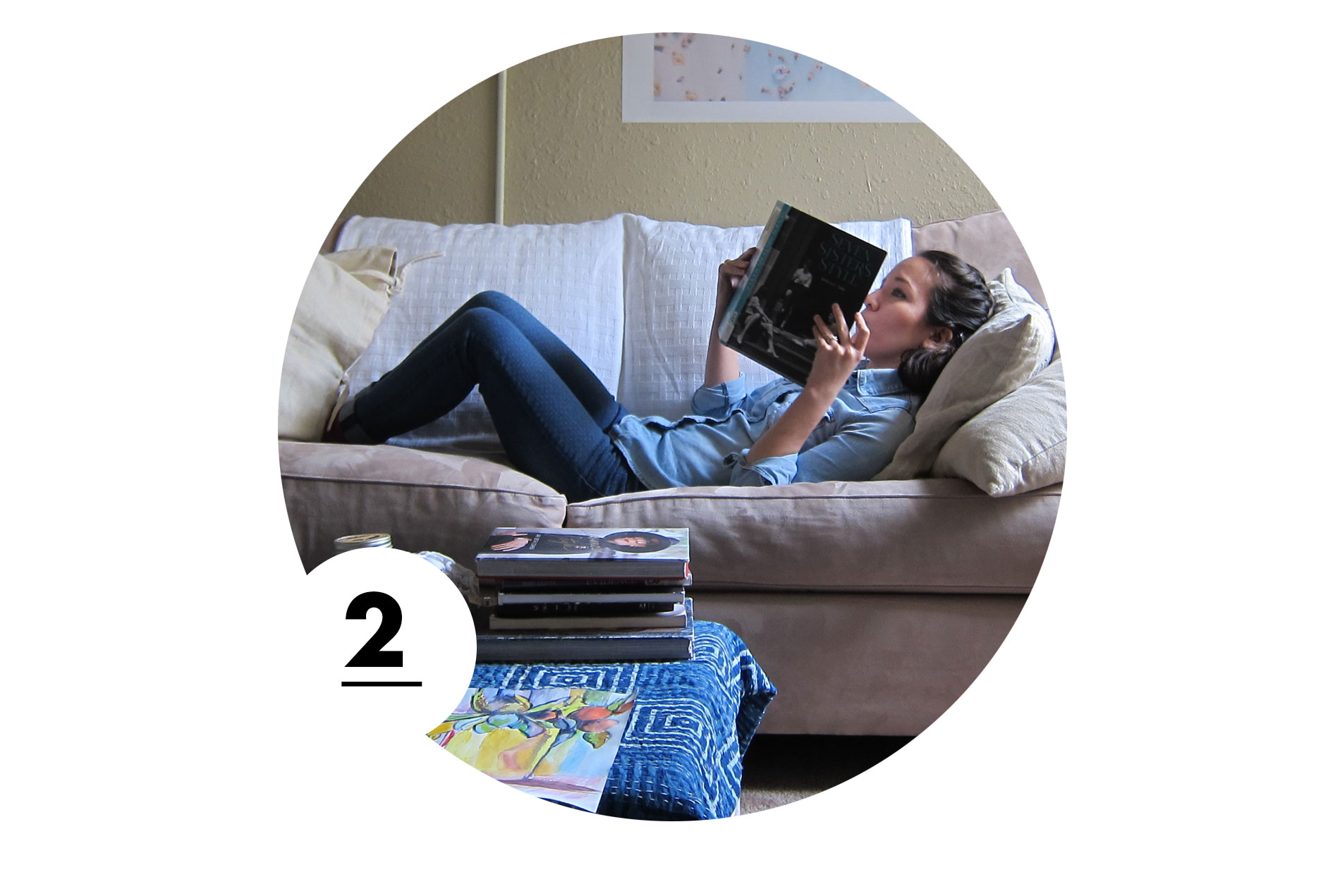 Take a trip to the library! Now, I know that might not sound exciting to all of you (and, full disclosure, I'm the bookiest of book worms), but hear me out.
The library is not just good because you will buy fewer books (keeping a library of just books you absolutely love — not just keeping books that you feel you should read at some point in your life), but also, because it's like shopping!
No, seriously, it is. Not only do you get to browse a huge selection for hours, you get to "buy" things for free! Sure it's just a loan, but you still get to take your "purchases" home and curl up in your favorite reading nook and get lost in other worlds.
And these worlds don't have to be Jane Austen's or Jame Joyce's if reading isn't your thing. Check out the fashion books, art books, interior design books, or hunker down in the library with back issues of Vogue or Real Simple.
Checking out books is also a great way to take potential purchases for a test drive. I checked out Patti Smith's latest on my Kindle at the beginning of the year and loved it so much, I bought a signed hard copy. It's one I know I'll return to again and again.
But sometimes the opposite happens. I found myself in Anthropologie the other weekend (the queen siren of consumption temptation!) and spied the new Audrey Hepburn book, Audrey at Home, and immediately my greedy paws snatched it up. My consumer brain started rationalizing this potential purchase right away: "I love Audrey Hepburn! I've read all other biographies on her and this is the latest so yeah! Pictures of Audrey never shared before?! Lemme see! I'm sure I'll cook her recipes again and again because that lady knows how to eat and how to hide it."
Luckily my much more reasonable other half (thank you, Matteo!) was standing next to me and gently said, why don't you read it at the library first and then if you love it, you should definitely get it.
My consumer monster brain wanted me to snatch the book from his hands and scurry to the register in defiance, or at the very least have a good pout. But I couldn't deny he was right.
A month later, after waiting in a hold queue of Audrey-loving library-goers, I had Audrey at Home in my hands! I read it all cover to cover and then flipped through it again and again to soak up all the new Audreyness. And then … I was done. I didn't actually need to read it again and even turned it in 11 days early because there were other Audrey/library fans waiting for it just as I had been.
Standing in Anthropologie I could have sworn that I NEEDED to have the book — and I really would have felt convinced of that. In that moment. Having a library to turn to, and giving the idea of that NEED some room to breath (away from the heady scent of Anthro candles), surprisingly saved me from making a purchase I ultimately would have enjoyed a few times and then forgotten about.
Yea or nay? Are you also a library fan?