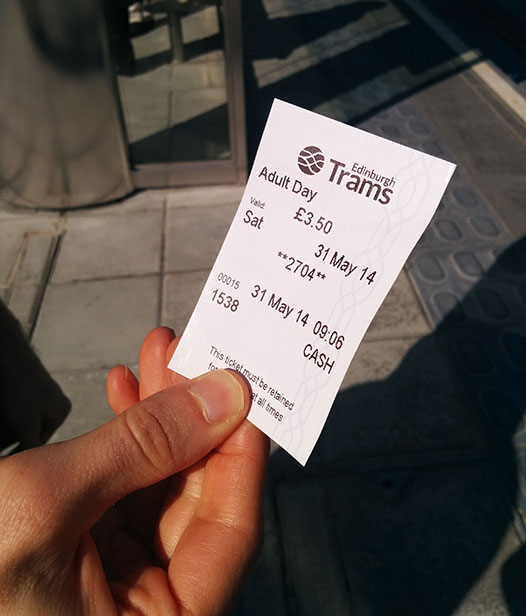 Dear Cath,
At this moment it is cold and rainy and gray gray gray in Scotland. Not a shocker, I know, but somehow I'm always a bit scandalized at how audaciously un-springlike Edinburgh can be. People were walking around in wellies and thick jackets today. I bet you guys were in skirts (with bare legs! Kilts don't count) and sleeveless blouses. I can't imagine Scotland ever encouraging bare legs and bare arms At The Same Time!
And because Matteo is away, and my mug o tea isn't being chatty, I'm writing you a blog post/letter. Twice in one week! And as promised: TRAMS.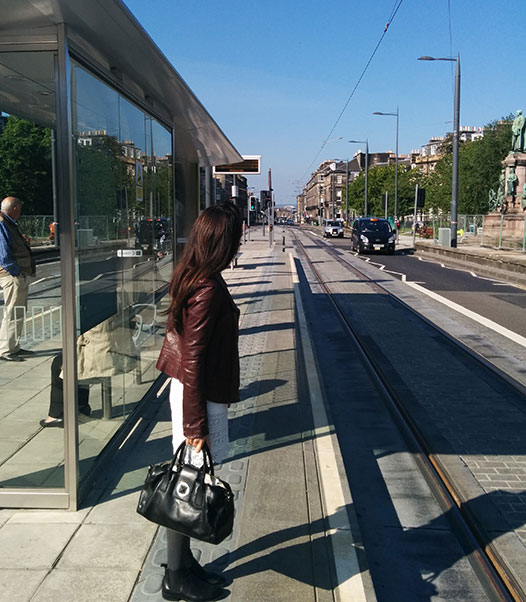 When was it that we first got so excited about public transport? Was it growing up in Maryland and taking the Metro into D.C. — the place that meant free, cavernous museums and dim sum in China Town? Or was it moving to Atlanta and being able to hop on MARTA a few minutes after getting off a flight (or maybe the way it garbled voice announces "Agnes Scott College" when you pull into the Decatur station)?
I feel like I remember the subterranean transport of NYC, Barcelona and Paris more than any of the major land marks. And still one of my favorite memories from Atlanta is going on the Beltline tour so many years ago (remember this post?).
Getting to know a city's public transport system(s) has got to be one of the best ways to get to know a city. It's not a dainty, whimpy how d'ya do handshake, it's a bear hug that sometimes smells of stale air and looks a little dingy in corners and rumpled around the edges. But the bear hug means you are more than passing acquaintances. You're free to learn the ins and outs of a place, not just skim the touristy surface. You get to see the good, the bad and the interesting.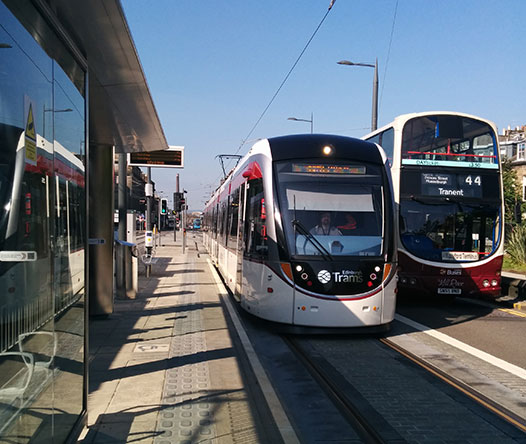 Edinburgh is such a compact city and has a pretty darned good public bus system. The bus I take to work across town practically drops me door to door and comes by every 8-11 minutes. The buses are usually clean and drivers friendly. After figuring out the bus system when we first moved here, I was surprised that the city wanted to put in trams. But too much public transport is like too much chocolate cake, so I thought huzzah!
Lucky for Matt and I, we moved to Edinburgh just at the tale-end of all the hullabaloo about the tram works that were incredibly disruptive to local businesses/storefronts. And to add insult to injury, the project is massively over budget, two years over due and only goes to about a third of the locations promised. Trams are a touchy subject in these parts, to say the least.
(There's a clever public transport prankster going around and changing all the official tram logos to be more "honest").
But even with all that, there was a palpable (palpable, I tell ya) excitement in the air this past Saturday when the trams officially opened to the public. I woke Matt up early so we could go ride them (I dangled the promise of cups of strong coffee to get him out of the house — though I think he's quite a public transport fanatic himself, just more of an afternoon fanatic than a first-thing-in-the-morning fanatic).
The trams were smooth. They were quiet. They were heavenly!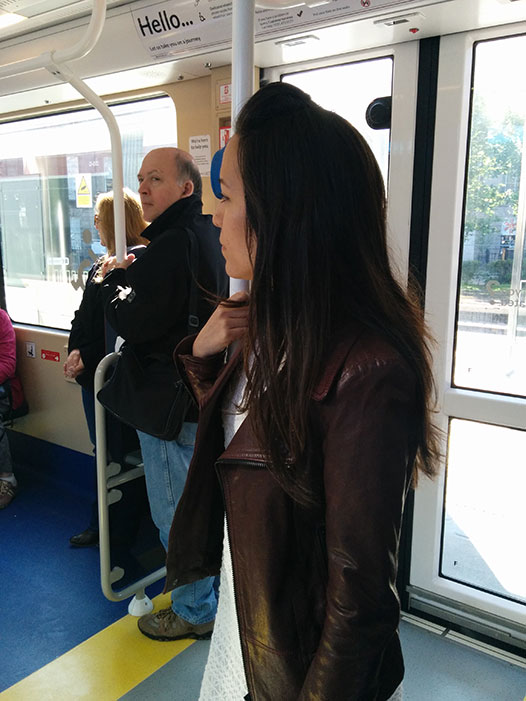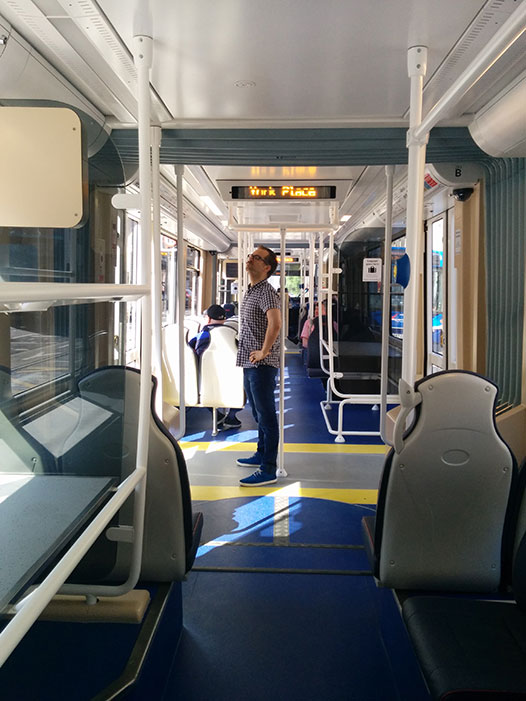 I'm not sure if I ever held double-decker buses in any sort of romantic light (I must have done, being an anglophile and whatnot) — but I so wish I could swap my bus ride to work every day with a tram ride. As the trams don't go all the way down to the Shore like they were supposed to, it's not worth switching up my route. Oh but that it were!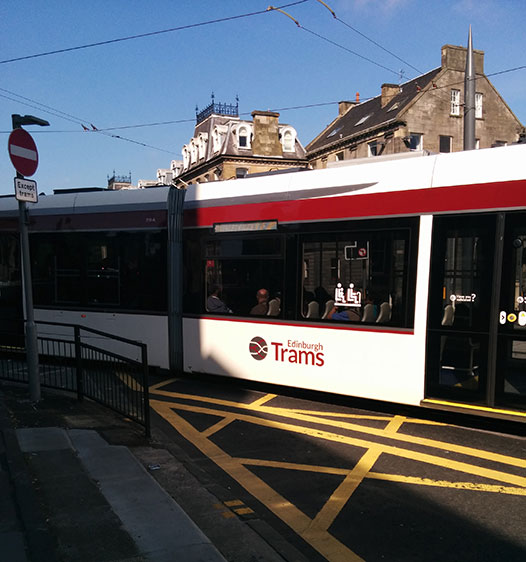 I can't wait to hear about the Atlanta street car! I have a romantic view of street cars too (not so much Tennessee Williams, but Judy Garland).
I know you are so busy (you're buying a house, you're buying a house, YOU'RE BUYING A HOUSE!!!) so don't worry about writing back. I just will pepper you with mildly tedious photos of my going-ons so you feel like you are in Edinburgh with me. And I will imagine myself packing boxes and nesting with you!
Love you like cities and public transport,
Lar