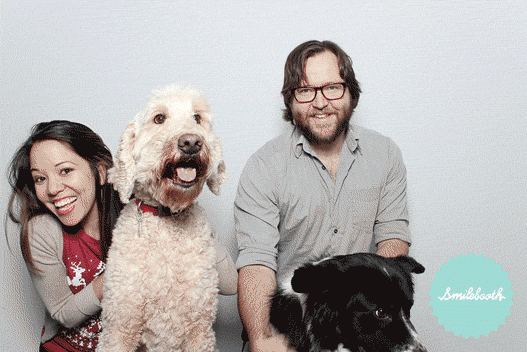 Troy and I are officially that couple. We get Christmas cards made with our dogs.  .  . Yep. To be fair, I had to beg Troy to do this so I'm completely to blame for the cheesiness. I just couldn't help myself. When I heard that Smilebooth was going to set up shop at the Decatur Wag-a-lot for a day I put on my Skip 'n Whistle Tacky Christmas Sweater Tee, grabbed the dogs (and Troy) and headed on over.
I'd like to lie and say that the process was easy, but Toby (he's the black and white one) was so freaked out that Troy had to use all of his strength just to keep him on the table. The good news is that the Smilebooth and Wag-a-lot folks were so helpful that we finally got a winner: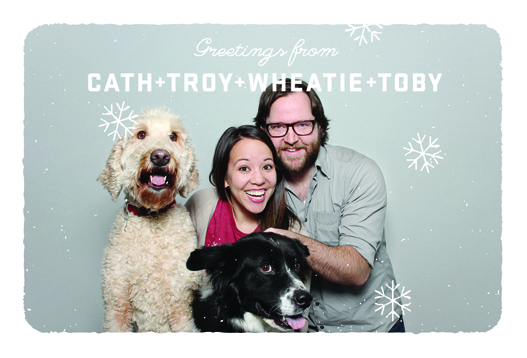 This was one of our first attempts (below). I was trying to hold Toby up, but I have weak arms he was too scared to look at the camera. So Troy ended up holding Toby during the 10 minute shoot while Wheatie, our laid-back Golden Doodle, was perfectly content to sit there as long as he was given a constant supply of treats.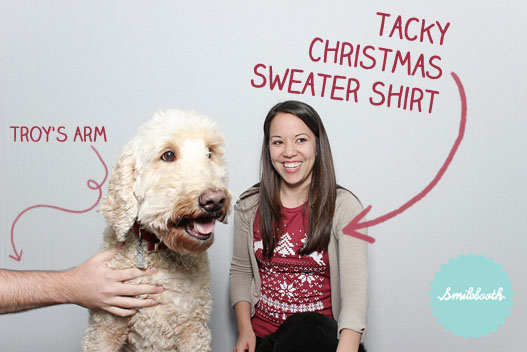 Are you guys familiar with Smilebooth? I swear that this is not a sponsored post. I just love their photos, creative backgrounds and super easy setups.
At Wag-a-lot the Smilebooth camera was set up in the wash room: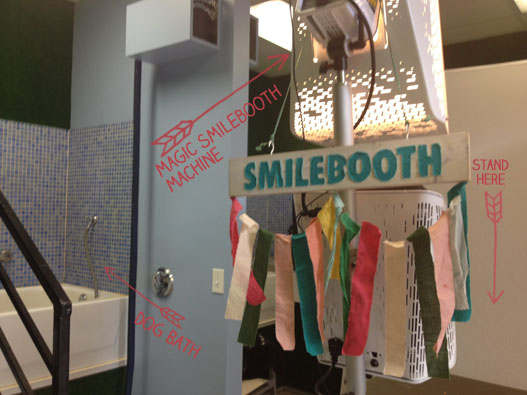 Please, feel free to go ahead and judge me. Five years ago I would have totally judged the current me for being so dog obsessed.
What can I say? I love my dogs and will shamelessly show people photos of my dogs on my phone like parents do with their kids. I think a dog Christmas card is just one more piece of evidence that I'm not nearly as cool as I think I am. Who knows where I'll be in five years. . . crazy cat lady, perhaps?
________________________
Dearest Lar,
Less than two more days and we'll be together – woohoo!!!!!!!!!!!!!!!!!!!!!! It's pretty amazing to think that you haven't been home for a year and a half! I can't wait for you to see Toby – you won't even recognize him. Apart from when he's getting photos taken, he really has calmed down since he adopted you guys over two years ago. I just got him washed today and Wag-a-lot put a cute red bandanna with a green bow on him. I'm hoping he won't chew it off before you get home.
I don't know how I'm going to sleep tonight or tomorrow night. I'm too excited. I hope you're able to get some sleep on the plane!
xoxo, Cath