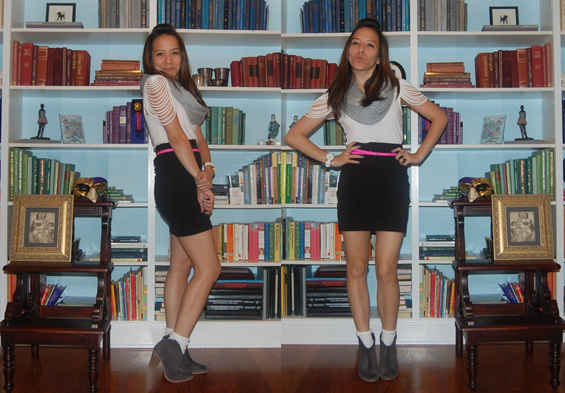 I'm so glad a few of you commented about my last outfit post being in front of the bookshelves in the library because I think that may be my new "blank wall." I spent forever looking for (what I call) The Swedish Blogger Background: white wall (no outlets or aircon vents of any kind to distract from the canvas), high ceilings, large old picture windows with window seats and ruggedly finished hardwood floors. Apparently I do not live in a place that has anything in common with Sweden. So, bookshelves (and non-socialized health care) it will be.
Speaking of books, have you guys read anything about David Sedaris' latest? You have to, have to, have to go pick up a copy right now (or if you are short on funds or patience, click here to go to this NPR excerpt). Who knew a bestiary could be so hilarious and apt? Not me. Who knows what a bestiary is? I do! (Because I looked it up here after hearing the NPR interview.)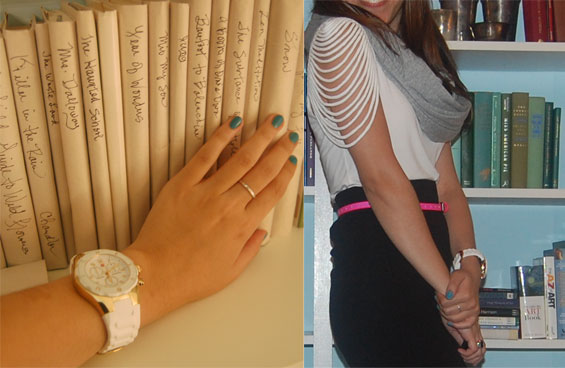 Oh right, the clothes and things…
Isn't this t-shirt great? It's so soft that I end up running my fingers up and down the loopy sleeves all day (the fashionista's version of twiddling her thumbs). Cath got it from Rockit Boutique for my/our birthday.
The scarf is gifted from Donni Charm, the watch (also gifted) is Michele Watches, the belt is Madewell, skirt is Citizens of Humanity, the shoes are from Mango, the nail polish is by Priti (love, love, love this line of nontoxic polishes).