The Little Black Dress Experiment is coming to a close – I can't believe August is already over! I've loved checking out how the 30 bloggers styled their Ann Taylor dresses.
On a side note, the grainy Mac photo booth photos are due to the fact that neither Lar or my bf were around to take my picture the other day. Thanks for bearing with me!
Before the Little Black Dress Experiment officially ends, I wanted to share two of the sponsor gifts that we received for participating in the project.
Gift #1: Hard Night Good Morning daytime moisturizer (pictured in the center on my bathroom shelf). I'm not a big beauty product junkie, but I have to admit that I love this stuff. It smells good, isn't greasy and has SPF 20.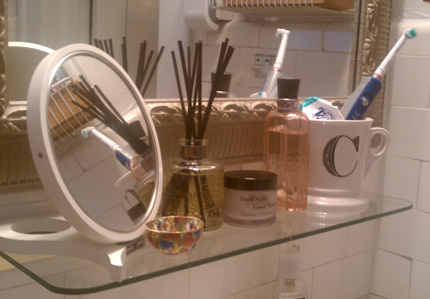 Gift #2: Michele Watch. I'm a sucker for watches and I don't even need them. I have about 3 watches that I'll wear even though their batteries are dead and I rely on my cell phone to tell the time. I just love how watches can make an outfit look so dapper. I'm sure you'll be seeing me wearing this watch in many upcoming outfit posts.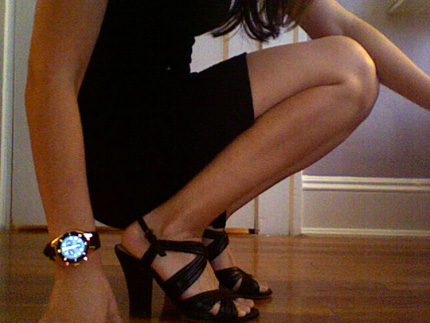 The other day I wore my Michele watch with a dress and belt from H&M and Biviel shoes from Eviva. The best part about this dress is that it's a knit material so I don't ever have to iron it. I pack it every time I have to go to a work conference.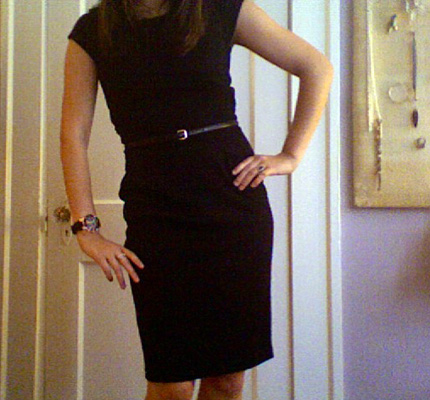 Hope you all are having a good start to the week. The Decatur Book Festival is coming up this weekend – I can't wait!